Over the past few years a growing number of PC users have begun migrating to tablets and smartphones as the specs of these devices continue to mature. With that shift the remaining PC users are choosing considerably high-end devices (i.e. hardcore PC gaming) that require discrete graphical components. It is the gaming industry that is currently supporting the PC market and the companies connected to this particular market segment are growing despite the declining popularity in the PC market.
PC gaming is on the rise. Research from IDC Insights disclosed that PC shipments were expected to drop by 9.7 percent worldwide this year marking another grim milestone in a steady slide that the firm expects to last through to 2015. Yet while sales of actual PCs might be lagging revenues from games sold for the platform have shot up by almost the same rate.
Another research firm, Gartner, recently reported that by the end of this year the global gaming industry is expected to top $93 billion in revenue. The firm also predicts a growth of $8 billion in 2014 and by almost $10 billion bringing the industry revenue to $111 billion in 2015. Predicted sales of mobile games are also expected to jump from $9.3 billion in 2012 to $22 billion in 2015.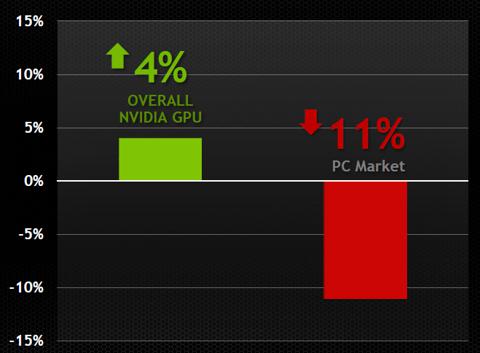 Click to enlarge
As mentioned earlier, the popularity of PC gaming is rising thanks to the success of the superior processing and graphical potential of gaming PCs. Since it is a market leader in the development of graphic processing unit ((GPU]), Nvidia (NASDAQ:NVDA) is set to outperform the PC market.
Chinese PC Gaming Market is Booming
According to the China Games Industry Annual Conference, China's gaming market generated more than $13 billion in 2013. While the popularity of mobile gaming is growing across Asia, client-based PC games are still the dominant money maker in China. Nearly 65 percent or around $8.7 billion of all Chinese gaming revenue came from titles including World of Warcraft, League of Legends, and NBA 2K online. Browser games generated another $2 billion and mobile titles produced around $1.8 billion. Social gaming was also low on the list with only $1 billion in revenue. Console gaming which does not have an official presence in China due to government sanctions only made $15 million.
NVIDIA GPU Business Segment
The company derives more than 80% of its revenue from the PC market. The company's GPU business segment generates revenue from sales of GeForce discrete and chipset products that support desktop and notebook PCs plus license fees from Intel and the sales of its memory products. GeForce GPUs enhance the gaming experience on consumer notebooks and desktop PCs by improving the quality of the game's graphics and the physical realism of the gaming environment. They also accelerate video editing and high definition or HD content creation and improve the viewing experience. GeForce GPUs powered PCs are made by or distributed by most PC OEMs worldwide.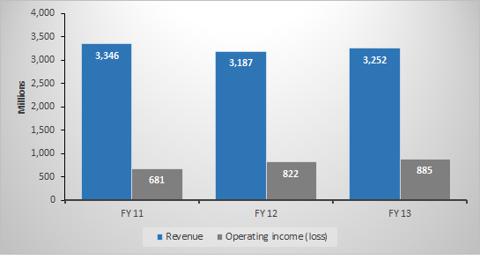 Click to enlarge
As of fiscal year 2013, this segment generated 76% revenues for the company compared to 80% in fiscal year 2012. The company's total revenues grew at a CAGR 0f 10% over a three year period. This means that the company diversified its business operations irrespective of its growing GPU segment and this is a good sign for the growth of the company. The revenue of the GPU business increased by 2.0% to $3,252 million for fiscal year 2013 compared to $3,186.8 million for fiscal year 2012. This growth was largely attributed to the introduction of GPUs based on the Kepler architecture in fiscal year 2013. GeForce notebook revenues increased due to Kepler-based design wins on the Ivy Bridge platform. Strong demand for Kepler-based GeForce desktops and GPU products also contributed to the increase in the revenues of the GPU business. The GPU business also benefited from a more than 36.0% increase in Tesla revenues in fiscal year 2013.
PC Gaming Outlook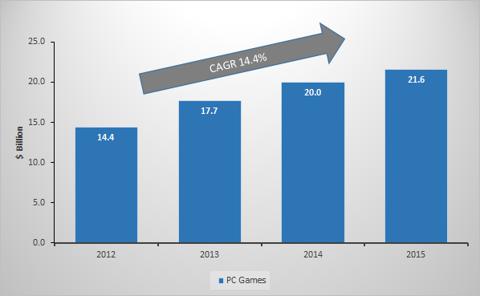 Click to enlarge
Despite declining PC sales the growth in the PC gaming industry and the company's GPU segment is inevitable. Many of these new games require high quality graphics cards and high speed chipsets and Nvidia is the market leader in terms of the development of these products. According to recent research PC gaming is expected to grow at a CAGR of 14.4% from 2012 to 2015.
Expansion in Mobile Computing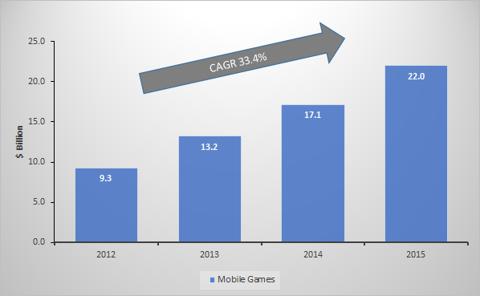 Click to enlarge
With the growing mobile gaming industry, the company has also tried to expand its presence in the tablet market with the launch of the Tegra Note 7, which is considered to be the world's fastest tablet, so far. It seems that the company is on the right path because the increasing presence in the mobile computing market will not only help the company to diversify its business operations but also share a piece of a pie in one of the fastest growing markets.
Conclusion
I believe that the year 2014 will be a year of growth year for the company as it is betting on the right horses. In addition, to add an additional revenue stream to its business, the company has begun licensing its GPU designs and patent portfolio in order to generate revenues. This will allow the company to get its GPU IP into system-on-chip products in order to capitalize on potential profitable businesses and I believe this is quite an impressive move. I think NVIDIA is a good stock to invest in.
Disclosure: I have no positions in any stocks mentioned, and no plans to initiate any positions within the next 72 hours.
Business relationship disclosure: The article has been written by a Blackstone Equity Research research analyst. Blackstone Equity Research is not receiving compensation for it (other than from Seeking Alpha). Blackstone Equity Research has no business relationship with any company whose stock is mentioned in this article.