By David Russell
Navistar (NYSE:NAV) gapped lower on a bad earnings report today, and the bears are looking for a steeper push to the downside.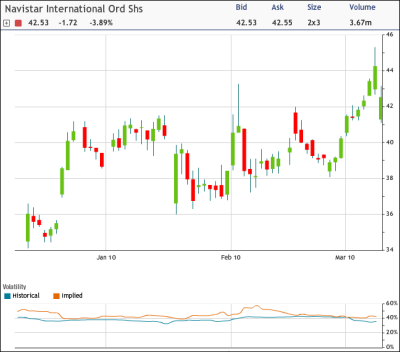 optionMONSTER's Depth Charge tracking system detected heavy buying of the March 40 puts, which traded 3,263 times against open interest of 2,350 contracts. Most of the institutional-size transactions priced for $0.40 to $0.45.
NAV fell 3.89 percent to $42.53 in morning trading following a 29 percent rally over the previous three months. The truck maker's earnings and revenue badly missed analysts' forecasts today, with profit coming in at less than one-third of the expected level. Management blamed weak sales of military vehicles.
The stock is showing potential signs of a bearish reversal after failing to hold gains above the $45 level yesterday. It also formed a so-called shooting-star candlestick technical pattern that can be interpreted as the end of a bullish run.
NAV must fall about 8 percent through expiration for the today's put buyers to earn a profit.
There was also heavy selling of the April 45 calls and March 45 calls against open interest as investors exited long positions in the stock.
Overall options volume in NAV is about six times greater than average today.
Disclosure: No positions