By Chris McKhann
Shares of Regal Entertainment (NYSE:RGC) are taking a break today after soaring 10 percent in the previous two sessions, but the options action is still all in the calls.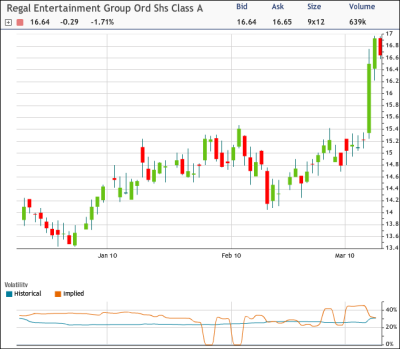 The theater chain is down 1.71 percent to $16.64 this morning. In the previous two sessions RGC climbed from near $15 to almost $17, setting a new 18-month high in the process.
Recent 3-D blockbusters such as "Avatar" and "Alice in Wonderland" have generated new interest in movie-related stocks as the industry holds no fewer than three conferences in the span of a week. Regal, which has already presented at two of them on March 3 in San Francisco and March 8 in Palm Beach, Fla., will appear again tomorrow at Gabelli's Second Annual Digital Cinema & Movie Conference in New York
A total of 8,559 options have changed hands in the name this morning, virtually all of them in one trade. Our systems show that 4,000 of the April 12.50 calls were sold for $4.40 against open interest of 4,221 contracts while 4,000 of the April 15 calls were bought for $2 against open interest of 3,651.
Given the open interest at the April 12.50 strike, we don't know if that trade was to open or to close a position. If it was to open, this would be a bearish credit spread. But given that it is so far in-the-money, I have to assume that the trader was closing that position, taking profits and rolling up to a higher strike to be able to profit from any further gains.
Disclosure: No positions