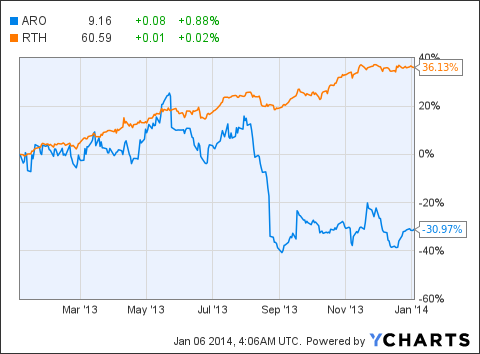 We have followed Aeropostale (NYSE:ARO) for many years, with specific distaste towards both the brand and products. Frankly, we've disliked the brand for almost a decade, especially when the main brand focus was cheap looking graphic tees and less than fashionable hoodies and sweatshirts emblazoned with the logo. However, management seems to have acknowledged this fashion faux pas on some of the recent conference calls, and just recently, is beginning to offer significantly more appealing and trendy apparel.
"In investing, what is comfortable is rarely profitable" - Robert Arnott
When we typically look for investment opportunities, they are rarely comfortable situations. More often than not, our best ideas have a certain degree of "hair" on them-- as does the entire current teenager retail segment, with both American Eagle (NYSE:AEO) and Abercrombie (NYSE:ANF) experiencing declining margins and same-store sales. Typically, the opportunities we see are issues, which are exacerbated by some sort of catalyst. With regards to Aeropostale, we feel that a combination of a poor recent quarter, heavy tax loss selling, and a gargantuan short position, has created the perfect storm for a massive end-of-year sell-off. As we have seen on many occasions, there must be a progression of multiple negative events to get a stock this cheap, especially in a market surging to all time highs. Fortunately, for Aeropostale, we think the problems are manageable (given no debt and the availability of significant liquidity) and are of a short-term nature for a turnaround in the second half of 2014. We also think there is likely to be short-term tactical upswing in the stock that could take place in the first half of 2014, with all the negative catalysts of 2013 serving as propellants in early 2014. We see a unique risk-reward scenario playing out with short interest at multi-year highs. It has the potential to deliver 50%+ returns in the first half of 2014-- longer term if management can stabilize the business on the top line and show an improvement in gross margins. We think Aeropostale has multi-bagger potential in 12-24 months coming out of a horrendous 2013.
Business Description and History:
The Aeropostale brand was established by R.H. Macy & Co. (NYSE:M), Inc., as a department store private label initiative, in the early 1980s targeting men in their twenties. Macy's subsequently opened the first mall-based Aeropostale specialty store in 1987. Aeropostale, Inc., together with its subsidiaries, operates as a mall-based specialty retailer of casual apparel and accessories. It provides a collection of apparel, including graphic t-shirts, tops, bottoms, sweaters, jeans, outerwear, and accessories for 14 to 17 year-old young women and men. The company also offers casual clothing and accessories focusing on kids between the ages of 4 and 12. As of Oct. 1, 2013, it operated 897 Aeropostale stores in 50 states and Puerto Rico, 79 Aeropostale stores in Canada, and 148 P.S. from Aeropostale stores in 28 states and Puerto Rico. Its licensees operate 29 Aeropostale stores, and 1 Aeropostale and P.S. from Aeropostale combination store in the Middle East, Asia, and Europe under various licensing agreements. In November of 2012, Aeropostale acquired GoJane.com for total consideration of $33.2 million, inclusive of contingent payments.
Thesis overview:
Aeropostale is a business in the process of a major turnaround, and though the business seems to have started turning, we think the stock has significantly lagged in the actual underlying progress. While the product transition will likely take some time to grab hold, we do think management is actively making, and has already made, the necessary transitions to revive the brand. Key product initiatives like the Bethany Mota Collection seem to be resonating well with its target demographic. We project that, as management executes its apparel transition to more fashionable and relevant apparel with less emphasis on legacy logo and graphics, it will garner higher traffic, and eventually, higher margins. Our channel checks indicate that traffic picked up significantly over Black Friday (noted on the Q3 conference call) and the period prior to Christmas. This year, Aeropostale's annual after-Christmas 'Bulldog Sale' delivered strong traffic trends against competitors with similar promotions. On our site visits, we observed high traffic and sell throughs in the Tri-state area (NY, NJ, & CT). We believe that once the consumer fully absorbs this brand transition, Aeropostale will once again start showing traffic growth and a stabilization of the top line. Furthermore, we think the company could unlock substantial value with a spin-off or complete sale of the kids' clothing line, P.S., which has grown into a significant component of the overall business. Management now thinks this business has achieved proper scale with P.S., and believes that profitability is attainable in 2014. There is also the company's acquisition of Gojane.com in November of 2012, which, thus far, has met its performance metrics in 2013. The combined e-commerce segment generated double-digit revenue growth in 2012, and should eclipse $200 million in sales in fiscal year 2013. We think this growing platform alone could be worth almost half the current market capitalization, given a conservative price tag of 1.5x sales (less than the multiple for Gojane.com). Lastly, we think management could add significant value by making significant headcount reductions and lowering SG&A costs as a percentage of sales. Diligent cost-cutting and large store count reductions (29) in Q4 should assist in improving sequential margins from last quarter's dismal 18.1%. We think Q3 2013 will likely represent trough gross margin levels, and aggressive realignments of the businesses' cost structure can slowly bring gross margins back to levels (25%) achieved as recently as fiscal year ending Feb. 2, 2013.
Activist investors leading event-driven opportunities:
The recent emergence of equity activists provides clues to a potential buyout in early 2014. As recently as November, activist investment firm Crescendo Partners has become more aggressive in its calls to Aeropostale's board to immediately pursue options to go private. We agree with Crescendo in that public turnarounds in retail rarely ever materialize as planned; management looking at viable sale options is in the best interest of the shareholders. It doesn't stop there: Hirzel Capital Management LLC also entered into the fray disclosing a 6% position, calling it undervalued. On November 26th, the board of directors was apparently so concerned about a buyout that it issued a poison pill, just six days after Hirzel Capital Management LLC filed a 6% position. Aeropostale stated that this poison pill was not to deter buyers, but rather to give ample time for the board to analyze the merits of potential offers. We view this as a serious acknowledgement that buyers are attempting to take over the business. Per the conference call, management stated it would not discuss anything relating to a private transaction or value enhancing options until after the holidays. Eminence Capital, which has recently been in the news urging for "strategic alternatives" at Men's Wearhouse, also has a sizeable position in Aeropostale of 5.4%. Additionally, Sycamore Partners disclosed an 8% position, describing Aeropostale as an attractive investment. Note that Sycamore has obtained its ownership indirectly through Lemur LLC (f/k/a Hummingbird LLC). The Sycamore interest is quite significant, given its recent acquisition of both Hot Topic (2013) and Talbots (2012) for buyout premiums of 30% and 80%+, respectively.
The main difference between Talbot's and Aeropostale is the substantial debt position at the time of the buyout for Talbot's with $164.35 million in debt and only $19.25 million in cash. Aeropostale is just the opposite, with much more flexibility of $68 million net cash and availability of $175 million credit revolver. We think a bid to take Aeropostale private would be in the range of $14-16, depending on how the holiday quarter shapes up. This is a company that has had a long history of generating large amounts of free cash flow and has returned significant amounts of capital back to shareholders through buy-backs. Aeropostale in the past seven years has bought back well over a billion dollars in stock, which now dwarfs the total market capitalization of the entire business.
We think Aeropostale's going private options could include an international retail buyer that could benefit from a well-known brand by building on the existing U.S. platform. Aeropostale's 27-year history makes it an appealing target for aggressive international expansion; a foreign buyer with deep pockets could provide additional needed capital for international growth and further turnaround efforts.
Select Recent Retail Sector Transactions: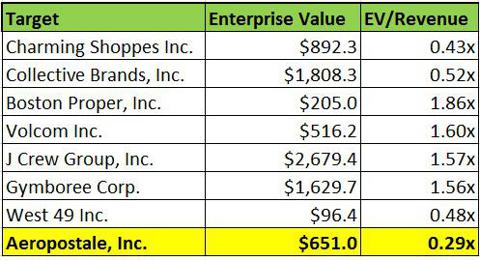 Over the past decade, Aeropostale has had an average EBITDA of approximately $225 million and an average free cash flow of $110 million. Given the company's history of producing large amounts of free cash flow, we feel any stabilization of the business (margins and SSS comps) will present an opportunity for upside operating leverage. If management can bring the EBITDA levels back to just half the historical average of the past decade, it would still equate to a very cheap EV/EBITDA multiple of 5.79x.

From a buyer's point of view, one significant area of improvement hinges on improving efficiencies on SG&A. From 2010 and 2011, annual SG&A costs increased substantially as a percentage of sales, rising from below 21% to over 25% in the most recent quarter. We think that a significant headcount reduction makes sense to right size the businesses to reflect current operating metrics.
Key Drivers of Value:
Licensing to international partners, no capital needed to expand international licensing opportunities in Mexico, Middle East, Europe, and Asia. Aggressively pushing expansion opportunities in Mexico- per the last conference call, management is seeing some success south of the border.
Growth in the P.S. brand targeting 4-12 year olds. Over 750K loyalty members and 148 stores as of Q3 2013. Management has stated on the last few conference calls they think the P.S. brand has achieved the necessary scale to focus on profitability.
Aeropostale brands, Live Love Dream (launched in Q2) and Bethany Mota collection (released Dec. 8th), key to redirecting the brand fashion away from logo and graphic apparel. Also, we think the addition of athletic wear and yoga apparel at reasonable price points is appealing to buyers.
Cash preservation by reducing poorly performing stores and initiating an aggressive headcount reduction.
Gross margin improvement through cost controls and a larger revenue focus on higher margin items, such as a newly introduced footwear line, including a large selection of higher margin women's boots.
Short interest, unsustainably elevated: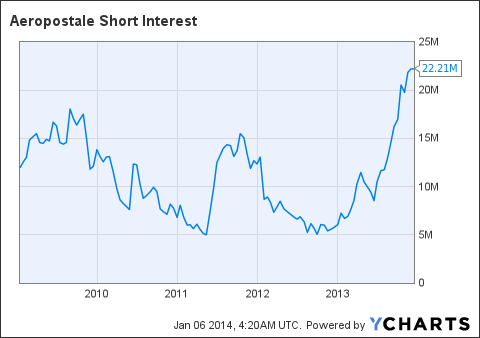 ARO Short Interest data by YCharts
The short interest has remained elevated and even spiked up recently on the most recent data from Nasdaq for December. We feel most of the bad news has already been baked into the stock at these multi-year lows. Aeropostale is one of the few companies in an overpriced stock market that has incurred significant year-over-year percentage declines. Not only is it likely that tax loss selling affected the stock during the last three months of the year, but substantial increases in the short positions as a percentage of the total float increased rapidly towards the end of the year, likely exacerbating the downward slide. We also feel there has been a certain amount of institutional window dressing, with many portfolio managers avoiding the stock going into the new year.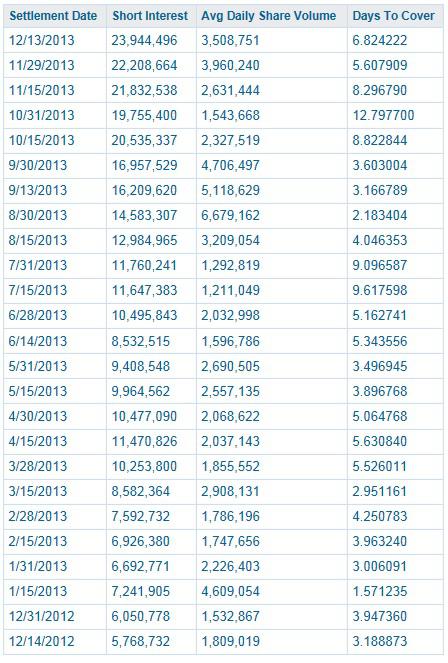 With the massive amount of buybacks over the last decade, Aeropostale's total outstanding share count has shrunk from over 130 million to approximately 78.5 million as of Q3. In the past twelve months, we have seen an interesting dichotomy take place, with short interest going up over four fold (~24M shares held short), whereas activist investors in the last few months have scooped up over 15 million shares (Hirzel, Sycamore, and Eminence). Crescendo is another activist currently involved, but has not disclosed the size of its stake. Tiger Consumer Management, run by Patrick McCormack, also recently acquired 2.9 million shares in mid September.
As difficult as the past year has been for Aeropostale, we have a fairly optimistic view of early 2014 on a tactical basis. All the shorted shares may create forced buying in the new tax year as shorts harvest gains. Most of the covering (buying) in our opinion has been delayed until the new year in order to push taxable income into the next calendar year. We also think there is another buying catalyst with new institutional money being unlocked in the beginning of 2014. It is likely institutional money managers will be looking for underpriced and beaten down equities from the prior year in such a frothy market. Finally, we think there is a sizable naked short position in the stock that will be unsustainable further into 2014, as less shares become freely traded as a result of activists locking up a large portion of the tradable float.
Conclusion:
Management noted in their opening remarks on the Q3 call that they would not discuss the poison pill or any questions relating to the possibility of a buyout until after the holiday period. Now that we have entered the post holiday period, we think management should be meeting and discussing options with shareholders more diligently.
We view Aeropostale as a compelling turnaround play in the sixth or seventh inning of a turnaround. At the consumer level, the fashion offerings have done a complete about-face, which should bear some fruit next quarter as gross margins improve sequentially on a new product mix. We still think it will take at least six months for consumers to become fully aware of the significant changes made to the underlying business. The changes should become more meaningful to the bottom line in the second half of 2014.
Although Wall Street has left Aeropostale's stock for dead, our independent channel checks and site visits show that Aeropostale generated more traffic than many of its retail competitors immediately prior to Christmas as well as during the after Christmas sale. While some of the traffic was due to discounts and promotions, the endless influx of crowds was very revealing and is certainly an important step that reaffirms our assertion that this well-known brand is far from dead.
Disclaimer: This report is intended for informational purposes only and you, the reader, should not make any financial, investment, or trading decisions based upon the author's commentary. Although the information set forth above has been obtained or derived from sources believed to be reliable, the author does not make any representation or warranty, express or implied, as to the information's accuracy or completeness, nor does the author recommend that the above information serve as the basis of any investment decision. Before investing in a security, readers should carefully consider their financial positions and risk tolerances to determine if such a stock selection is appropriate.
At any time, the author of this report may trade in or out of any securities that are mentioned in the report as long or short positions in his own personal portfolio or in client portfolios that he manages without disclosing this information. At the time this report was published, the author had a long position in ARO either in his personal account or in accounts that he managed for others.
THIS REPORT IS NOT A RECOMMENDATION TO BUY OR SELL ANY SECURITIES MENTIONED. THE AUTHOR ACCEPTS NO LIABILITY FOR HOW READERS MAY CHOOSE TO UTILIZE THE INFORMATION PRESENTED ABOVE.
Disclosure: I am long ARO. I wrote this article myself, and it expresses my own opinions. I am not receiving compensation for it (other than from Seeking Alpha). I have no business relationship with any company whose stock is mentioned in this article.