"…Now, after that is Exxon, off 2.1% since the year began. This petro-giant is totally problematic. No great yield. Nothing new until the XTO, that natural gas deal closes and it hasn't budged as oil has run to $80 a barrel. I don't see it helps us out at all. I think Exxon will be lucky to creep to $70. That's only up three from here. No more than that. Kind of a boat rowed gently up the stream.

Then there's Chevron. Off 3.5% for the year. My charitable trust has become a seller of chevron, but merely scaling out as the company said many good things today at the analyst meeting. I am not fretting. In fact, I think this $74 and change stock can row its way to $80 perhaps with a leisurely portage now and then." — CNBC's Mad Money 3/9/2010
On Tuesday's Mad Money, Jim Cramer talked about the laggards thus far this year in the Dow 30. He made some very bullish remarks in regards to Exxon Mobil (NYSE:XOM) after they announced the deal to buy XTO, as it fit perfectly into his natural gas investment thesis. He took this move as a sign that the major integrate oil companies seeing the potential of US shale gas reserves. It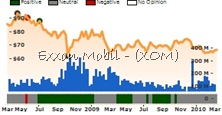 was also speculated that with the backing of the world's largest oil company, lobbying in Washington for natural gas should get at least a little boost. Apparently, the market has not yet been impressed with Exxon's strategy as the stock is down nearly 8% since the deal was announced on December 14th. For comparison's sake, the S&P 500 has returned positive 3%, and the price of oil has advanced over 10% in that time.
Cramer has also long advocated for Chevron (NYSE:CVX) the Dow's other integrated oil company, but he now says that he is starting to lighten exposure to CVX in his charitable trust. Again, he sees the weak performance of the stock even as crude oil has crossed above $80 per barrel as a signal that the stock has broken down. His advice to investors is to follow his lead and sell gradually as the stock may have just a little more upside.
At Ockham, we currently have Fairly Valued ratings on both XOM and CVX, but we see the recent performance of these stocks as a positive for value investors rather than a reason to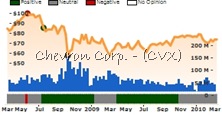 sell. These stocks are obviously highly correlated to crude oil prices and the fact that oil prices have risen while the major oil stocks have not is an opportunity not a deterrent. Higher oil prices leads to higher revenue and presumably better earnings, and the stocks will eventually come to realize this strengthening of fundamentals. On the other hand, analysts have recently been scared off by compressed margins in the refining and other downstream businesses, and just this morning CVX was downgraded at Bank of America / Merrill Lynch.
Obviously, we don't agree with Cramer's opinion that investors should drop these stocks right now. Instead, we would keep an eye on these two stocks because their valuation has only become more attractive recently. According to our methodology they are not yet undervalued, but if Exxon drops into the high $50's or CVX falls to the high $60's, we would strongly consider upgrades.