US Steel (NYSE:X) has received some mixed ratings lately. Back in November Wells Fargo downgraded US Steel as a poor investment while Morgan Stanley and Goldman Sachs upgraded US Steel. At one time, back in 2008, US Steel had been as high as $170. However it is now roughly $30.00 which is a considerable improvement over its price during the summer months, but still quite far from its former glory. So, with the mixed signals coming from various rating groups, how should we consider this stock as an investment for 2014?
I want to look at US Steel through a perspective that does not often get consideration. I would like to look at US Steel from an earnings based perspective. US Steel has often had negative quarters within recent years. I think that some earnings based metrics, in combination with some other items, such as the P/B Ratio and recent changes in industry as well as management, might hold the key to future success for this stock.
1. P/E Ratio - For anyone familiar with US Steel's operational metrics as of late, it has been a tough company to analyze. Their P/E Ratio during 2011, 2012, and 2013 was non-existent due to negative 12 month trailing earnings. This results in some complication, with respect to our attempts to value the stock based on earnings. See our chart below for a visual representation of this problem: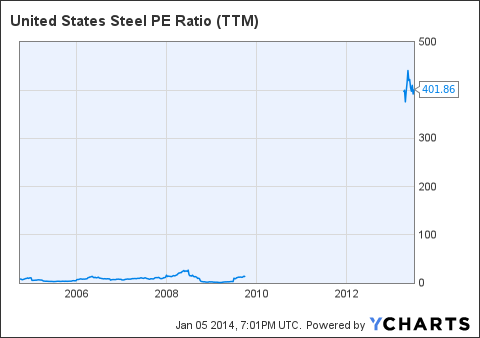 X PE Ratio (TTM) data by YCharts
Often times with companies that have been lagging behind on Earnings, we have this classic problem of a poor P/E Ratio. I refer you to our chart below, with Earnings Per Share chart for every quarter going back through 2008. This was when both the stock price and the earnings were much more positive.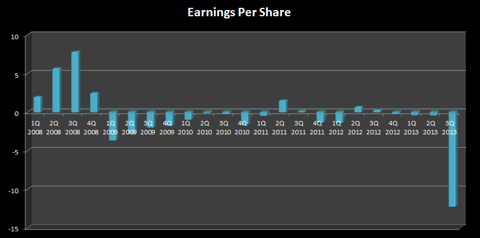 If one takes a look at that blip in the second quarter of 2013 (on the P/E Chart) we have a P/E of 401, which is a totally ridiculous number and not a good measurement of value at all. With respect to the P/E of 401 for twelve month trailing earnings, we can see from the EPS chart that this is the result of a higher negative quarter falling out of the calculation from 2012 resulting in a small positive EPS for twelve months 0.1436, which as a denominator in the P/E equation simply results in a multiplier effect to the price.
So, we really cannot use the standard P/E Ratio as a metric for valuation with respect to US Steel.
However, if we use the Cyclically Adjusted P/E Ratio, which incorporates the last 10 years of earnings from US Steel we might have a valid method of ascertaining some sort of value with respect to this stock based on an earnings approach. This metric shows that the CAPE Ratio or modified P/E would be at 7.89. So we can see that US Steel is currently trading rather low with respect to its inflation adjusted earnings from the last 10 years. Is this metric a good way of evaluating US Steel? This probably depends on various qualitative factors that I will discuss later under item 3.
However, before moving on with respect to CAPE - let's take a look at the previous 10 years for this Cyclically Adjusted P/E metric and how it compares with the price of the stock: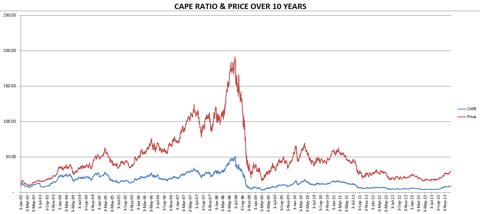 We can easily see from this chart, that back in 2008 when the price stood at roughly $170.00, US Steel was probably over priced with respect to 10 years of earnings since this metric shows a value of roughly 50. However, from the data used to create this chart, we can also develop some ideas with respect to the spread of the data.
As a way of providing the potential investor with an idea of central tendency for this unusual metric (the CAPE Ratio) here is the average and Standard Deviation for the Cyclically Adjusted P/E for every day within the last 10 years:
| | |
| --- | --- |
| Type | Value |
| Average | 15.61 |
| Standard Deviation | 9.22 |
From this, if we were to assume a normal distribution with respect to this metric, we could conclude that the middle 66% of values fall within the range of 6.40 and 24.83. Currently, at a 7.89 CAPE the stock looks fairly attractive, however generally I attempt to find stocks that are more than a full standard deviation away from their mean. The reason for this is that this metric is weighted for inflation, but not on a sliding scale which would take more recent earnings into account over the earliest range. I would argue that during the summer, or the month of September, when the stock price was roughly $18 - $20 and the CAPE Ratio stood below the 6.40 range at a point of roughly 5.00, that this stock was more attractive.
2. P/B Ratio - The P/B Ratio representing the theoretical value/return of dollars to shareholders if US Steel were to go bankrupt tomorrow, is often a good snapshot view. In the case of US Steel, this ratio stands at 2.438. This would therefore not represent a very good value per dollar type of stock. There was a sudden increase in this metric during September due to a very large write-off consisting of 1.8 Billion dollars. So, as the denominator decreased we saw an increase in the P/B value since stock price either remained the same or was on the rise.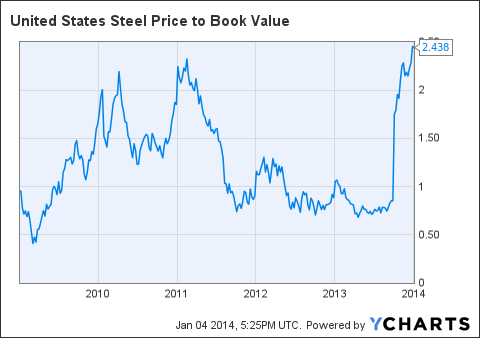 X Price to Book Value data by YCharts
So, based off of the P/B, we could argue that the stock of US Steel is overvalued. I would personally tend to lean in this direction. However, it is certainly not unheard of for a company to have a P/B Ratio that is higher than 2.438. It is quite possible that since this 2.438 follows a large write-down in assets, that we ought to consider US Steel a strong company simply because, unlike many other companies within this sector, the P/B Ratio is not going to increase based on an additional write-down of assets (let's hope!). In other words, US Steel's P/B Ratio is more accurate then others within the same industry/sector.
3. Qualitative Factors - We have a relatively murky situation with respect to US Steel. However, I believe we have some strong qualitative positives:
A) There is a new CEO as of September 1st. Mario Longhi at 59 has replaced the former CEO John P. Surma. He was also the one who decided upon the write-down of assets in September. This is most likely a positive in favor of US Steel's stock, since it adds an unusual level of clarity to the financials of the company that is otherwise unheard of within the steel and metals industry. Generally, a change in the key management position is a positive and this has most likely been a big part driving the price of US Steel's stock upwards in recent months.
B) The demand for Steel is rather poor with respect to the worldwide supply. So, while demand might be increasing at an incremental pace, the over-production within the industry continues to drive the price down. Steel production worldwide has increased to an all-time high mostly due to Chinese production which has also increased the cost of Iron Ore which is of course an important part of Steel Production. See the article in the Economist here for more on this topic. Additionally, a very good article was written by a fellow contributor here at Seeking Alpha on this same topic back on December 27th. This situation might spell out a problem for US Steel, but it actually helps companies such as Cliffs Natural Resources (NYSE:CLF). This is therefore another good, qualitative reason for purchasing Cliffs.
However with respect to US Steel, this entire situation results in the classic problem of bargaining power. Bargaining power was one of Porter's Five Forces which can cause a significant disadvantage with respect to a firm's ability to compete. I would therefore classify this problem of bargaining, for not just US Steel but most companies within this industry (if not all companies within this industry), as my main reason for not investing in US Steel.
C) It would seem that the Steel industry has been getting improved ratings by various organizations. Morgan Stanley seems to have improved its rating of US Steel back in Mid-November with a target price of $35.00. It would appear that this rating has not been reduced by Morgan Stanley since their November 13th rating date. Back on the 4th of November US Steel was upgraded to a 'buy' by Goldman Sachs with a price target of $30. However for all intents and purposes, US Steel has now reached this price point and would therefore probably simply represent a 'hold' by Goldman Sachs if they were to release a statement in the near future.
Conclusion:
Where does all of this data leave us? With a convoluted and possibly over-complicated perspective on US Steel and the Steel industry as a whole. At the moment, I would rank US Steel as a 'Hold' if you currently own it. But not as a 'buy', if you do not currently own shares. I think we can gather some positives overall from the P/E Ratio or at least the Cyclically Adjusted P/E. My overall perspective of the P/B Ratio is negative as I prefer to invest only when the P/B shows 1.0 or less. However, I could discount the negative signals coming from the P/B Ratio if more qualitative information was positive.
I really do not like the poor bargaining position that US Steel and many of its industry counterparts are in at the moment. I would like to see some interesting maneuvers with respect to this strategic problem in the future, and perhaps the new CEO will solve this problem.
This brings me to the positives for US Steel. I would keep an eye out for US Steel in the near future especially during the summer of 2014. It's possible that the price of steel will go up which will improve the margins for US Steel. It's also possible that something will happen to improve US Steel's bargaining position. But, just from a simple financial ratio perspective, at the end of September we will see the last quarter (and the most recent quarter currently) falling off of the twelve month trailing P/E ratio. After the 9/30/14 results are released, the negative $12.38 quarter will fall off, causing the fundamentals to look a lot better for US Steel. This will probably result in a waterfall effect on the ratings and drive the price up. I think the future looks good for US Steel, but I will wait till the summer before choosing to invest.
Disclosure: I am long CLF. I wrote this article myself, and it expresses my own opinions. I am not receiving compensation for it (other than from Seeking Alpha). I have no business relationship with any company whose stock is mentioned in this article.