"2013 has proved to be a milestone year for Ford's accelerated growth in China as we delivered on our plan to bring to China seven of Ford's next-generation global vehicles, including the Ford EcoSport, the Ford Kuga, the new Fiesta, and the all-new Mondeo. In 2013, strong Chinese customer demand for our greatly expanded lineup of vehicles allowed Ford China to set yet another annual sales record,"

- John Lawler, Ford Motor China
Ford (NYSE:F) has been a stock that I've followed extensively during 2013, and one that I've consistently been bullish on. Since I've started following Ford, it's been up roughly 10%, and is up roughly 15% for the past 12 months. The last three months has seen Ford pare some of its gains on a macro economy pause and December's auto sales metrics.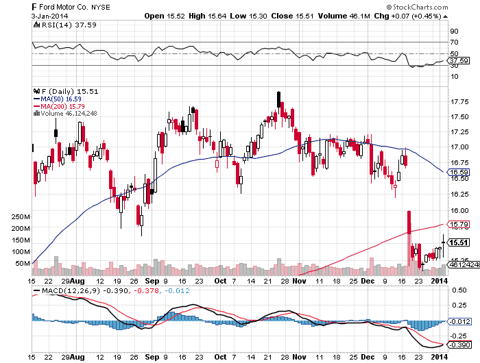 Click to enlarge
The last article I wrote about Ford was with regards to its December sales. These sales were seen, generally, as unimpressive by the market to end last week. But, instead of focusing on December, I argued in my last article that Ford's annualized 2013 sales showed us that the Lincoln brand isn't dead yet and the Fusion continues to head up Ford's aggressive U.S. growth.
Put simply: annualized, Ford had a kick ass year. To piggyback on that, Ford has had a strong sales growth in China.
Now, if you will, think back hard - way back - to 2009. Ford had invested something like $500 million into a new plant in China that they were hoping to get into operation by 2012. The headlines looked like this:

Click to enlarge
That type of forward thinking is what's going to continue to propel Ford's growth through 2014. Talk about bearing fruit - Ford's China sales for December were great. Ford continues to market their vehicles seamlessly with the Chinese auto market. All you have to do is take a look at their Chinese website to know they're staying flashy and on their feet.
Ford released the following press release this morning, noting that 2013 was a record year in China.
Reuters reported:
Ford Motor Co. (F.N) and its local partners boosted sales in China by nearly 50 percent last year, nudging past Japanese giants Toyota Motor Corp. (7203.T) and Honda Motor Co.(7267.T) to make big inroads into the world's largest auto market.

The Dearborn, Michigan-based automaker said on Monday that along with its local partners, it had sold 935,813 vehicles in China last year, a 49-percent increase from 2012.

For much of the past decade, Ford has trailed Japan's big car makers, but a line-up of new and revamped vehicles, including the top-selling Focus, and a China-Japan territorial spat helped the U.S. company in 2013.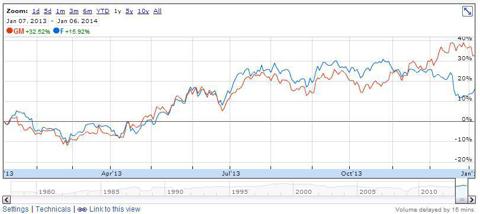 Click to enlarge
Ford continues to penetrate into what is the biggest auto market in the world. If they're going to find success in 2014 to build on an outstanding 2013, they're going to need both strong domestic and international sales growth. This is a great nod to the continued bullish argument for Ford.
Alongside General Motors (NYSE:GM), which I'm also now bullish on, Ford is spearheading the auto recovery in not just the U.S. - but overseas as well. I remain bullish on both, especially Ford - which I'm predicting will also raise its dividends in 2014. Best of luck to all investors.
Disclosure: I have no positions in any stocks mentioned, and no plans to initiate any positions within the next 72 hours. I wrote this article myself, and it expresses my own opinions. I am not receiving compensation for it (other than from Seeking Alpha). I have no business relationship with any company whose stock is mentioned in this article.