The first article in this series, "Building a Portfolio Part 1: Not Just Buying Stocks" discussed the change in perspective from just picking stocks looking at the company's qualities and valuation to picking stocks considering how those same stocks fit within my portfolio's strategy and current configuration. The first article looked at my portfolio from a number of angles, including allocation across asset class, allocation across markets, sectors, risk, and dividends. Following right behind my annual portfolio review, this exercise has exposed weaknesses in portfolio composition that needs correction - before the market does.
Stocks first must meet a number of basic criteria to warrant being added to my portfolio. With a market of thousands of companies, and my portfolio limited to between 30-42 companies, I do not want to add just any company into my select fold. But how do you decide from a group of quality companies, which one to select? In the past, I looked only at the sector and characteristics of the company, but now I want to determine if it is a good participant for the portfolio as a whole. Researching companies to decide if they are quality enough to enter the portfolio is very important and will be discussed more in detail in Building a Portfolio Part 3: Due Diligence. For now, I want to look at some basic criteria, and then how a stock could fit. These criteria do vary somewhat based on the position in the portfolio and that is what this article is about.
Types of Stocks
My portfolio is comprised of mostly dividend-growth stocks, but I allow myself to diversify into other types of stocks as well. There are multiple types of stocks to choose from and I can categorize my portfolio into four; dividend-growth, dividend, value, and growth.
I would not characterize myself as a value investor, but I am not opposed to picking up a quality company, that has fallen on challenging times, especially if the sector as a whole is suffering. Often these are for a shorter term hold (usually several months now, not the former days or weeks when I traded). A traditional definition of a value stock is something that is trading below book value. Goldcorp (NYSE:G) and the REITs; RioCan (OTCPK:RIOCF) and H&R (OTCPK:HRUFF) are examples in my portfolio of this. The telecoms fell dramatically this summer and I bought more, but they did not come close to book value.
I am not a growth or momentum investor, but I am not opposed to jumping into a quality, growing company when it is on a roll, such as Visa (NYSE:V), Canadian National Railway (NYSE:CNI), the Canadian Banks TD (NYSE:TD), and Royal Bank (NYSE:RY) and most recently WisdomTree Investments (NASDAQ:WETF), despite higher P/E ratios than I normally appreciate.
Sometimes I buy a higher-paying dividend company that could not be called a dividend-growth company. RioCan REIT and Crescent Point Energy (CSCTF), for example, are not at all considered dividend-growth companies. However, their higher yielding dividends (5.7% and 6.7% respectively) combined with expected share price growth will give me what I am looking for, without dividend growth, for now.
Each of these categories are not exclusive. For example, even though the Canadian banks have been good momentum plays this year, they are also pretty solid dividend-growth companies and form the foundation of many Canadian dividend mutual funds, ETF's, and private investor's portfolios.
Portfolio By Type
So with all this variation in types of stocks, what are my basic criteria for investing? I divide that criteria into two parts. DGI criteria, and other - the exceptions - the value and growth criteria. If I divided my portfolio between DGI stocks, and other categories, it would be as follows, by percent of portfolio.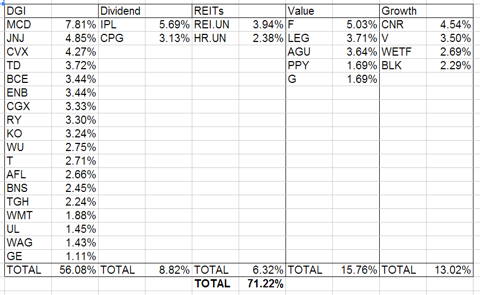 This is a little subjective, but I also considered why I bought into the company initially. For example. Ford (NYSE:F) was purchased for capital appreciation only. It now has a growing dividend in a sector that is doing well and has good prospects in the near-term, which is why I have kept it. Agrium (NYSE:AGU) was purchased as a value play, but also has a comfortable dividend while I wait for the 20% appreciation I am looking for.
This chart has been revealing for me. I expected to see 80% in DGI, 10% in Value, and 10% in Growth, instead of the current 71%, 16% and 13%. I am a little off-side of my targets. Some of this has been because of capital gain in the value and growth arenas. Additionally, one could argue that Blackrock (NYSE:BLK) and Agrium and Ford could be in other categories. But, I am not trying to play games to get the results I want. It is valuable for me to compare this to the Miller allocation chart, from the previous article, as not everything in the DGI column inspires complete confidence or is what I would consider to be the highest quality. I would prefer moving my portfolio back to the desired 80/10/10 allocation, and will take action to do that this quarter.
Goal
My goal for investing is to be able to afford to retire at a typical age, able to live off the dividends and income from our investments without needing to spend down the principal. I am only trying to fund our retirement, not a lifestyle. To meet these goals, I would like continued contributions, approximately 4% in dividends, and 5% in growth on average over the next 20 years. Over the past two years, I have beat my targets, but it is not hard to do that in a bull market.
Basic Criteria and Fit
Let's take a look at my investing criteria for DGI companies in relation to a company I am considering, such as General Mills (NYSE:GIS). Will this purchase work towards my goal? For most purchases my focus on a modest blend of dividends and growth, as stated in my goal.
1. Dividend Yield Over 2.5%. I own some stocks whose dividends do not yield 2.5%, however those companies are not included in the DGI list, but instead, under value or growth. As I mentioned with the 80/10/10 guide, at this stage in my investing, I do not have the requirement of every company belonging to David Fish's CCC companies list. With 20 years before I need the income, I feel it is appropriate to invest in some companies who may join the CCC list, i.e. Visa or Ford . Even still, I am not fooling myself and calling them DGI companies; they are included in the growth or value lists.
General Mills has a current yield of 3%, so it passes the first test.
2. Dividend growth meets the Chowder Rule, which states that except for utilities, the current yield plus five year average dividend growth should be more than 12%. Not all of my DGI names exactly meet the Chowder number criteria, for example, McDonalds (NYSE:MCD) and Coca-Cola (NYSE:KO) are a little short, but no one would doubt that most of those names qualify as dividend-growth. It is a criteria I always look at when buying a company or reviewing a holding.
GIS has a 5 year dividend-growth average of 11.2% when added to the yield of 3% gives a Chowder number of 14.2%. It easily passes this test.
3. I try to own Best of Breed in each sector, unless there is a good reason not to. Companies that are considered the best in their businesses are often also good dividend growers. They are not high growth companies, but steady, mature companies with lower beta and consistent earnings. This will suit a long term investor's portfolio and I occasionally pair them with a growth or value name in the same industry. Best of breed is often the largest company in the sector, but not always. I have chosen Chevron (NYSE:CVX) as best of breed, though some would argue that Exxon (NYSE:XOM) is best of breed. I liked the fundamentals of CVX better with its higher yield, higher dividend-growth rate, and higher earnings growth.
Nestle (OTCPK:NSRGY) is the largest company, with Mondelez (NASDAQ:MDLZ) second and General Mills third in market cap in the Consumer Food space. Nestle did not impress me, prompting me to buy Unilever for its international content when comparing those two. I have not looked at MDLZ yet and I will do a comparative analysis before plunging into GIS as per my due diligence.
4. The Sector Looks Attractive, or at least not negative, and based on the business cycle and market sentiment, there is likely to be growth within the sector over the next few years. As a newer investor, I do not need to immediately own companies in every sector, though that is a specific goal I intend to reach over a number of years. I have the opportunity to choose the sectors that look positive and wait to get into those sectors that will face significant, usually economic, headwinds over the next few years. For this reason I do not yet own any utilities (or bonds). This is not my ideal, but is a strategy to maximize the possibility of meeting my goals over the long term. Times will change, and I plan to be ready to buy in then.
In general the consumer goods sector is somewhat overvalued. GIS normally trades at a P/E of 17.6 and is currently trading with a P/E of 18.2. If it was an absolutely amazing company with significant growth, I would not be timid in paying up, but for a 6.4% earnings growth rate and 45% debt to capital, I am hesitant to buy right at this point.
5. Not Overvalued According to FAST Graphs. In the same way that I focus purchasing in sectors that look like they have the possibility for growth, buying companies with attractive valuations will also help to maximize the chances of meeting my goals. Buying companies which are substantially overvalued compared to their norm, is not a prudent strategy for long term positive returns, so Diageo (NYSE:DEO) and Hershey (NYSE:HSY) are still waiting on the buy list. I look at the average P/E compared to the current, as well as considering current valuation.
General Mills is somewhat overvalued on FAST Graphs, especially compared to its 20 year history.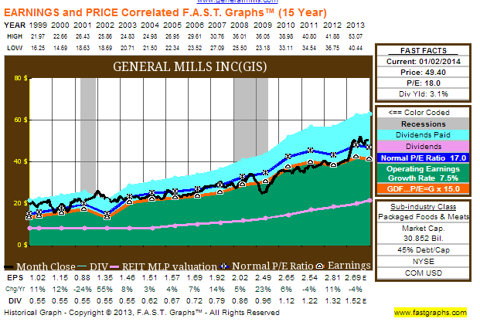 6. Fits Well Within the Portfolio. Most of the stocks in my portfolio have a buddy. Enbridge (NYSE:ENB) has Inter Pipeline (OTCPK:IPPLF), Chevron has Crescent Point. BCE (NYSE:BCE) has Telus (NYSE:TU). RioCan REIT has H&R REIT . If I own less than two DGI names in a sector, I am on the hunt for a partnership. If I already own several, I do not need to add another.
General Mills will fit perfectly within my portfolio, partnering with Unilever (NYSE:UL). I have comparatively little in the Consumer Goods sector in my portfolio and am scouting around for more.
7. My Due Diligence identifies this as a quality, investable company, very likely to exceed my goals over the long term. As this is the topic of Building a Portfolio: Part 3, I will not comment further.
8. I must Like the Story of this company and be Proud to Partner with it. This factor has caused a few sells in the past year. One should not be embarrassed about their holdings.
There is nothing to be embarrassed about with General Mills, unless you get really picky about the sugar content and over-processed nature of some of their cereals and snack foods. But seriously, what's not to love about Cheerios? Like many non-cyclical consumer goods companies, this is a recession-proof story. That does not mean that the share price will not languish with the rest of the market during a downturn, but that the company will still be able to sell their products at reasonable margins, even if the economy is suffering.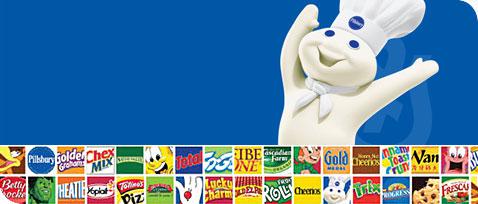 I hope you have a better idea of the many factors that I consider when choosing a stock and I look forward to hearing about the criteria you use to choose stocks from the sumptuous buffet of delicious companies available.
General Mills would fit very well into my current portfolio, but, because of valuation, I am not sure that now is the right time to buy. In the next article, Part 3: Due Diligence we look at GIS in more detail.
Disclosure: I am long MCD, F, CNI, TD, JNJ, AGU, BCE, TU, IPPLF, V, KO, CSCTF, WU, CVX, CPXGF, RIOCF, RY, AFL, HRUFF, BNS, TGH, WMT, UL, GE, WETF, BLK, . I wrote this article myself, and it expresses my own opinions. I am not receiving compensation for it (other than from Seeking Alpha). I have no business relationship with any company whose stock is mentioned in this article.