Following yesterday's shareholders' approval, Denbury Resources Inc. (NYSE:DNR) has completed the merger with Encore Acquisition Company and entered into a new $1.6 billion credit facility as well. In addition, Denbury will assume Encore's position as obligator on the remainder of all Encore senior subordinated notes.
Denbury issued approximately 134.4 million of its shares and paid about $829.4 million in cash to Encore shareholders. Denbury and Encore stockholders own 66.1% and 33.9%, respectively, of the combined company.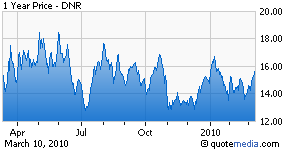 The combined company will operate under Denbury's name and trade under the DNR ticker symbol. Trading in Encore's common stock is now terminated. In November last year, Denbury entered into an agreement with Encore to acquire the company for $4.5 billion.
This merger will position the combined company as one of the largest crude oil-focused independent North American E&P companies. In addition, it will also create one of the largest CO2-enhanced oil recovery platforms across the Gulf Coast and Rocky Mountain regions.
Denbury's niche business model of extracting crude oil from mature fields using tertiary recovery methods will turned out to be very valuable in this commodity-price outlook. In addition to this merger, the company's plan for significant investment to develop the Conroe oil field as a tertiary field will benefit the company in the long run. Denbury shares were up 0.92% to $15.43 at Tuesday's closing.