In my previous article I admitted that I made the wrong call on the share pricing of Bank of America (NYSE:BAC), at least for now. While it does appear that the stock has room to run, any investor for the long term, like dividend income investors, can easily see that this bank stock is more of a short term trade, than a "must own" long term holding.
With a dividend of only $.01/share per quarter, the only way anyone buying shares of Bank of America at the current share price ($16.10) to make money is to have capital appreciation. For the short term that looks pretty good, but it is no guarantee. A dividend on the other hand is spendable cash, even if a stock flat-lines.
Also true is that if one does own shares of BAC, and has seen its share price rise, the only way true profits can be realized is if the shareholder sells shares of the stock. Of course as dividend investors already know, selling shares of stock reduces future income from dividends, and also could face tax implications. I guess we cannot have everything, right?
Maybe.
There is a small regional bank that is currently selling below book value, offers a compelling dividend, and has the potential for capital appreciation: Bank of Commerce Holdings (NASDAQ:BOCH)
Bank Of Commerce Holdings Is Rather Compelling Right Now
The bank through its subsidiaries, provides a range of financial services and products for business and consumer banking primarily in northern California. While this company is no match for the giant Bank of America, it happens to be rather inexpensive to own and offers a dividend yield that pays for shareholders to actually hold the stock.
Here are some of the basics:
The company has a market cap of under $100 million.
A 2014 PE of just 9.38.
A price to book value of roughly .99.
YoY quarterly revenue growth of 9.20% and EPS growth of 4.80%.
A current dividend yield of 1.40% with a payout ratio of just 30%.
An inexpensive stock to buy with a share price of $5.63 as of 1/3/2014.
Even though the dividend has been more down than up, it has been paid regularly since 2004, and with the direction of the earnings, revenues, and low payout ratio, I believe that dividend increases could be coming. Even so, it pays roughly 10x more (on a percentage basis) than Bank of America, while offering potential capital appreciation.
As a matter of fact, Fidelity Investment's ESS rating is among the highest of just about any stock, period.
Take a look at the chart: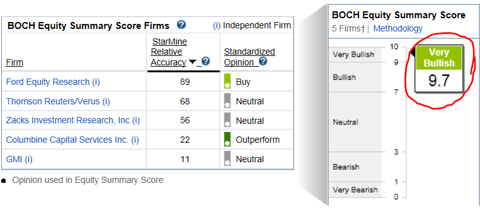 Furthermore, the valuation levels, by every metric, is very favorable to competing banks in this sector: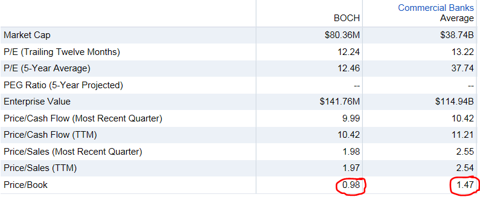 If an equal price to book value is placed on BOCH, the potential for a 50% increase in price is not out of the question. Adding the potential for capital appreciation as well as a steady dividend, this stock becomes yet another attractive alternative to the risk laden, dividend skimpy, Bank of America.
The Bottom Line
Bank of America is on a roll and trading the stock as well as hopping on the momentum will make sense to many folks. On the other hand, a "steady Eddie", boring little bank stock like Bank of Commerce Holdings, probably makes more sense for the longer term investor who seeks some income as well as some capital appreciation potential.
I might still be wrong on BAC, but I believe I am right about BOCH.
Disclaimer: The opinions of the author are not recommendations to either buy or sell any security. Please remember to do your own research prior to making any investment decisions.
Disclosure: I have no positions in any stocks mentioned, and no plans to initiate any positions within the next 72 hours. I wrote this article myself, and it expresses my own opinions. I am not receiving compensation for it (other than from Seeking Alpha). I have no business relationship with any company whose stock is mentioned in this article.