The U.S. economy is expanding and equity-based exchange traded funds have some momentum. However, some market observers are cautioning about getting overzealous going into the new year.
"The most likely scenario is for U.S. stock markets to be flat to slightly down in 2014," Kevin Rich, founder of Rich Investment Solutions, said in an Investor's Business Daily article. "There could also be upward pressure on interest rates either because of Fed action or indications of inflation increases."
In a more subdued environment, Rich suggests playing defensively with investments that focus on income generation instead of capital appreciation.
For instance, the ALPS U.S, Equity High Volatility Put Write Fund (NYSEARCA:HVPW) is an income-generating fund that produces yields by selling two-month 15% out-of-the-money put options on 20 diversified stocks with the highest implied volatility.
Selling puts can reward investors in a stagnant or rising stock market as the trader would collect premiums, or yields, if the strike price remains below the current market price of a security.
"Selling two-month, very low-duration options on a diversified selection of 20 large-capitalized stocks that have strike prices 15% out of the money can generate a low-volatility fund that may provide downside protection in a declining market and may allow HVPW to outperform the broad equity market," Rich said.
Additionally, HVPW offers some protection against rate risk as the fund is fully collateralized by short-term three- month T-bills.
HVPW sells 60 day listed put options every 2 months, or 6 times per year, on 20 stocks. The ETF will try to pay out net investment income of about 1.5% of the fund's net assets at the end of each 60-day period. The fund shows a current yield of about 9% if it keeps up its 1.5% target.
Since its inception in March, HVPW has gained 1.2%. Meanwhile, the ETF has paid out 7.5% in distributions for the 10 months the fund was live.
ALPS U.S, Equity High Volatility Put Write Fund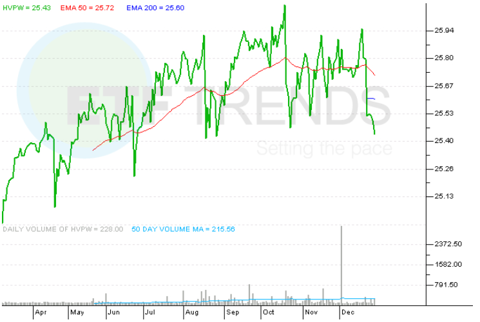 Disclosure: I have no positions in any stocks mentioned, and no plans to initiate any positions within the next 72 hours. I wrote this article myself, and it expresses my own opinions. I am not receiving compensation for it. I have no business relationship with any company whose stock is mentioned in this article.