It's been almost 11 months since the last time I wrote about Philip Morris International (NYSE:PM). In this article, I noted several positive factors for Phillip Morris, like their strong brands and high dividend. However there were also some points of concern, like the currency risk involved in companies that earn their revenues outside of the U.S.
In today's article, I'd like to take a closer look at Philip Morris' dividends, share repurchases and balance sheet. However, let's take a look at some recent news first. Philip Morris recently released a press statement regarding a deal with its former parent company Altria Group (NYSE:MO), to sell Altria's e-cigarettes internationally. Furthermore, Philip Morris has also acquired a 20% interest in Megapolis Group, one of the leading tobacco distributors in Russia. Russia is the second largest cigarette market in the world, after China.
Now, time to look at Philip Morris' most recent 10-Q form. In the first 3 quarters of the current fiscal year, revenues totaled $59.63 billion which is an increase of 3.4% to the $57.65 billion in revenues the company had in the same period last year. Earnings per share for the first 3 quarters were $4.02, which is only $0.10, or 2.5% higher than in the first 3 quarters of 2012. Net earnings were actually down by just over $100 million, but PM's share repurchases have managed to boost the EPS up enough to raise the earnings per share. So far this year, Philip Morris has paid $2.64 per share in dividends, giving it a payout ratio of 65.7%. This is a bit lower than Lorillard Inc. (NYSE:LO) and Altria Group. However, Philip Morris' dividend is also a bit lower than Altria's, as can be seen in the graph below.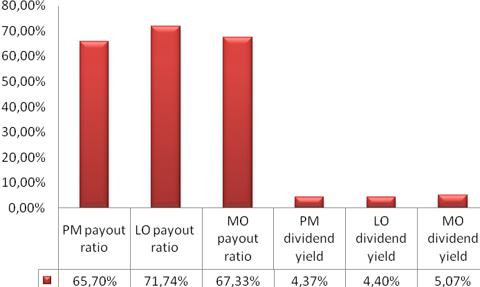 Click to enlarge
Net interest expense for Philip Morris in the first 3 quarters was $721 million. This is an increase of almost 14% to last year's $633 million. PM's long term debt is going up at quite a high rate. The graph below shows Philip Morris' long term debt over the past 5 quarters.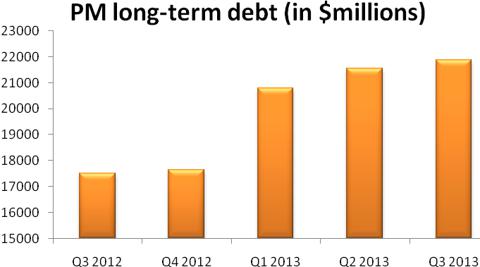 Click to enlarge
The growth in long term debt is due to Philip Morris' share repurchases. In the first 9 months the company has spent over $4.5 billion buying its own shares. While this boosts earnings per share, I feel at some point in the future, PM will have to stop or at least slow down its share repurchases, as the long term debt and thus the interest that has to be paid on it grows. Looking at the balance sheet, we can see PM had $16.02 billion in current assets, with exactly as much in current liabilities at the end of the most recent quarter, giving it a current ratio of 1.00. This is slightly better than Altria's current ratio of 0.91 but far from as good as Lorillard's 1.83. All things considered, I think an investment in Philip Morris is great for income, but I would expect to see the amount of shares repurchased to go down in the next couple of years, which will also lower EPS growth. Having said that even at a low rate of growth a 4.37% dividend is nothing to complain about. One major risk for Philip Morris would be a strong dollar, as their income is mostly in foreign currency.
Disclaimer: I am not a registered investment advisor and do not provide specific investment advice. The information contained herein is for informational purposes only. Nothing in this article should be taken as a solicitation to purchase or sell securities. Before buying or selling any stock you should do your own research and reach your own conclusion. It is up to investors to make the correct decision after necessary research. Investing includes risks, including loss of principal.
Disclosure: I have no positions in any stocks mentioned, and no plans to initiate any positions within the next 72 hours. I wrote this article myself, and it expresses my own opinions. I am not receiving compensation for it (other than from Seeking Alpha). I have no business relationship with any company whose stock is mentioned in this article.