By Roy Vimer, BA, and Nir Etkovitz, PhD
The end of 2013 brought much-awaited relief to Cell Therapeutics Inc. (NASDAQ:CTIC) investors. In the past few months, Cell Therapeutics Inc. (CTI) announced a joint international agreement including $60 million cash in advance, plus another $5 million milestone payment. On January 2nd, 2014, CTI announced that the FDA partial clinical hold on its drug candidate Tosedostat® was lifted, which has allowed all trials, including those that had been paused, to continue. Lastly, CTIC shares rallied this morning on NICE positive nod for PIXUVRI. As per the company statement the regulator recommended funding the treatment as a monotherapy for the treatment of adult patients with multiply relapsed or refractory aggressive B-cell non-Hodgkin lymphoma".
Is Cell Therapeutics Inc. (CTI) turning over a new leaf? We think so. Below, we present and summarize why we are long on CTI in 2014.
The company mission
Cell Therapeutics develops and commercialize an integrated portfolio of oncology products. Its mission is to acquire, develop and bring to market less toxic, more effective therapies to treat and cure cancer. CTI research, development, acquisition and in-licensing activities concentrate on identifying and developing novel targeted therapies that are less toxic and more effective, covering a spectrum of blood-related cancers.
The Cell Therapeutics Inc. pipeline includes next-generation drug candidates for some of the leading classes of cancer treatments like myelofibrosis, ovarian cancer, breast cancer, aggressive non-Hodgkin lymphoma (NHL), glioblastoma, and acute myeloid leukemia (AML).
The current, high-promising CTI product pipeline: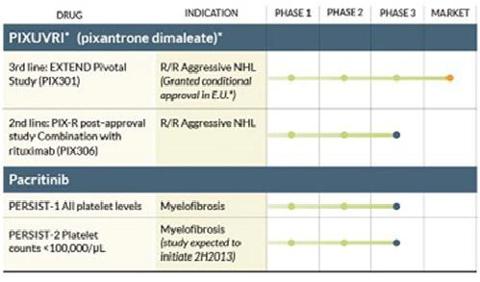 Click to enlarge
Pixantrone (PIXUVRI ®)
Cell Therapeutics's Pixantrone is a commercial drug product approved (conditional marketing authorization) in the European Union by the name of PIXUVRI®. Pixatrone, an aza-anthracenedione derivative, is the only product approved for aggressive B-cell lymphoma for patients who have failed two or more prior treatments. This approval was based on the results from pivotal Phase III clinical trial known as EXTEND or PIX301. In connection with the conditional marketing authorization, the company is required to conduct a post-approval commitment study that is intended to confirm Pixantrone's clinical benefit. The company is currently accruing patients into this study, which will compare Pixantrone and rituximab with gemcitabine and rituximab in the setting of aggressive B-cell NHL.
The market size in the E.U. alone for the current indication is about 21,000 patients. Market research suggests that at peak, about 8,000 patients would be on product every year. Until now, the drug has been available in 10 countries in the E.U. It should be noted that the agreement with the German statutory health funds (4.12.2013) expanded PIXUVRI ® to a reimbursable drug for patients, which in turn increases the potential for revenues. In addition, CTI is having active discussions with other potential partners to expand the global reach outside the E.U.
Pacritinib
Pacritinib is a drug candidate in an advanced development stage. It is a novel investigational, selective tyrosine kinase inhibitor (TKI). This inhibitor of JAK2/FLT3 acts against genetic mutations linked to myelofibrosis, leukemia and certain solid tumors. Pacritinib is currently in Phase III development for patients with myelofibrosis, a chronic malignant bone marrow disorder. The first part of Pacritinib's Phase III multi center randomized trial (known as PERSIST1) is studying efficacy and safety in a broad set of patients with myelofibrosis without limitations on blood platelet counts. PERSIST1 is on target to complete patient enrollment in the first half of 2014. The second part of the Phase III trial (PERSIST2) will evaluate efficacy and safety in patients with low platelet counts. PERSIST2 is set to start as early as this month January 2014.
CTI Agreement with Baxter international Inc.
Based on the product profile, and the potential emerging market opportunity on November 15 2013, Baxter International Inc. (NYSE:BAX) and Cell Therapeutics, Inc. (CTI) jointly announced that they have entered into an exclusive worldwide licensing agreement to develop and commercialize Pacritinib.
CTI received a $60mm (including $30mm equity stake) advance payment and milestone payments totaling $112 million, of which $40 million could be achieved in 2014 and $27 million, in 2015. In addition, on approval and subsequent commercialization, the company will receive royalties from sales outside of the U.S., and profits in U.S. sales will be equally divided among the companies.
CTI More Promising Drug Candidates: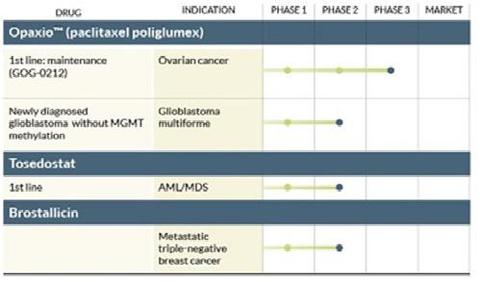 Click to enlarge
Opaxio™
Opaxio™ (paclitaxel poliglumex) is an investigational, biologically enhanced chemotherapeutic that links paclitaxel, the active ingredient in Taxol®, to a biodegradable polyglutamate polymer, resulting in a new chemical entity. It is currently in a Phase III clinical trial for treating ovarian cancer, and in a Phase II trial for treating newly diagnosed Glioblastoma Multiforme (GBM). The ovarian cancer study (GOG-0212) is being conducted by the Gynecologic Oncology Group (GOG). Opaxio™ is also being studied for head and neck cancer; a phase I/II study is currently enrolling patients. Results from preclinical studies suggest that Opaxio™ is preferentially distributed to the tumor sites. Furthermore, Opaxio™ appears to be tumor-selective and does not appear to enhance radiation toxicity to normal tissues.
Tosedostat
Tosedostat is a novel, orally administered aminopeptidase inhibitor that deprives tumor cells of the amino acid building blocks needed to make proteins for tumor cell survival. There currently are two ongoing Phase II investigator-sponsored trials examining the clinical activity of Tosedostat. These include a Phase II combination study for newly diagnosed AML or high risk myelodysplastic syndrome (MDS), with cytarabrine or decitabine and a phase II trialwith cytarabine for AML or MDS.
In Jan. 2, 2014 CTI announced that it received notification from the FDA that the partial clinical hold on Tosedostat was removed and therefore studies that were paused may continue.
Brostallicin
Brostallicin is a small molecule chemotherapeutic agent with a unique mechanism of action. Brostallicin binds covalently to DNA within the DNA minor groove, interfering with DNA division and leading to tumor cell death. Brostallicin is currently in Phase II of a study for the treatment of metastatic triple negative breast cancer.
Milestone Payment from Teva
In addition to the interesting and promising CTI product pipeline, on Dec. 2, 2013 CTI announced that it had just received a $5 million milestone payment from Teva Pharmaceutical Industries Ltd. (NYSE:Teva) for achieving a sales milestone for Trisenox®, an arsenic trioxide injection for the management of acute leukemia. Under the agreement, CTI is entitled to an additional $95 million in future payments based on sales and development milestones at Teva. Cell Therapeutics originally sold Trisenox® to Cephalon, which was in turn acquired by Teva for $6.8 billion in 2011.
Company Financial Position
The company ended the third quarter with net product sales of $0.36 million from PIXUVRI ®. Future revenues depend, in part, on the reimbursement decisions by authorities in the countries where the drug is sold. (As we mentioned before, PIXUVRI® became reimbursable in the German market in December 2013. The German market is the most robust market among the Western European nations). As of September 30, 2013, CTI had cash and cash equivalents of $27.2 million, with operating expenses of about $5.2 million to $5.5 million a month. Taking into consideration the recent Baxter advance payments with additional $67 million in progress payments between 2014 and 2015 and the second $5 million from the Hercules loan these financial aspects provide the company adequate capital to see Pactritinib through its registration filings in 2015 without the need to raise additional equity capital. This is an excellent situation, precluding the need to raise cash in the foreseeable future.
Summary
A candid review of CTI's past endeavors indicates that CTI has had a history with some disappointments that are likely to have hampered its relations with share holders. However, importantly, we find promising evidence of changes in CTI indicating that it may be moving past its former path into a healthier future.
Below are some of the reasons suggesting that CTI is turning over a new leaf:
(1) Joint Agreement: In mid-November, 2013, CTI announced the deal with Baxter International to jointly develop and market Pacritinib, which is currently in a Phase 3 trial. In addition to the $60 million advance, Baxter committed to an additional $67 million in progress payments between 2014 and 2015. With these payments, CTI will have enough cash till 2015. Thus CITI liquidity problems has been lifted.
With the second part of Phase III trial with Pacritinib (e.g. PERSIST2) is set to start in early January this agreement creates a short term catalyst. It can lead to some of the $40 million milestones payment that are expected to receive in 2014. In our view, this payment may lead to another boost in the share price in the upcoming month.
(2) Milestone payment: In addition, on December 2, 2013, CTI announced that it had just received a $5 million milestone payment from Teva Pharmaceutical for achieving a sales milestone for Trisenox®, and is entitled to an additional $95 million in future payments based on sales and development milestones at Teva.
(3) Reimbursements: On Dec. 4, 2013, CTI announced the agreement with the statutory health funds in Germany making PIXUVRI® reimbursable in the German market, the most robust market among the Western European nations.
(4) FDA lift: On January 2, 2014, CTI announced the U.S. Food and Drug Administration (FDA) had removed the partial clinical hold on tosedostat, and two Phase II investigator-sponsored trials studies that had been paused may continue.
(5) Uptrend momentum: On Friday, January 4, 2014, CTI shares broke a 52-week high, $2.17, with a value at 2.5 times the average volume. This 52-week breakthrough is also supported by our chart indicators with positive MACD. Importantly the OBV indicator (On Balance Volume) is rising, which means there is positive volume flow, confirming the price uptrend momentum.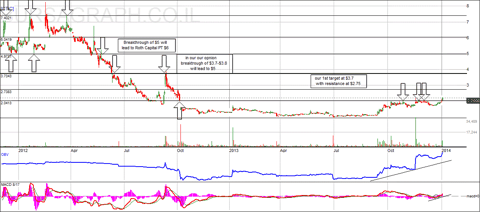 Click to enlarge
In conclusion
In our view, the technical and fundamental factors make CTI a very attractive long trade. Given the financial resources, the new agreements as indicated above and a promising pipeline Cell Therapeutics shows signs of turning over a new leaf. With growing investor confidence and a significant upside potential, we anticipate that the shares will continue to climb.
Our target CTIC share price is currently at a conservative level at $5 compared to the evaluation of other analysts such as Roth Capital, who rates CTIC a "buy" with a $6 price target.
Disclosure: I have no positions in any stocks mentioned, but may initiate a long position in CTIC, over the next 72 hours. I wrote this article myself, and it expresses my own opinions. I am not receiving compensation for it. I have no business relationship with any company whose stock is mentioned in this article.