J.C. Penney (NYSE:JCP) has been in a heck of a downward spiral since I first reccomended shorting it at prices of $21. It's my contention that things still have to get worse before (IF) they ever wind up getting better. With JCP diluting recently to raise more cash, the $21 price target may be one that JCP never sees again.
In the midst of this, JCP continues to make the same mistakes that brought it to its crippled state - rehiring Myron Ullman, reinstating the brands and inventory that was causing it to lose money in the first place, and wasting time and resources on its absurd legal battle with regards to Martha Stewart.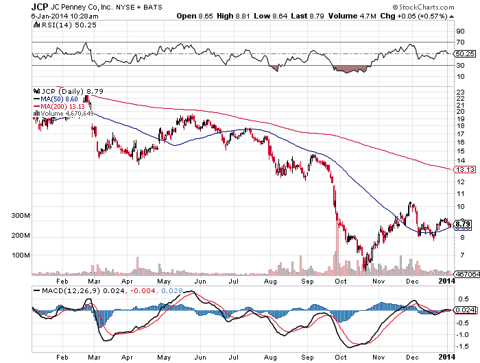 Click to enlarge
Over the last twelve months, J.C. Penney investors have lost about 57% of their investments. Conversely, shorts have cleaned up. Over the last three months, JCP has staged a bit of a rally on sparse sales metrics and is up 13% in the last 90 days.
And then you have Macy's (NYSE:M) - a company that I also looked at for a short around the same time and wasn't exactly correct on. Macy's continues to outperform JCP significantly in basically every aspect of its business and stock performance.

Click to enlarge
Back some time ago, when I was first penning my bearish argument on J.C. Penney, one of the items that I took exception with was the time that it was wasting dealing with fighting over Martha Stewart with Macy's.
In my editorially acclaimed article, "J.C. Penney Dying Like a Crazy, Headless Chicken", I once again introduced the lunacy of the Martha Stewart mess:
Also, let's not forget the time and money that company has spent during both Johnson and Ullman's tenure over this stupid, ridiculous, resource draining fight for Martha Stewart; a brand that nobody really seems to care about anymore.
Nobody in my generation or my child's generation is going to have the same fixation on Martha Stewart or her products. In the era of Target (NYSE:TGT) offering up hip and quirky looking styles and brands like Thomas O'Brien and Threshold, J.C. Penney is looking backwards, not forwards, by wasting time dealing with Martha Stewart's brand. The price points of the alternate, more stylish brands are what they need to be focused on to take these housewares into a new period for their respective stores. The styles that are selling for my, and future generations are along the non-gaudy yet still hip lines. This is why stores like Anthropologie continue their success while brands like Martha Stewart continue their slow, inevitable fade into oblivion.
Yet - J.C. Penney continues to waste time, money and resources on Martha Stewart. It was reported on January 3rd by StreetInsider:
Talks between retailers Macy's (NYSE: M) and J.C. Penney (NYSE:JCP) regarding a merchandising agreement with Martha Stewart Living Omnimedia (NYSE: MSO) are said to have come to a standstill.

The WSJ said Friday that Macy's and J.C. Penney have been in dialogue on and off over the last few months, but haven't been able to come to an accords over the amount of damages that should be awarded. Macy's is looking to recoup attorney's fee and lost profit due to Penney's pact with Martha Stewart Living.

The halt makes it more likely that a judge will need to decide the outcome of the case.
I'm not a lawyer - but even I know the difference between getting these things swept under the rug and taken care of versus wasting time on them.

Click to enlarge
What this means is that JCP, while continuing to fight for its life, is still wasting money on Martha Stewart. It's been over a year with this nonsense. Although JCP's legal costs haven't been extremely material to the company's performance, it's a situation where every dollar counts.
The facts are that JCP should have cut their losses here and swept this mess under the table a while ago. This debacle is a perfect example of how this company continues to spin its wheels. JCP remains a short or avoid at all costs.
Best of luck to all investors.
Disclosure: I have no positions in any stocks mentioned, and no plans to initiate any positions within the next 72 hours. I wrote this article myself, and it expresses my own opinions. I am not receiving compensation for it (other than from Seeking Alpha). I have no business relationship with any company whose stock is mentioned in this article.