Introduction

GCVRZ is a contingent value right created out of the acquisition by Sanofi (NYSE:SNY). Several articles have been published about Sanofi and GCVRZ in recent months, including most recently an article by Chris DeMuth, which mentioned that it was his top pick of 2014. The article mentioned that the FDA was shortly to rule on whether to approve Lemtrada, (or its generic name, alemtuzumab), a drug used to treat multiple sclerosis. A few days after Mr. DeMuth's article the FDA did in fact rule. Unfortunately, the FDA ruled against Sanofi and GCVRZ dropped precipitously in value. This drop precipitated a large number of comments about Mr. DeMuth's article, many of which were arguably unjust. Moreover, the comments may have muddied the water regarding what value, if any, remains for the contingent right. Thus, this article recaps the history of the Sanofi/Aventis merger and the contingent value right's milestones, and it provides a prediction of what to expect in the future.
History/Background of Sanofi
Sanofi is a Paris based pharmaceutical company with a United States headquarters in Bridgewater, New Jersey. SNY employs approximately 17,000 workers in the United States, and more than 100,000 professionals in over 100 countries. SNY manufactures a wide range of drugs, including drugs for the treatment of, among other things, diabetes, cancer, and multiple sclerosis, the latter which is germane to the discussion of Sanofi's contingent value right.
Sanofi is a company that traces its origins back to 1718 when a family of pharmacists formed Midy. Through various mergers and acquisitions, Sanofi came about in 1973. In 1999, Sanofi merged with another French pharmaceutical company, Synthélabo, to create Sanofi‑Synthelabo. Also in 1999, a French chemical and pharmaceutical company, Rhône‑Poulenc, merged with a German pharmaceutical company, Hoechst Marion Roussel, to form Aventis, which became one of the world's largest pharmaceutical companies. In 2004, Sanofi‑Synthelabo acquired Aventis, and the company was renamed Sanofi‑Aventis. In 2011, Sanofi‑Aventis simplified its name to Sanofi. (The below chart details the history of Sanofi.)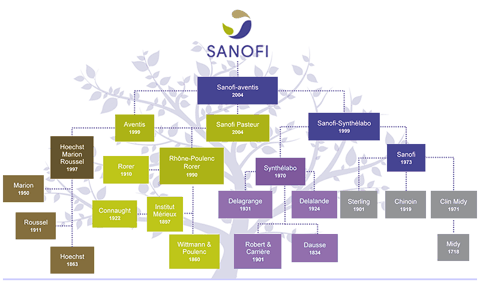 Click to enlarge
Background of the Sanofi Contingent Value Right (NASDAQ:GCVRZ)
In 2011, Sanofi purchased Genzyme, a Cambridge-based manufacturer of innovative drugs, including Lemtrada, a drug intended, among other things, for the treatment of multiple sclerosis. At the time of the Genzyme acquisition, the parties were unable to agree on the future value of Lemtrada and, therefore, they created a contingent value right. (See SEC/Edgar filing.) As explained in Mr. DeMuth's article, a contingent value right is a contract used in mergers when a buyer and seller are unable to come to an agreement about the future value of a specific asset. The right is traded like a public equity and generally involves payments at specific milestones.
The GCVRZ Milestones
As set forth in the filings the Sanofi/Genzyme contingent value right (hereafter "GCVRZ") had several milestones, five of which pertained to Lemtrada. The first Lemtrada milestone is an Approval Milestone and the remaining four are Production Milestones.
The Approval Milestone states that "CVR holders are entitled to receive $1 per CVR after U.S. FDA approval of Lemtrada for treatment of multiple sclerosis, if the approval occurs on or before March 31, 2014." Although this deadline has not yet passed, recent events suggest that this milestone will not be met, and as a result GCVRZ's price has tumbled.
For example, in November 2013, the Food & Drug Administration (FDA) issued a negative report citing certain not insignificant side effects. In the month or so before the report, GCVRZ had traded in a range from $1.75-$2.05. As a result of the report, GCVRZ lost more than half its value, closing at $0.77. For the next six weeks, it traded in the $0.75-$0.95 range. Then, on December 27, 2013, the FDA formally rejected Lemtrada, calling into question the integrity of clinical trials and citing the risk of potentially serious side effects. Trading in the right was halted. On the following Monday, trading in GCVRZ resumed, and the right dropped roughly 60%, trading as low as $0.30 and closing on Tuesday at $0.34. Since December 31, 2013, the right has traded within $0.02 of this price.
The FDA has an appeal process and SNY has already indicated that it will appeal the FDA's ruling. Such appeals, however, are rarely granted. Thus, one may conclude that the Approval Milestone will not be met. Accordingly, GCVRZ's value now lies in whether any of the Production Milestones will be met. These milestones are set forth in the table below.
| | | |
| --- | --- | --- |
| Milestone | Requirements | Payout |
| Sales Milestone #1 | Lemtrada sales total $400 million in multiple geographic markets within a specified period of time following the first commercial sale of Lemtrada. The $400 sales level is determined based on aggregating sales achieved in this specified period in each of the selected geographic markets. | $2.00 |
| Sales Milestone #2 | Lemtrada global sales total $1.8 billion within 4 consecutive quarters. Any quarters used in the achievement of this sales milestone cannot be used again for the achievement of any subsequent milestones. | $3.00 |
| Sales Milestone #3 | Lemtrada global sales total $2.3 billion within 4 consecutive quarters. Any quarters used in the achievement of this sales milestone cannot be used again for the achievement of any subsequent milestones. | $4.00 |
| Sales Milestone #4 | Lemtrada global sales total $2.8 billion within 4 consecutive quarters. | $3.00 |
| | Total Possible Remaining Payout | $12.00 |
The first sales milestone is unclear without turning to other SEC filings. Elsewhere, EDGAR filings provide:
For the United States of America, the United Kingdom, Germany, France, Italy and Spain, sales achieved in the 4 calendar quarters immediately following the quarter in which Lemtrada is first sold in that country (after receipt of marketing approval in that country) are counted toward the $400 million sales milestone.

Sales in these six countries are only counted if the first commercial sale in the country occurs within 6 calendar quarters immediately following the quarter in which Product Launch for Lemtrada is deemed to occur. Product Launch is defined as the first day of the calendar quarter beginning one full calendar quarter after the end of the calendar quarter in which Lemtrada is sold in a major market.

Sales of Lemtrada in all other countries may also be counted toward the achievement of Product Sales Milestone #1 to the extent they occur during the 4 calendar quarter period that begins on the first anniversary of the launch of Lemtrada for treatment of multiple sclerosis.
The foregoing itself may be confusing, but in essence it means that the $400 million sales milestone is not solely dependent on the United States but may come from sales in Europe and elsewhere. This is good news because, notwithstanding the United States' denial of approval Lemtrada has received wide approval in other markets - in September 2013 Lemtrada was approved by European regulators, and in December 2013 it was approved by both Australian and Canadian regulators. Accordingly, the ability of the contingent right to meet the first milestones depends on the size of the markets in the countries where it has been approved and Sanofi's marketing.
Estimates are that there are more than 2.3 million people worldwide who have been diagnosed with MS. Of these, approximately 20,000 people live in Australia; 100,000 in Canada; and approximately 630,000 in Europe. This figure for Europe is roughly 20% higher than the 400,900 cited in Mr. DeMuth's article. Mr. DeMuth relied upon data from the Multiple Sclerosis International Federation (OTC:MSIF), whereas this article relied upon data from Multiple Sclerosis-United Kingdom (www.ms-uk.org). The author does not claim that either data are more accurate.
Lemtrada is administered in two treatments. The first treatment involves a number of doses across five consecutive days; the second treatment involves a series of doses across three consecutive days, and is administered 12 months after the first treatment. Genzyme has proposed that the cost of the first treatment will be $60,000 and the second treatment will be $40,000. (Other sources suggest the course of the full treatment in Germany will be $95,000.) As Mr. DeMuth noted, based on Genzyme's proposed pricing, to reach the $400 million milestone would require roughly 6,700 first treatments. If one uses the MS-UK data, this would be roughly 1.5% of the European MS populace. If one uses the MSIF data, this would be roughly 2% of the European MS populace. By any stretch of the imagination, it is conceivable that Genzyme should be able to market Lemtrada to a sufficient number of MS patients to meet the production target of $400 million. There is not, however, a consensus among analysts that Genzyme will be able to reach the first production milestone within the specified time frame. More specifically, Thomson Reuters predicted Lemtrada would generate annual sales of $707 million by 2018 prior to the FDA's annoucement. More recently, however, Jefferies predicted annual sales to only be $512 million by 2017. In short, it appears analysts now believe that, without the United States' market, sales may not be sufficiently strong to reach any of the production milestones.
It is my understanding that sales of Lemtrada started in Germany in the 4th quarter of 2013. Thus, the clock is ticking and there are now 4 quarters in Germany to contribute to the $400 million goal (i.e., basically all of 2014). It is not known whether sales have already commenced elsewhere in the 5 European countries.
Conclusion
Those who purchased GCVRZ prior to the FDA ruling on 12/27/2013 are likely suffering major heartburn - a loss of 60% in any investment is difficult to swallow, and to debate whether to hold the position for at least a year is likely uncomfortable. To those who bought on 12/30/2013 or later, however, GCVRZ seems like an extremely low risk/high reward opportunity. Currently trading at $0.367 on Friday's close, the right still offers the opportunity for multiple payouts in the upcoming years. If only 6,700 non-U.S. patients, or less than 2% of European MS patients, are treated within the next 4 quarters, the first milestone will be met. This percentage seems such a minimal threshold that it should be met. If Lemtrada is subsequently sold in a later 4 quarters to 30,000 patients (or little more than 6% of the total European MS patients, and this factoring in only the cost of the first treatment, but not the second), it appears that one or more of the remaining milestones could be met. Thus, GCVRZ remains an excellent opportunity for 2014 (and years beyond).
Disclosure: I am long GCVRZ. I wrote this article myself, and it expresses my own opinions. I am not receiving compensation for it (other than from Seeking Alpha). I have no business relationship with any company whose stock is mentioned in this article.