ATHABASCA MINERALS (ABM-V)
Current Price: $1.50 (01/03/2013)
Shares outstanding (basic): 28.3 million* (Insider ownership: ~30%)
Debt (as of Q3 2013): $2.8 million
Earnings History: $1.7mm (2010), $2.9mm (2011), $4.7mm (2012), $1.5mm (2013 ytd)
Trailing P/E (2012): 9.0x
(* on December 17th, 2013 the company announced a financing for approximately $5 million which is expected to close on Jan. 14th, 2014 and would increase the number of shares outstanding to approximately 31.8 million).
Introduction and Core Business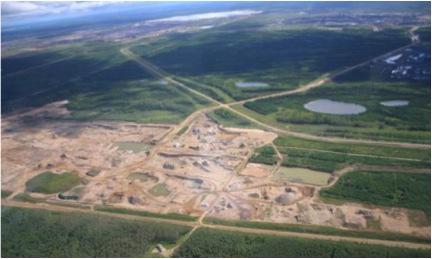 Athabasca Minerals (OTCPK:ABCAF or ABM on the TSX Venture exchange) is the largest aggregate supplier in Canada. ABM runs the provincially owned Susan Lake gravel pit (the largest gravel pit in Canada, pictured above), which is a critical source of the aggregate needed for maintenance and construction of roads and infrastructure in the oil sands and greater Fort McMurray area. ABM manages Susan Lake on behalf of the Alberta government under a management contract and is essentially paid a "toll" (management fee) for each tonne of aggregate produced at the pit. Over the last 5 years, production from Susan Lake has averaged between 6 to 8 million tonnes per year, with ABM's management fee coming in at around $1/tonne of aggregate produced.
The Susan Lake management contract is currently ABM's "core" business, but I believe that other higher margin business segments will become more relevant to the company and its investors in the years ahead. Through the Susan Lake management contract, the company has a history of positive earnings growth, but there are two additional silos of the business that I'll call "The Growth" (the opening of 100% corporate-owned pits) and "The Sizzle" (a new and strategically located frac sand resource) which I will introduce below. It is worth noting that despite a history of positive earnings, the company has historically had very little capital markets exposure (I turned up only one analyst report in my research) as it sits in an undercovered "gap" between the oilfield services and resource sectors.
The Growth
First things first… In the aggregate business, transportation cost is the single most important factor outside of the aggregate itself. If a producer is closer to its end users, that producer is going to be more cost competitive, which will naturally lead to more market share in what is basically a bulk commodity business. Access to the end user with the least amount of hauling is everything. Get close to your market. That's Rule #1.
So, in light of Rule #1, ABM has invested in finding and developing 100%-owned aggregate resources strategically located in the Fort McMurray region. These corporate-owned pits are expected to have higher operating margins than the "toll production" from Susan Lake. It is important to note that in its most recent MD&A, ABM stated that while corporate-owned pits were only 6% of the company's production by tonnage, they represented 59% of the company's revenue. Even to the casual observer the potential leverage of increasing production from corporate-owned pits should be clear. These pits will allow the company to capture the production portion of the value chain, not just the management of it.
Figure 1: Map of Athabasca Minerals Pits Relative to Oil Sands Leases and Greater Fort McMurray Area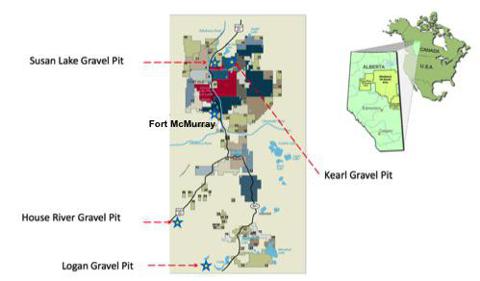 (source: Company reports)
After reviewing the company's corporate filings, I believe this corporate-owned production has the potential to ramp up in 2014 and beyond, which I believe will result in the expansion of both revenue and earnings. ABM doesn't provide guidance for aggregate production volumes from its corporate-owned pits yet, but as of the end of Q3 2013 the company currently had $5.6 million in inventory (read: gravel ready for sale) that was mined from the recently opened (and 100% owned) Kearl, Logan, and House River gravel pits. The company has incurred the costs for the production of aggregates from these pits, but has not sold all of its inventory yet. Some people might find that concerning, but the reasons for it are well explained for anyone who takes the time to read the Q3 2013 management discussion and analysis (which can be found at www.sedar.com).
Quite simply, at Kearl, wet weather and higher than expected water inflows in the pit left the company unable to mine and move material effectively due to a lack of adequate water handling capacity (pumps) in the pit and waterlogged roads. Intuitively, it's not hard to imagine how too much water would impact an aggregate operation (recall the Alberta-wide flooding in 2013). However, after going through a wet year and gaining some experience in the pit (some might call these "teething problems") ABM believes they are better prepared to operate Kearl effectively going forward. Time will tell, but given the scale of the Susan Lake operation that ABM oversees, I expect that the company has at least a fighting chance. In fact, in Q3 2013 the company reported that over 63% of the 248,000 tonnes of aggregate processed at Kearl can be attributed to August alone, which may bode well for operations in Q4. Additionally, it is worth noting that mining at Kearl has reached a "richer" layer where the gravel-to-sand-ratio is higher (see the Q3 2013 MD&A), resulting in the production of a higher value product.
At Logan, to cut a long story short, the company has learned that this is a winter-only haul/access site for now, as the road is best traveled when it is frozen. The company is working with two local municipalities with respect to a future plan to upgrade the road to an all-season haul road. Approximately 270,000 tonnes of Logan gravel is ready for sale and transport once road conditions permit. Further to that point, on November 27th, ABM announced that delivery and invoicing for the 260,000 tonne balance of an original 375,000 tonne order started in November and is expected to be completed during Q2 of fiscal 2014.
House River is winter-only access as well. The House River pit is 11 kilometers from Highway 63 and management believes that this pit is ideally located to benefit from the Highway 63 twinning project, but time will tell.
To summarize, I believe that ABM is set for revenue and earnings growth from these corporate-owned operations going forward. Kearl is particularly well located with respect to existing oil sands operations, particularly with the recent "green light" given to the multi-billion dollar Fort Hills oil sands project. As a result, I expect aggregate demand in the Fort McMurray area to remain strong and I believe ABM should be well positioned to benefit.
The Sizzle
ABM is currently permitting a frac sand deposit ~100 kilometers north of Fort McMurray near the end of Highway 63 that appears to be ideally suited to serve the Western Canadian (and potentially northern U.S.) oil and gas fracture stimulation market. Frac sand, sometimes referred to as "white gold", is a highly sought after commodity, particularly under the new paradigm of tight oil and gas resource plays that are set to shape the energy future of North America for the foreseeable future. Frac sand is a consumable resource. Once it is pumped into a well during a fracture stimulation operation, it remains trapped in the created fractures for eternity, which means that drilling and completions operations will need more frac sand every single year. The very nature of modern well completions and production profiles suggests that frac sand is a now a critical part of the North American energy equation.
Figure 2: A Sample of ABM's 40-mesh Firebag Silica Sand at 10x Magnification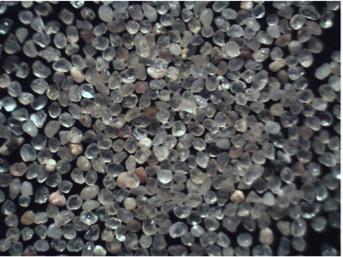 (source: Company reports)
Frac sand is a very specific commodity in that there are relatively unique physical characteristics that must be met in order for sand to be qualified as "frac sand". Silica content must be very high, sphericity and roundness must be adequate, and the sand grains must be strong enough to withstand the compressive stresses encountered deep underground. ABM has had sand from its Firebag River project (Figure 2, above) independently tested by Stimlab of Oklahoma, where test results indicated that the sand is suitable for use in the frac sand industry (see two relevant press releases here and here) with minimal processing. In terms of grain size, 95% of the Firebag silica sand ranges from #8 to #140 mesh (with ~2/3 of that falling in the 20/40 to 40/70 range). Comprehensive tests results from samples of 20/40, 40/70, and 70/140 Firebag sands (i.e., industry standard sizes) were reported to have compared favorably with known industry benchmarks (e.g. Brady Brown and Northern White).
Figure 3: Location of ABM's Firebag River Frac Sand Project Relative to Fort McMurray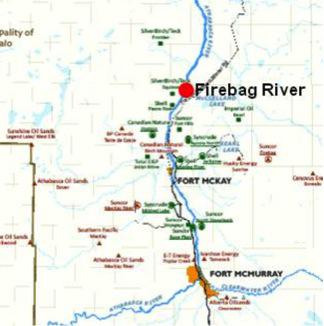 (source: Company reports)
The Firebag River deposit is located 2 kilometers off an all-season road and is well located to service key resource plays in western Alberta and northeastern British Colombia (see figure 4, below). Some examples of relevant tight oil and gas resource plays include the Montney, Horn River, Cardium and Duvernay. Frac sand for these regions is currently imported largely from out of province, with large volumes currently imported from places like Wisconsin (U.S. Silica, SLCA, actually ships to Western Canada from Wisconsin!). It is worth noting that U.S. Silica has a ~$1.7B market cap in the silica sand business. SLCA produces just over 7 million tonnes of silica sand per year for a variety of industrial applications, some of which is frac sand destined for the Canadian market. The total Canadian frac sand market is currently around 2.5 million tonnes per year and is expected to grow at ~5-10% per year.
Figure 4: Location of Firebag Frac Sand Project Relative to Major Western Canadian Resource Play Areas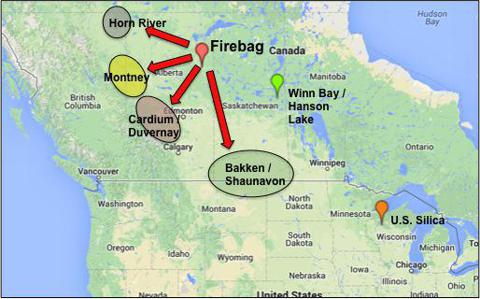 The logistics of the operation appear to be very attractive. Only simple mechanical processing is required to wash, screen, and sort the Firebag silica sand, which means capex should be low, particularly given the good access to the site at the end of Highway 63. The current plan involves mining the sand and trucking it to a built-for-purpose rail-side loading facility at the end of the rail line near the Fort McMurray airport.
Analyst estimates peg all-in capex at around $50 million, which means the economics could be quite favourable for a deposit with this kind of size potential and implied mine life (which by my back-of-the-envelope math could be well over 25 years). ABM has not provided guidance for production levels at Firebag, but I believe that a 0.5 to 1.0 million tonne per year target is within reason given the implied size of the deposit. Given that the distance to Calgary (which is still well south of the core of the Alberta Deep Basin) from central Wisconsin is about 2000 kilometers, it would seem that some significant transportation cost savings could be realized from developing a local sand source (I estimate roughly $40-50/tonne of savings using a cost of $0.03-0.04 per mile of rail transport over 1250 miles). If I hold all else equal, the transportation cost savings alone would suggest payback in ~1-2 years at my assumed full-production throughput rates.
(*I should point out that all of my estimates with respect to potential margins and production rates above are just that, estimates. I present the numbers as a framework from which to begin to evaluate the Firebag project economics and I have based my estimates on the results of my due diligence. I fully expect ABM to complete an independent economic study on the Firebag River project in 2014 which would provide a NI 43-101 compliant view of its potential economic value. I strongly suggest that readers consider my estimates only as an indicative "best guess".)
ABM has applied for an initial frac sand mining permit covering 80 acres, which is adjacent to an additional prospective 500 acre area over which ABM also holds metallic and industrial mineral rights. The Firebag sand layer is up to 15 meters thick with only a few inches of overburden on top, so mining the unconsolidated sand should be cheap and easy. ABM also holds metallic and industrial mineral rights over a larger ~30,000 acre area which surrounds the aforementioned 80-acre and 500-acre parcels, so the company appears to have the area well covered.
One relevant data point with respect to potential valuation of Firebag can be found in January 2012, when Winn Bay Sand was bought by Preferred Sands for over $200 million. Granted it was an operating project, but I believe the proximity and expected low-capex of Firebag make the comparison a useful one.
Keeping in mind that this potentially material frac sand optionality is currently on a company with: 1) less than 30 million shares outstanding, 2) a history of profitability, and 3) a growing corporate-pit business, the case for ABM looks fairly attractive to me. Even if I assume dilution to 40 million shares from the current 28.3 million outstanding that's $5.00/share of potential upside; arguably for free.
ABM has guided the market to look for frac sand project approval in the very near future. If that's the case, it could be a good quarter for ABM shareholders if I'm right about the value potential of the Firebag project. I don't expect $5/share in value to appear overnight, but I would view approvals on the initial 80-acre parcel to be a big step in the right direction.
Assuming approvals are granted, project financing and product acceptance by end users would likely come together in 2014, but given the quality of the sand based on independent testing and the proximity to key markets, I don't think that attracting interest from investors or end users is going to be a problem. As oil and gas producers seek to continue to drive well costs lower, I believe that a local, cheaper source of frac sand would logically be expected to be part of that equation. Additionally, with increasing talk of LNG projects on the west coast of British Columbia, one could imagine a scenario where frac sand demand growth in western Canada could handily exceed the expected 5-10% annual growth rate.
The Simple Summary to My Investment Thesis
The overarching theme in this investment for me is, "in aggregates, proximity is everything". The closest company to the end user and/or the company with the better logistics, wins. Athabasca Minerals appears to be well positioned (literally) with respect to the locations of the company's gravel and frac sand projects. Firebag sand project approval is probably the nearest-term potential catalyst for investors, which could make ~$200 million upside that much more real on this $42 million market cap company. If approvals are granted, I would expect a 43-101 compliant resource and economic study to be completed in the first half of 2014.
Athabasca Minerals is the only publicly listed "made in Alberta" frac sand resource that I am aware of and I believe the inherent logistical and strategic advantages in terms of proximity to the core of Canadian natural gas production (which could also make it integral to the northeast British Columbia LNG theme) are clear. As a result, I believe that increased investor awareness is just a matter of time. In the meantime, I am happy to own a proven business at a reasonable earnings multiple with a growing core business.
To summarize, I am willing to pay 10-12x trailing earnings for a company with a stable core business with optionality on: 1) increased corporate-owned pit production (and hence higher revenues and earnings), and 2) a frac sand deposit that appears to have significant logistical (read cost) advantages over out-of-province sources that could surface something in the $5/share range of upside (that's ~300%) from current levels in the relatively near-term. In terms of risk-reward balance, I believe ABM screens favorably and has the potential for significant re-rating as project milestones are met and investor awareness of this dual-theme company increases.
Risks
Below are a few of the main risks that I see with ABM. The list is by no means exhaustive, but it covers the main issues that I have considered with respect to my investment thesis.
With respect to aggregates, Athabasca Minerals' fortunes are strongly tied to activity levels in the oil sands and greater Fort McMurray region. As a result, the company is subject to the whims of the commodity markets to some degree. Fortunately, oil sands producers/operators tend to think in longer time horizons, but nonetheless a prolonged slowdown could impact the aggregate business. I view the recent Fort Hills approval as a positive data point in this regard.
Independent testing of Firebag silica sand has shown that a washed and screened product would meet all generally accepted industry guidelines with respect to use in fracture stimulation operations, but the company will need to effectively market, mine, and transport their product. Without the benefit of an independent economic analysis or a proven market, the potential value of the Firebag project suggested here should be viewed as speculative at this stage. However, given the logistical (read cost) advantages that Firebag offers over existing frac sand sources, combined with the released results of the independent testing by Stimlab, I am optimistic on the potential value and strategic nature of the project. Government approval risk is present as well, though given the relatively environmentally benign nature of sand mining and the significant amount of time already invested in the permitting process, I view this risk as low.
The Susan Lake pit management contract is granted for 10-year periods. The current 10-year period expires 4 years from now, so in 2017, ABM will need to see it renewed. I see no reason why this contract would not be renewed, but if my investment thesis is correct, I expect that by that time the Susan Lake management contract will be overshadowed by the frac sand and corporate-owned aggregate operations anyway.
As a junior company with a small balance sheet and limited financial resources, Athabasca Minerals is subject to financial risk with respect to financing new operations (e.g., Firebag River). Despite that fact, I am of the belief that good companies, with clean balance sheets, and good projects tend to have little trouble attracting adequate capital in rational capital markets.
Lastly, while ABM believes that their operations at Logan and Kearl should see improvements going forward, there can be no guarantees in that regard. Weather can become a factor in even the best of operations, and unseasonable conditions could have an adverse impact on results. Marketing of the material produced in these pits is also a consideration, but given the bulk-commodity nature of the aggregate market I view the risk of marketability as being low.
Disclosure: I am long ABCAF. I wrote this article myself, and it expresses my own opinions. I am not receiving compensation for it. I have no business relationship with any company whose stock is mentioned in this article.