You may have heard this said before or you may have heard it said the other way around: That the best defense is a good offense. It really depends on whom you hear it from. Those that suggest the latter saying is the correct one base it on the premise that if you attack your opponent incessantly, they will not be able to mount a counterattack and therefore, you do not really need a defense.
We would argue that a good defense not only limits the opponent from scoring but also creates opportunities for the offense to score. Some examples from sports include:
The Miami Heat won their second consecutive NBA championship not because they had a stellar offense. They won games when their defensive intensity increased, preventing their opponents from scoring and creating turnovers that led to points.
Alabama destroyed LSU in the BCS Championship game in 2012, not by scoring many touchdowns. In fact, they only scored 1 touchdown in the 21-0 defeat of LSU. Alabama gave up only 92 yards to LSU and had 4 scoring drives of less than 50 yards, thanks to the favorable field position provided by their defense.
I'm sure that readers favoring offense over defense can come up with an equal number of examples of a team with an explosive offense, arguing that the better offense will score more points than an inferior one. All that is needed, they would continue, is a defense that is just good enough to capitalize on the opponent's mistakes.
For the purpose of this article, however, we will argue that defense is more important than offense, wealth preservation comes before growth, and a penny saved is a penny earned, etc.
Different REITs with Surprising Similarities
Two of the top REITs in their respective sectors are Annaly Capital Management (NYSE:NLY) and Realty Income Corporation (NYSE:O). According to Morningstar.com, Annaly Capital owns, manages, and finances real estate related investments, including mortgage pass-through certificates, collateralized mortgage obligations, Agency callable debentures, and other securities. The difference between the interest it receives from these securities and the interest cost it pays to finance the purchases, is the profit it makes before taking into account other operating expenses.
Realty Income Corporation operates as an equity real estate investment trust, or REIT. The Company has in-house acquisition, leasing, legal, credit research, real estate research, portfolio management and capital markets expertise. Unlike Annaly, Realty Income owns tangible real estate that is leased primarily to retail companies. Realty Income generates profits by collecting lease payments that are over and above its expenses.
Over the last 15 years, the total return on both of these REITs has been comparable. According to Morningstar.com, Annaly has had a total return of 10.48% annualized over the last 15 years, which is slightly below the 10.97% annualized return for Realty Income over the same period. Despite similar returns over this period however, these two REITs differ considerably in the sector they operate, the business model they employ, and the types of assets and liabilities they hold. Some REIT experts may argue that there cannot be a more diverse comparison of REITs than these two.
However, both Annaly and Realty Income do share at least one important characteristic. That is, they are both run by top management teams in each of their respective industries. Both these REITs have outperformed their respective peers in each sector and have built a leadership position in their respective REIT sectors. Today, they also share a comparable strategy in how they are repositioning their respective portfolios to deal with an uncertain economic environment, increased competition, and political uncertainty, to name just a few of the challenges they face.
Not only are each of these REITs slowly entering areas outside of their traditional niches, they are also taking a more defensive approach going forward.
Annaly Defense
In the case of Annaly, it has been operating with much less leverage since the financial meltdown of 2008, having reduced leverage from 10.72 at the end of 2007 to less than 8 at the end of September 2013. The chart below shows the financial leverage history for NLY from 2003 to the end of 2012.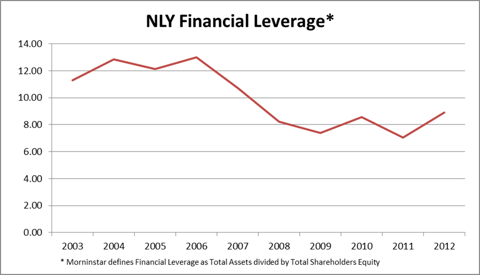 In addition to being more cautious with leverage, Annaly has recently begun to increase its share of purchases of commercial real estate loans. Annaly has traditionally invested in agency mortgage backed securities for residential real estate so its foray into commercial real estate, while not entirely new, is an area outside of its core competency. This shift in strategy can be viewed as being more defensive and is consistent with the more conservative levels of leverage it has been using over the last few years.
The reason it has shifted its strategy slightly is twofold: On the one hand, commercial real estate loans have much higher yields than residential real estate mortgages, which is providing a much needed boost to net interest income in a low interest rate environment. More importantly however, is that commercial real estate loans have shorter duration than residential mortgages, which means they will be less affected by rising interest rates. Since commercial real estate loans usually have floating rate terms, the duration on the loans is no longer than the time until the next rate adjustment, which can be as short as quarterly. In addition, the rise in interest rates may actually contribute to higher net interest income.
Good Defense Can Lead to Offense
As we mentioned in a previous article, Annaly was finally able to prevent a further decline in its net interest spread during the quarter ending June 2013. The net interest spread on its portfolio had slowly declined from 2.52% in 2009, to 0.91% at the end of March 2013. In Q2 2013, the net interest spread finally stabilized, increasing to 0.98% and then again to 1.01% in Q3 2013. See chart below.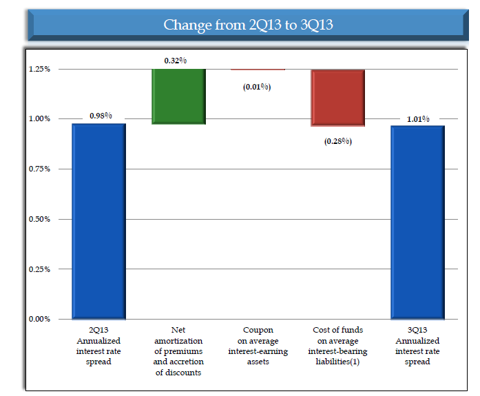 When we looked further into the portfolio shifts that were occurring and analyzing how the portfolio would react to further interest rate rises, one metric really stood out. Annaly reports the expected change to its portfolio if rates were to rise by certain amounts. It shows both the impact to net interest income as well as the percentage change in portfolio value due to the interest rate change. We chose to focus on the analysis for a 75bps parallel shift in interest rates. A parallel shift hypothetically assumes that all rates, both long and short move up by 75bps. (In reality, short-term rates and long-term rates do not move in exact unison) In this scenario, we would expect that net interest income would decrease slightly because net interest income would remain the same over the short term, while financing costs will increase. We would also expect the portfolio value to decrease by an amount that is dependent on the duration of the portfolio. The longer the duration of the portfolio, the greater level of sensitivity the portfolio value will have.
As we can see in the table below, the portfolio value decreases slightly as expected, even with certain interest rate swap hedges. But beginning at the end of 2012, net interest income is expected to increase if interest rates rise, not decrease.

This doesn't make intuitive sense, so we tried to contact Annaly to shed some light on this. We have not received a response thus far. Instead, we further analyzed some possibilities and came up with our own conclusions.
We expect that in the process of shortening the duration on the portfolio by investing in variable commercial real estate loans, Annaly has effectively created some offense. (Comparable to an interception or steal) We knew that the weighted average yield of its portfolio had been decreasing over time. We also knew that the weighted average yield on the adjustable portion of the portfolio had been decreasing. The table below shows the data from 2008-2012.

What we found interesting was that the spread between the adjustable rate portion of the portfolio and the fixed rate portion of the portfolio was narrowing. As of the end of 2012, the difference between the adjustable rate portfolio and the fixed rate portfolio was marginal. For example, in 2008, the yield on the adjustable rate portfolio was 3.93%, which is just 76% of the yield on the total portfolio. By 2012, the adjustable rate portfolio had a yield that was 94% of the yield of the entire portfolio. Clearly, the level of fixed rate yields had declined more than the adjustable portion of the portfolio. (note: the percentage of the total portfolio that was adjustable remained fairly constant at 8-10% of the total)
So how does this create offense you might ask? Well, if we think about the characteristics of commercial real estate loans, not only do they have higher interest rates than residential mortgages, but they also adjust periodically to interest rate changes. So by reducing duration to protect the portfolio, Annaly has also positioned itself to increase net interest income when rates rise. The best offense in this case may have been created by good defense.
Realty Income Defense
Realty Income may be considered by some to be the best managed REIT in any REIT sector. It has been able to navigate through tough environments in the past and is now positioning itself for the evolving landscape that brings with it a number of unique challenges. This isn't the first time that management has expanded its core business focus and previous strategic shifts have been successful. So there is no reason why this shift should be any different.
Realty Income has until recently focused mostly on retail real estate. The types of properties it has owned include convenience stores, restaurants, drug stores, theaters, dollar stores, and health and fitness centers. It has also focused on properties whose tenants usually have a less than investment grade credit rating, which has not been much of a factor over the last few years as default rates have remained at historical lows.
Despite its success with non-investment grade tenants, however, Realty Income has increased acquisition activity on properties with investment grade tenants. Because of their superior financial stability and cash flow generation, investment grade tenants are more likely to honor lease commitments during the initial lease term than Realty Income's traditional non-investment grade tenant. This more defensive approach to its traditional underwriting has led to an opportunity that may result in greater returns in the long run. A better offense!
New Offense Requires a Good Defense
As previously mentioned, Realty Income has traditionally focused on retail properties leased to non-investment grade tenants. Most, if not all of these properties have been leased on triple lease terms, meaning the tenant is also responsible for most of the costs associated with the property. This type of lease requires the tenant to pay real estate taxes, building insurance and common area maintenance. It is no surprise then that competition for these types of properties has increased. Meanwhile, Realty Income management has had a long-standing reputation of conservative underwriting, which means it may be at a disadvantage during the acquisition process if competitors are willing to pay higher prices.
In order for Realty Income to diversify out of its core focus on retail property then, it is only fitting that management take a more defensive approach to acquiring non-retail property. To shift its portfolio to property types it doesn't specialize in AND do so with its traditional non-investment grade tenant would be contrary to the conservative reputation of management. The focus on investment grade tenants is precisely why Realty Income can and has expanded into non-retail properties.
The type of properties Realty has been acquiring in the non-retail space includes industrial space, manufacturing and distribution facilities, and suburban office properties. These types of assets exhibit higher operational and cash flow variance than retail assets and have higher exposure to economic cyclicality. But in an economic environment improving and expected to pick up steam, this higher cyclicality will have a positive impact on Realty Income's performance going forward. (Estimates for Q3 2013 were recently revised up to 4.1%)
As of the end of October, 40% of total revenue is being generated by investment grade clients, compared to just 5% in 2010. And while revenue from these investment grade tenants will continue to increase as a proportion of total revenue, the intention is to limit non-retail properties to only 30% of the portfolio.
Risks to Both REIT Strategies
We see several risks to the strategies being deployed by both Annaly and Realty Income that may or may not affect long-term results, but may affect investors in each REIT over the short term.
Unproven Strategies
In both cases, each REIT is delving deeper into an area of the market that although they may have experience in, are not the industry leaders in those markets as they are in their core businesses. Annaly has had experience in Commercial Real Estate in recent years, but only now is committing more resources to growing that portion of the portfolio. Annaly is not as well known in the CRE space nor do they have good relationships with other players in the space. Execution of the strategy is a risk.
For Realty Income, the risk lies in the releasing of some of the non-retail properties and the lack of breadth in the space. For example, it will be interesting to evaluate Realty Income's releasing success when the leases on non-retail expire because releasing these types of properties tends to be more expensive and get to be more difficult to lease in a timely manner. In addition, because of Realty Income's vast portfolio of retail properties, they can often offer different property types to current tenants when those tenants are looking to expand into other regions or locations. It has not reached that level of breadth with non-retail properties yet.
In general, both REITs are committing more resources to strategies they have not been familiar with or for as long as they have been focusing on their core business. Any missteps in executing these new strategies could cause the dividend to be reduced, which would deter some REIT investors. Even though we think both REITs will perform, the risk is still there.
Capacity Constraints
For Realty Income, growth must come from acquisitions in order for it to continue to increase its dividend. It has increased the dividend for 64 consecutive quarters and any hiccups can risk further increases. Rent growth is expected to be just 1.5% by Morningstar with 97.5% occupancy, so there is pressure of sorts to acquire properties that will be accretive to results. To make matters more difficult, the dividend payout ratio is expected to be around 90% of adjusted funds from operations so there is not much room for error.
Inflation
Inflation is a big risk for both REITs. For Annaly, any unexpected increase in inflation will usually be closely followed by interest rate increases, which, despite our previous analysis of the impact on net interest income, will still have an adverse effect on book value.
Realty Income also faces some challenges if inflation picks up. With leases that have a remaining average term of 11 years and only modest 1.5% increases to lease payments, Realty Income can find itself in a situation where it could take years for rental revenue to reflect market rates.
Defaults
Both Annaly and Realty Income could also be impacted by a rise in defaults. For Annaly, an increase in default rates would impact both net interest income and book value and is probably the biggest it faces. Realty Income, on the other hand, is slowly transitioning to a portfolio with a higher percentage of investment grade credits. However, as we previously mentioned, 70% of the portfolio will still be in its traditional retail property types and will be leased to non-investment grade tenants.
With default rates at historical lows and expected to remain low, the risk to both of these REITs is minimal. However, if the rate of defaults increases and or there are a higher number of bankruptcies filed than forecast, operating performance for both of these REITs will be adversely affected.
Good Defense Could Result in Lower Returns
Like in sports, teams that field strong defenses usually find themselves in low scoring games. If they can generate just a decent amount of offense, however, they will win more of those close games than they lose. The same may hold true for the returns of companies that shift to more defensive strategies. For Annaly and Realty Income, we think this is the case. Investors should remain patient.
As we highlighted throughout the article, opportunities may arise because of these new, defensive strategies and management for both these REITs have proven their abilities in the past. As the situation unfolds, investors in either of these REITs can sleep well knowing that even through tough times, these REITs will be there when they wake up.
Disclosure: I am long NLY. I wrote this article myself, and it expresses my own opinions. I am not receiving compensation for it (other than from Seeking Alpha). I have no business relationship with any company whose stock is mentioned in this article.