The growth of the fertilizer industry is driven by food grain demand and prices, especially corn prices in the U.S. Corn prices touched a high of around $8 per bushel in 2012, due to the drought in the U.S. However, the prices declined by around 40% in 2013 from a high of $8 per bushel to a low of $4.18 per bushel in the last quarter of 2013.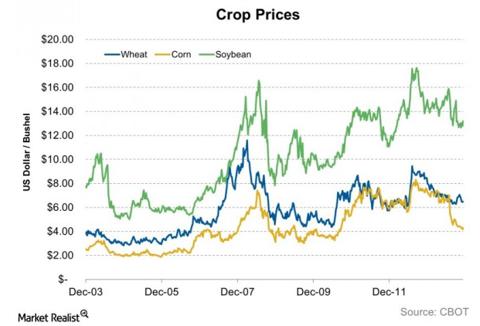 Click to enlarge
The fall in corn prices has discouraged farmers from cultivating corn. It will affect the fertilizer industry's growth potential as more than 45% of potash in the U.S. is used for cultivating corn. This is expected to lower their demand for potash and other fertilizers such as phosphate.
More than 70% of global potash exports are controlled by Canpotex, Uralkali, and Belarus potash. Canpotex is owned by Potash Corp (NYSE:POT), The Mosaic (NYSE:MOS), and Agrium (NYSE:AGU) with shares of 54%, 37%, and 9%, respectively.
Potash Corp, with the leading share in this group, is expected to be significantly affected by the lower demand for the potash fertilizer, as its potash segment is a significant revenue. To maintain its profitability the company initiated a cost-saving plan in December. It will reduce 18% of its workforce, or 1,045 employees, across its plants. Potash Corp does not expect these job cuts to affect production capacity.
Accelerating development of its low-cost operating facilities
Along with the cost-saving strategy Potash Corp also planned to halt the production at Penobsquis, New Brunswick facility by the end of the first quarter of 2014. This will allow it to speed-up development of its new Picadilly mine. It is already operating in this province, and this new mine is close to its existing NB facility. This will allow construction to be completed at a lower cost and reduce the time usually required for the "greenfield" potash mines. Also, this facility is near its terminal at the port of Saint John. This will allow it to reduce shipping time to reach the markets in Brazil.
The job cuts and optimization of operations should reduce Potash's manufacturing cost by around $15 to $20 per ton this year and $20 to $30 per ton by 2016. Through these initiatives the company will also improve its phosphate segment, which has contributed nearly 31% of revenue in 2012. Potash's annualized phosphate gross margin is $10 to $15 per ton. It plans to use these savings to develop its more cost-effective plants, which will enhance the company's position in the potash market.
Another potash company could follow the same strategy
Looking at the current market conditions, Mosaic is also expected to follow Potash Corp with job and capacity cuts. Mosaic continuously monitors market conditions and is consolidating its resources to meet both short- and long-term potash demand. The company reported a year-over-year gross margin decline of $184.4 million from its potash segment in the third quarter. Regaining the same gross margin in the coming quarters will require optimizing its operating cost. The company also plans to divest its Michigan potash mine and its under-performing Argentina and Chile distribution businesses, and focus on growing its presence in Brazil. The reduction in its potash segment operation rate is expected to be 65% in the fourth quarter compared to 73% in the third quarter of 2013. Despite this, the total potash sales volume is expected to range from 1.5 million to 1.9 million tons for the last quarter of 2013 compared to 1.4 million tons year over year. The average selling price of potash for the last quarter of 2013 is estimated at $285 to $310 per ton. By taking the average of the sales volumes and the selling price, the company could report year-over-year revenue growth of 7% in its potash segment.
Conclusion
Potash Corp's cost-cutting strategy and acceleration in developing its new facilities are expected to improve margins. This will help the company overcome headwinds in the U.S. fertilizer industry. Further, its focus on the emerging markets will help the company build its base stronger and report higher returns.
Disclosure: I have no positions in any stocks mentioned, and no plans to initiate any positions within the next 72 hours. I wrote this article myself, and it expresses my own opinions. I am not receiving compensation for it (other than from Seeking Alpha). I have no business relationship with any company whose stock is mentioned in this article.