Microsoft Corporation's (NASDAQ:MSFT) share price met resistance just below the $39 per share level, which is where I figured there would be some selling pressure. The recent rally priced in the new product launches, such as Xbox One and Windows 8.1. Right now, there is uncertainty about whom will be the new CEO. So, investors are going to be digesting that information when it is announced as well as digesting information about new product launches during the calendar year. Simply put, I expect shares of Microsoft to underperform for a few months and I expect a bottom in the $33.75-$35.75 range.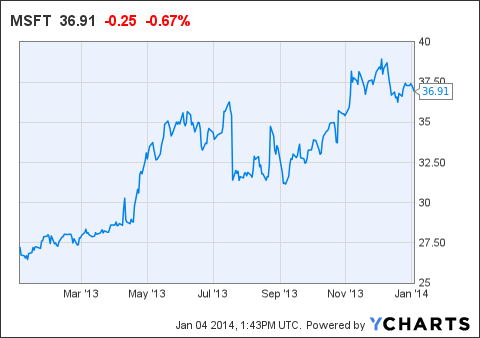 Fiscal second quarter earnings will be announced this month. The net revenues figure will be positively impacted by Xbox One but operating expenditure should be adversely impacted. Also interesting will be the uptake of Windows now that version 8.1 is released. The new CEO may be announced around the same time. Overall, the fiscal second quarter results will be interesting.
I do not expect the share price to do much heading into the report, but depending on what happens, there could be a substantial amount of volatility following the report.
Recent Developments
Sony (NYSE:SNE) is reportedly considering launching a Windows OS-based smartphone in calendar 2014.
Chinese firms are concerned about patent fee increases as Microsoft acquires Nokia.
Thankfully, Alan Mulally seems less likely to be named CEO. Mulally lacks the innovative background in technology to lead Microsoft. While a excellent CEO, Mulally is better suited for his current role.
The Surface 2 and Surface Pro 2 sold out - the product helps Microsoft gain and/or maintain market share in the revamped tablet market. Revamped meaning that tablets have been around long before Apple made them "cool" with the introduction of the iPad.
Xbox One sales topped 2M, which is relatively insignificant aggregate quantity but excellent relative to time since release.
Business Summary
Microsoft Corporation develops, licenses and supports software, services and hardware devices worldwide.
With that written, management changed the reporting structure in fiscal 2014. Using the old reporting structure, Microsoft is heading in the direction of relying less on revenues from Windows and more on revenues from Entertainment and Devices. I think Server and Tools, Microsoft Business and Entertainment and Devices are the future of the company.
I see Windows continuing to have a presence. But I think the acquisition of Nokia makes a lot of sense on a forward-looking basis. Strategically, Microsoft will be looking to build out its Xbox, smartphone and tablet sales as sales from PC and laptop OEMs wanes. Additionally, the Entertainment and Devices segments has shown potential over the years.
From a products perspective, I think we'll see the new version of Windows by the end of 2015. This new version will have enhanced mobile capabilities with a more developed Windows apps ecosystem. I expect Windows 9 to be a significant driver of revenues in fiscal 2015 and/or 2016.
I expect significant product launched in fiscal 2015. There should be new Office, SQL and Server offerings. These are bread-and-butter product offerings for Microsoft and should contribute to strong revenue growth in fiscal 2015 and/or 2016. Additionally, I'm looking forward to the new edition of Microsoft Dynamics.
At the end of the fiscal first quarter, the cash balance was about $80B with $76B held by foreign subsidiaries. This balance was about $60B back in 2004 when Microsoft initiated a substantial capital return program. If there are no restrictive covenants in place that would prohibit a special dividend, then I think a $5B to $10B special dividend should be offered.
Management's forecast of fiscal second quarter revenues growth suggest a 10.5% increase relative to the year-ago results. They are calling for strength in commercial and consumer hardware. This strength is forecasted to be partly offset by weakness in consumer licensing. I'm maintaining my view of about $87B of revenues for the 2014 fiscal year.
Risks
Consumer devices running on operating systems other than Windows, which includes the consumerization of IT.
Changes in business models from licensing to subscription could adversely impact results of operations.
Increased competition in consumer hardware could adversely impact the results of operations.
The NSA spying scandal could provide a catalyst for increased competition from global technology enterprises.
The share price is likely to remain volatile and investors could lose a portion or all of their investment.
Valuation
I expect the share price to decline to the $33.75-$35.75 range. A decline to the $34.75 level would mean that it is trading at about 13 times the current TTM earnings. If I include about 10% EPS growth in the fiscal second quarter, the decline to $34.75 would mean shares would be trading at 12.41 times earnings. A rally to $43 per share, including forecasted EPS, would mean shares trade at about 14.5 times earnings, which is moderately above the 5-year average of 13.4 but below the S&P 500's PE ratio.
Microsoft's key product offerings remain a part of our everyday lives, and Microsoft's position in enterprise is secure for the foreseeable future. Also, the consumer segment is showing some signs of at least stabilizing. There could be a special dividend. Lastly, this forecast can be derailed or accelerated by the CEO selection.
Disclosure: I have no positions in any stocks mentioned, and no plans to initiate any positions within the next 72 hours. I wrote this article myself, and it expresses my own opinions. I am not receiving compensation for it (other than from Seeking Alpha). I have no business relationship with any company whose stock is mentioned in this article.