Fortune Brands (FO) is the holding company for a variety of brands including everything from Jim Beam and Maker's Mark whiskey to Moen faucets to Titleist golf balls. Today, Fortune Brands has decided to sell the Cobra golf equipment brand to Germany's Puma AG, although specific financial details of the deal were not made available. Fortune Brands will instead focus its efforts on its other golf assets including Titleist the #1 ball in golf and Footjoy which is tops in golf shoe and glove sales. Cobra was most known for its golf clubs, but it has lagged Titleist in golf club sales as well. Clearly, Fortune Brands see more benefit to shareholders in sticking with its most valuable brands in the golf division rather than splitting its concentration between competing brands.
The only financial details made available were Fortune Brands expectations that the deal will be two-cents dilutive to 2010 EPS, but will yield a one-time gain of five cents in the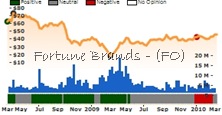 quarter when the deal official closes. With just about 152 million shares outstanding, we can surmise the deal will net the company somewhere in the neighborhood of $8 million, which is not a huge sum for the brand, IP, inventory, endorsement contracts, and staff.
Financially speaking the deal will have minimal impact on the stock, but it does demonstrate the continued streamlining of operations around only its strongest brands, while still maintaining a diverse set of consumer products. Fortune sold its wine business in 2007 to competitors in order to pursue what they believed to be better growth opportunities. Cobra had become redundant and if this move increases efficiencies or cuts costs it will be well worth the forgone revenue.
At this point, we are maintaining our Fairly Valued rating on FO because it is just now starting to see improving sales trends after the housing crisis took a toll on Home and Hardware sales; Fortune's largest segment. The Spirits and Golf divisions showed decent growth in the quarter ended December 2009, but conservative guidance for the year ahead suggests the housing will continue to restrain profits. Their stock has advanced more than 140% in the last year, which is enough to make us a little bit skeptical of valuation.
This deal will enable Puma to expand its exposure to golf, and by all appearances it did not have to pay much to gain the established Cobra brand. For Fortune Brands, the deal seems to be more about cleaning house of a redundant brand. They can now allocate capital towards other purposes that should help them achieve faster growth with their remaining brands. However, the golf division is still the smallest of their three segments, and this company will likely be far more tied to the housing market than any other factor.