Late last week, Greece managed to sell EUR5 billion (USD6.75 billion) worth of 10-year bonds, and there was strong investor interest in the issue. In fact, the country received orders for closer to EUR15 billion (USD20.25 billion) of the debt.
The new bond issue was largely viewed as a positive for Greece, proof that capital markets remain open for the country despite its ongoing fiscal challenges. However, the news was not all good: The country was forced to pay a 6.25% interest rate to attract buyers; by far the highest rate paid by any country in the eurozone. (Click to enlarge)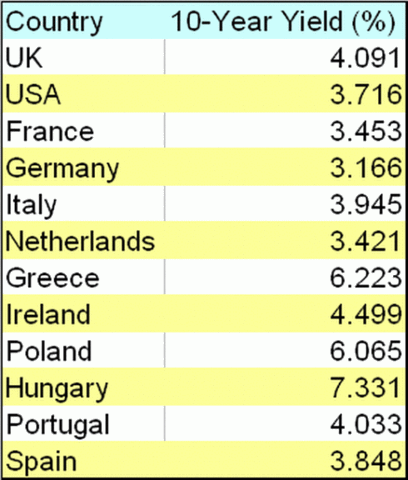 Source: Bloomberg
As the table above indicates, the yield on Greek 10-year bonds remains elevated by any yardstick you care to use--Athens is paying roughly double the rate at which Germany is able to borrow. And the current yield on Greek debt is far above that of other countries within the eurozone that are considered fiscally vulnerable, including Portugal, Spain and Italy.
However, the sovereign debt problem extends far beyond Greece. The fiscal positions of most developed countries, including the US, have deteriorated markedly over the past two years. If the current disastrous policies at work in countries like the US and UK persist, creditors will ultimately demand yields a good deal higher than those listed in the table.
As I've warned, the rising cost of sovereign borrowing isn't an immediate issue for the big developed powers, but it is something to watch carefully over the next five to 10 years.
Perhaps it's my innate capitalist tendencies, but I've always been more interested in what private-sector companies are doing than in the nefarious machinations of governments. Sovereign debt markets remain a key longer-term macroeconomic risk, but the more interesting story in the near term is the corporate bond market.
Nabors Industries (NBR), a contract drilling firm I cover in The Energy Strategist, focuses on leasing land-based drilling rigs.
Contrary to popular belief, contract drilling firms aren't in the business of producing oil or natural gas, though Nabors does have a small exploration & production (E&P) unit. Instead, contract drillers lease rigs--the equipment used to drill wells--to operators for a fee known as a day-rate. As you might expect, day-rates are sensitive to drilling activity; when producers are drilling a lot of new wells, demand for rigs rises and so do day-rates the contract drillers can charge.
But what's most interesting about Nabors is that the company offers an excellent real-world case study of the improvement in corporate credit markets over the past 12 months. In January 2009, corporate credit markets were frozen. Even the strongest companies with the best credit ratings struggled to sell bonds or take on new loans.
Against this backdrop, you can imagine the difficulties faced by a company like Nabors. In early 2009, oil and natural gas prices were hovering near multi-year lows, and E&P companies couldn't borrow money to fund their drilling programs. Drilling activity collapsed, and so did day-rates on rigs. The business conditions Nabors faced were downright awful.
But on Jan. 7, 2009, amid a global credit crunch, Nabors raised $1.125 billion by issuing 10-year bonds. In the company's fourth-quarter conference call, Nabors CEO Eugene Isenberg noted that at the time the company was pleased to have been able to complete the deal--there was a real risk that there just wouldn't be enough appetite for the bonds at all. However, just as Greece paid a high price to raise money last week, Nabors' bond issue only attracted investors' attention by offering a generous 9.25% yield.
But what a difference a year makes.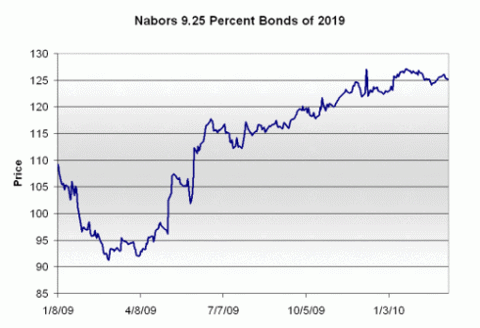 Source: Bloomberg
This chart shows the price of the bond Nabors sold in January 2009. The price of a bond moves inversely to the yield; in other words, when the price of a bond rises, the yield on that bond falls. As you can see, Nabors' bond dipped to well under par--or 100--in early 2009, pushing the yield into the double-digits. But the issue hit a low in March and has rallied steadily ever since.
With the price around 125 today, the yield on Nabors' 9.25% bond maturing in 2019 stands at around 5.6%, substantially less than the yield on Greek government bonds and less than 100 basis points--1%--above the yield on 10-year US government debt.
Isenberg described US corporate credit markets as "really wide open," and he noted that Nabors is almost bothered by requests to do straight and/or convertible debt issues. Wall Street is beating down Nabors' door to encourage the company to borrow money because it knows the appetite for the bonds will be strong.
And Nabors isn't unique.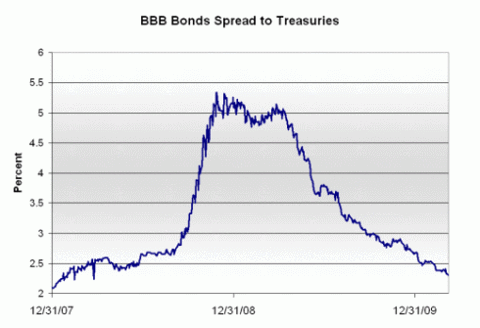 Source: Bloomberg
This chart shows the yield on 10-year bonds issued by industrial firms rated BBB compared to US Treasuries. The chart clearly shows the 2008-09 credit crunch, when bonds issued by industrials offered yields of more than 500 basis points--5 percent--above 10-year Treasuries.
But since last March this spread has steadily fallen and is now back at levels unseen since late 2007. The average yield on BBB-rated industrial bonds is hovering just above 6 percent, roughly 130 basis points above what the US Treasury is paying to borrow money over an equivalent period of time.
US consumers and small businesses may not be willing or able to take on more debt, but the market for US corporate bonds is booming.
From an investing standpoint, the paltry yields available on corporate debt don't look particularly attractive. At the end of 2008 and early 2009, investors could lock in impressive yields on debt issued by high-quality companies, but that's no longer the case. Even investors willing to venture further out the risk curve into the high-yield bond market will find the returns stingy at best.
But the strength of the corporate bond market is a major boon for stocks. Companies looking to invest in new projects or make acquisitions will have little trouble raising the capital needed to fund deals. This is a particularly strong tailwind for groups like the master limited partnerships (MLP), which typically use debt capital to fund low-risk growth projects such as pipeline expansions. The pathetic yields available on corporate and sovereign debt also make the tax-advantaged 8% to 10% yields offered by many MLPs particularly attractive right now.
Disclosure: No positions