In early March this cyclical bull market will celebrate its fifth birthday. The S&P 500 has nearly tripled over this span. Not surprisingly, many investors are asking themselves: has the market gone far enough? Does a bear market lurk in the near future? Is it too late to buy stocks?
These are perfectly legitimate concerns for every investor. One way you can judge "how much time might be left" in a bull market is to understand that they tend to occur in three distinct phases.
first, the market begins to climb even though earnings are still falling sharply, as smart money looks "beyond the valley" to an economic recovery.
second, prices continue rising as earnings finally begin to climb from depressed levels.
finally, prices surge higher amidst a burst of optimism as even the most skeptical buyers concede the economy has a bright future.
A good example of these three phases is clear in the chart below for 3M Company (NYSE:MMM).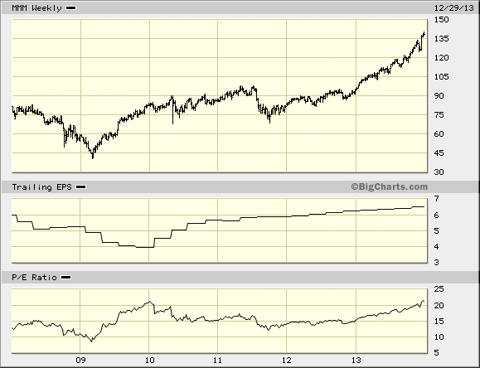 source: www.bigcharts.com
Phase one started in the market recovery in 2009. Earnings continued to plunge but the shares jumped as smart money saw the economic recovery that began later that year. Thus phase one is identifiable by a huge increase in trailing PE.
Phase two lasted from 2010 though most of 2012. Here, rising earnings caught the eye of savvy investors (if not as smart as the folks who bought the year before). They nibbled at the shares throughout this period. But the rebound in earnings actually allowed the trailing PE to fall over this span.
Finally, after several years of solid performance, even skeptical investors and Johnny-come-latelys start to jump on board. Throughout 2103, the trailing PE ratio expanded even though growth rates were no greater than the recent past.
This higher PE reflects growing investor optimism about the future, or inversely, less fear about the future. Contrarian buyers should be careful if the level of optimism gets too high and/or the level of pessimism gets too low.
In any case we have now been in the 3rd stage of this bull market for over a year. What might be the clue that a bear market is imminent or has even begun? Simple: earnings continue to rise, but stock prices (especially for high quality blue chips like 3M, which is why I chose it as an example) refuse to follow. Want proof: look at 3M's chart expanded to include the year before the last bear market: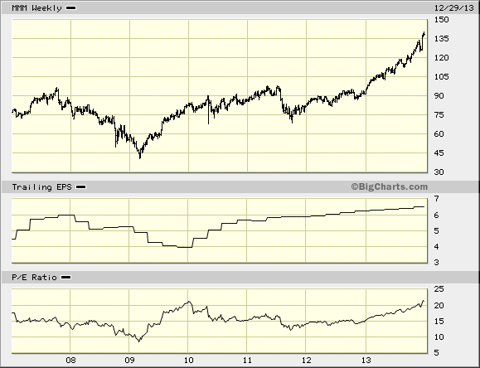 Notice how higher earnings in late 2007 did not push prices to a new high.
This is the warning flag investors should look for in 2014. As long as stock prices respond favorably to higher earnings reports and solid forward guidance, it is prudent to assume (but not guaranteed) the bull market is still in progress. If stocks (especially blue chips and market leaders such as 3M) falter amidst good news, that is the time when you might want to trim back your holdings.
The vast majority of companies in the S&P 500 will report their 4th Quarter 2013 results in the next few weeks. Keep an even shaper eye on how they respond to "record profits and revenues." No bull market lasts forever.
Disclosure: I am long SPY, XLV, IHI. I wrote this article myself, and it expresses my own opinions. I am not receiving compensation for it (other than from Seeking Alpha). I have no business relationship with any company whose stock is mentioned in this article.