Rev Shark over at Realmoney.com highlighted Maidenform Brands (NYSE:MFB), an exciting high growth company which makes... bras. He cites a 10% growth rate and trailing PE of 16... but still people can't get enough of this stock. It has not had one down day in a month.... that makes sense... have I mentioned consumer discretionary is HAL9000's favorite sector of late?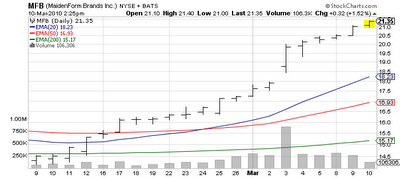 The stock is 22% over the 20 day moving average...

This action might be even more intense than what we saw last fall coming off that July bottom. I can see the difference in psychology between me and the crowd right now; while I am so doubtful I see any pullback as the beginning of stocks finally relenting, everyone else is using even 20 minutes of selling as an opportunity to rush into stocks.

Quite amazing... I can't wait to see valuations for bra makers in about a year from now since the Fed has no intention of raising rates for a long time.
Author's Disclosure: no position