The yen's strength is the story of the day. This Great Graphic, composed on Bloomberg, shows the dollar-yen (white line) and the Nikkei (yellow line) and the 20-day moving average (yellow line). The bottom chart is the MACD, which is rolling over.
The dollar slipped through the 20-day moving average for the first time in two months. That average comes in now near JPY104.13. A close of the North American session below there would add to the bearish signal.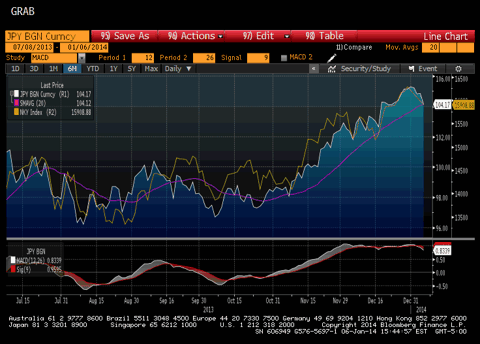 There does not appear to be a fundamental catalyst. It is true that the US service ISM was softer than expected, but this does not seem critical. The week's big events, namely the ECB press conference and the US employment data still lies ahead. Position adjustment seems to be the key driver. We peg initial dollar support in the JPY103.50-75 area.
In the Nikkei, after the gap lower opening on Monday, which filled the gap created on December 26, we are monitoring the larger downside gap that extends from 15588 to 15798. Technical factors favor the downside as the RSI and MACDs show bearish divergences.
Separately, we not that the euro has also fallen against the yen and in the three sessions through today the euro has shed about 2.5%. It has spent the entire session below the 20-day moving average for the first time since November 11. The 38.2% retracement of the rally off the JPY131.20 area on November 7 to the JPY145.70 5-year high reached late last year is found just near JPY140.20.
Disclosure: I have no positions in any stocks mentioned, and no plans to initiate any positions within the next 72 hours. I wrote this article myself, and it expresses my own opinions. I am not receiving compensation for it. I have no business relationship with any company whose stock is mentioned in this article.