As a trader, I am always on the lookout for a good company that is out favor with the market. I believe Mr. Market is giving us the opportunity of a lifetime with Petróleo Brasileiro S.A, AKA Petrobras (NYSE:PBR).
Petrobras is a fully integrated oil and gas company with over 85,000 employees. The company is based out of Brazil and is the equivalent of an Exon Mobil here in the United States. Petrobras has been out of favor with Wall Street for over 4 years. In my humble opinion, NOW is the time to buy this large cap stock.
Why? Many reasons but let us start with sentiment. No one wants to own Petrobras right now, they are a turnaround story, and the word on the street is: recovery won't happen until 2015. This is what I look for when buying last year's losers. Traders want instant results; investors are willing to wait a while longer for their gains.
Underperforming the market
As you can see from the chart below, Petrobras has endured a miserable last 5 years; underperforming the S&P by 150%.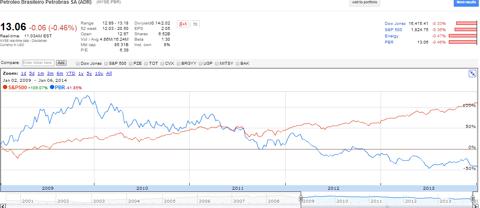 Click to enlarge
Smart money has its eye on this disconnect from the market. Will it last? I don't think so. How has Petrobras fared against its peers? Let's examine the chart below.
From Jan 2009, the S&P tops the list with 109% return, followed by Chevron Corporation (NYSE:CVX) 75%, Exxon Mobil Corporation (NYSE:XOM), 28%,Total SA (NYSE:TOT) 9%, and Petroleo Brasileiro Petrobras SA -42%.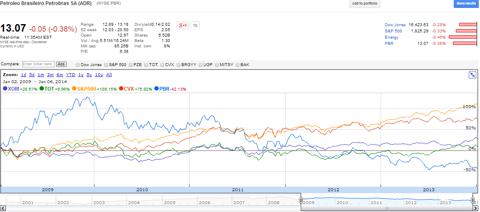 Click to enlarge
From time to time Mr. Market gives you great opportunities for significant gains; I believe we are at that point in time with Petrobras.
PE Ratios
Petrobras is currently trading around 7X earnings; Exxon Mobil Corporation is trading at 13X, TOTAL SA at 10.5X, and Chevron Corporation at 10.2. That is a blended 32% discount to its peers.
Earnings Growth
For the fourth quarter 2013, analysts estimate PBR will generate revenues of $39.3B, an increase of 10.09% over the prior year fourth quarter results. Why is the stock price down 34% for 2013 and trading at 2005 levels?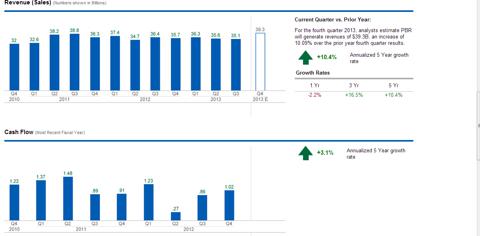 Click to enlarge
At the bottom of a cycle, negative sentiment remains so strong, that sometimes the market fails to recognize positive developments in the works. In order to drive this point home, let's look at another chart. For more perspective, I'm showing you a 120 month chart.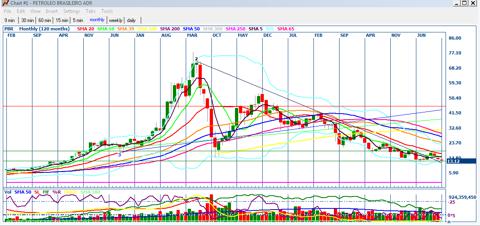 Click to enlarge
This chart shows massive pain for a very long time. While the market has been bullish for 4 years, Petrobras has been bearish. This is the painful bottoming process that causes investors to lose all hope and sell at the bottom. One can see the stock made a bottom at $12.03 in July 2013; it then reversed and rallied to $17.97 in November, only to reverse on a gap down and sink to $12.89 today, January 6th 2014. I believe this is an excellent entry point. This latest selloff, was in my opinion the final shakeout before the big breakout!
End of the year tax selling kept the stock price down in December. On January 3rd, there was negative press in regards to a loss of 22,000 barrels a day in production because of a fire on a p-20 semi-submersible rig. The fire was put out a week ago. This event gave investors a golden opportunity to pick up shares on the cheap. You can read that article here. I am upgrading the stock today and placing a near target of $23 a share.
Conclusion
Petrobras is at the bottom of a long term downtrend. Investors would be wise to buy the stock going into earnings. I own this stock and believe it will be one of the best large cap performers in this industry for 2014. I strongly encourage you to do your own research, make your own unemotional decisions, and always have an exit strategy in place.
Disclosure: I am long PBR, KWK, NAT. I wrote this article myself, and it expresses my own opinions. I am not receiving compensation for it (other than from Seeking Alpha). I have no business relationship with any company whose stock is mentioned in this article.