Investors in Verso Paper (NYSE:VRS) are cheering, having seen insane performance on Monday. Just a week into the new year, shares of the penny stock quadrupled on the back of a transformational deal which will triple the size of the company.
Despite this strong uptick, the equity value of the business remains less than estimated annual synergies resulting from the deal.
Given the still tiny portion of equity in relation to the debt position of the combination, more volatility is to be expected in the coming days and weeks, as earnings information is still missing.
A Truly Transformational Deal
It is merger Monday again, with Verso announcing a very big deal ahead of the opening bell. The producer of coated papers will acquire NewPage holding, a producer of printing and specialty papers.
Verso will pays $1.4 billion for NewPage, creating a new company with $4.5 billion in sales generated at 11 manufacturing facilities. As usual, the deal is subject to regulatory approval and is expected to close in the second half of this year.
Investors in NewPage will receive $250 million in cash, to be paid as a special dividend. They will furthermore receive $650 million in first lien notes and 20 to 25% of Verso's common stock. Note that the majority of shareholders in NewPage already agreed to the deal.
To finance the deal, Verso has arranged $750 million in committed financing. The $1.4 billion deal tag is composed out of the $250 million cash component, $650 million in first lien notes, the shares consideration and a refinancing of $500 million in term loans.
Consolidation Is Necessary
Continued electronic substitution for print remains a large and long term headwind of the company, yet Verso will be better able to withstand this pressure as a larger, more efficient organization.
Following the merger, Verso anticipates at least $175 million in pre-tax cost synergies to be achieved within the first 18 months following completion. More importantly, the combined company will see much deleveraging in terms of debt-to-EBITDA than as a stand-alone entity.
A Major Steal For Shareholders?
The deal is a bit complex, yet it seems that Verso is able to acquire NewPage in a $1.4 billion deal. This is the price tag for a company with $3.1 billion in sales for the year of 2012. NewPage has been struggling as well just like Verso, emerging from bankruptcy in 2012.
Note that Verso generated sales of just $1.5 billion for the year, being much smaller compared to NewPage. While Verso's equity has already effectively been wiped out before the deal, it still operates with $1.27 billion in debt, for a $1.3 billion enterprise value.
Verso's equity was valued at merely $30-$40 million before the deal has been announcing, essentially being a far out of the money call option.
As such, Verso's enterprise value is roughly $1.3 billion for a company with $1.5 billion in sales, valuing assets at roughly 0.9 times annual revenues. NewPage is valued at $1.4 billion in the deal, valuing this business at just 0.45 times annual revenues. Note that both companies are struggling greatly at the moment.
I don't have earnings numbers for NewPage. Verso did reported a $10 million loss for the third quarter, even as revenues rose by a modest 0.5%. Note that on an operating basis the company did post earnings of about $25 million, it is just that interest payments of $34 million ate all those operating gains. The very high effective interest rates on Verso's debt, make it very difficult for the company to delever.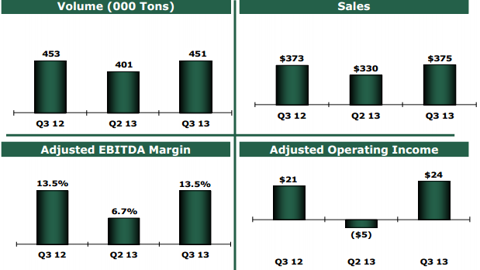 Click to enlarge
(Click to enlarge)
Losses for the first three quarters of the year totaled $91 million, much better than a year before, but still very sizable. Sales continued to decline towards $1.04 billion.
Can Synergies Unlock Any Equity Value?
Essentially these are two weak companies operating in a continuously declining industry. Both companies are quite leveraged, although Verso was more in debt before the deal, creating some sort of deleveraging.
Following the deal, revenues are seen around $4.6 billion, while the total debt position of both firms amounts to roughly $2.7 billion. Note that adjusted trailing EBITDA for Verso is about $155 million in the third quarter, while NewPage's earnings are unfamiliar. Verso has to repay debt of around $350 million in the years of 2016-2017, with loans of around $1 billion are due in 2019.
The major advantages of the deal are expected synergies of $175 million per annum seen within 18 months following closure of the deal. The problem is however the continued decline within the industry which will probably outweigh many of these expected synergies.
Missing Information Creates Uncertainty
The many missing pieces of information, largely related to the timing of synergy estimates and the profitability of NewPage creates a lot of uncertainty for shareholders. Combined with very little equity in the overall valuation, this creates huge volatility in Verso's shares. Trading around $3.00 per share, the equity in the new company is valued at just $160 million which is tiny compared to the debt position. Including newly issued shares to NewPage's shareholders, the market capitalization will increase towards $200 million.
Note that despite shares quadrupling on Monday, the current valuation is still less than annually estimated synergies. Furthermore, acknowledge that the lack of information creates a great deal of uncertainty with shares so far trading between $1.50 and $3.50 per share, a huge bandwidth for a one day period.
Given the very high uncertainty and the promising deal, shares still represent a far out of the money call option to some degree. Depending upon the outcome of further research, news flow and information regarding NewPage's earnings potential, I might initiate a long position at the low end of today's trading range.
Disclosure: I have no positions in any stocks mentioned, but may initiate a long position in VRS, over the next 72 hours. I wrote this article myself, and it expresses my own opinions. I am not receiving compensation for it (other than from Seeking Alpha). I have no business relationship with any company whose stock is mentioned in this article.