Underlying fundamentals that remain highly suggestive of deteriorating business activity mean that weaker-than-consensus economic reporting should remain the general trend. - John Williams, Shadowstats.com
U.S. auto sales for December were reported Friday. They came in at a 15.4 million annualized rate, which was well below the 16 million rate being forecast by Wall Street analysts. For just the domestic OEMs (Ford, GM, Chrysler), sales came in at an 11.9 million annualized rate, which was 3.3% below the expected 12.3 million forecast rate. As reported by Zerohedge.com, December auto sales came in at the lowest annualized rate since November 2011 and had the biggest miss vs. expectations since October 2008. December's data further confirms my belief that auto sales are not only slowing down quite a bit from their recent pace, but will continue to decline going forward. As such, the stocks of General Motors (NYSE:GM) and Ford (NYSE:F) are overvalued and should be sold or sold short.
Looking at December 2013 vs. December 2012 data reinforces my view that auto sales peaked during 2013 and will decline considerably going forward. As this table below shows, the 6.3% decline in December sales for GM led to an overall decline in December sales volume (data from the Wall Street Journal):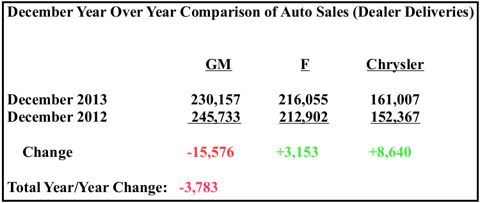 Click to enlarge
As you can see, total sales for domestic OEMS declined by nearly 4,000 vehicles. Including foreign OEMs, total domestic auto sales dropped year over year by over 4,300 (data from WSJ link above). This is despite the fact that dealer incentives were on average 4% higher compared to December 2012 (Kelly Blue Book data from IBT).
Further reinforcing my view that auto sales are slower than the industry and analysts have been expecting, both GM and Ford announced two weeks ago that they would be extending holiday down time at several U.S. assembly plants in order to "keep inventory in check." As I have explained in past articles on Seeking Alpha, OEM reported auto sales are in fact actually deliveries made to their dealer network and fleet sales rather than actual end-user sales. As shown in my last article on this topic, inventories at dealers have been climbing which means that headline gains in sales are, in fact, more akin to dealer "channel stuffing" and not true sales. This disclosure from GM and Ford confirms my assertion. It also means that actual sales to the final buyers are lower than had been expected by the market.
Finally, I also discussed in my last article that subprime auto financing was fueling a large portion of this year's automobile demand. As it turns out, not only has subprime auto loan issuance expanded, but credit standards are deteriorating. Bloomberg recently reported that the average loan to value for subprime auto loans has spiked up to 114.5% this year. This is up from 111.9% earlier in the year. In addition, subprime borrowers accounted for 27% of all auto sales this year, up from 25% last year and 18% in 2009. In fact, it's the highest ratio since Experian began tracking the data in 2007. This is a troubling signal, at least for me, because at some point a high percentage of these loans will begin to default. As that article points out, delinquencies began to increase in August this year after bottoming out in 2011.
One more point about the use of subprime loans to fuel sales. The OEMs, especially GM, are actively involved in underwriting subprime auto loans. In fact, 88% of GM's consumer receivables are subprime. GM has disclosed that the delinquency rate on these receivables - auto loans which could not be securitized and sold to the market - increased by 34% over last year. At some point, the market will force a contraction in the availability of subprime auto financing and this will put a big dent in auto sales, given that subprime loans fund 27% of all auto sales.
As outlined above and in previous Seeking Alpha articles, auto sales are slowing down and I expect them to slow down at a quicker rate during the course of 2014. The primary reason is my view that the economy is going to contract going forward (see previous articles). But also I believe the availability of easy credit will decline significantly, eliminating a major component of sales volume this year. Based on my analysis, I believe that Wall Street analysts will have to start significantly reducing forward earnings projections and Ford and GM will be compelled to issue earnings warnings (Chrysler is owned by Fiat and is not publicly traded). Because of this, I believe both GM and Ford stocks are overvalued and should be sold. More aggressive market players can short either stock, although I think GM is better for this purpose.
Disclosure: I have no positions in any stocks mentioned, and no plans to initiate any positions within the next 72 hours. I wrote this article myself, and it expresses my own opinions. I am not receiving compensation for it (other than from Seeking Alpha). I have no business relationship with any company whose stock is mentioned in this article.