Goldman Sachs analyst Brian Lee upgraded SolarCity (NASDAQ:SCTY) to a buy rating and raised his price target from $65 to $80 a share. He wrote that the main reason for this upgrade is that companies with a presence in the rooftop niche market will perform very well. He also said that the fundamentals of the solar industry are very solid.
All this is fine, but the question is, how much do you have to pay for the "solid fundamentals" of the industry and the company? There are many solid sectors and companies out there, but investors don't pay an arm and a leg. Don't fundamental valuations mean anything anymore? According to Goldman, probably not.
Let me remind readers that SolarCity is not a cheap stock. It does not have any earnings, it has consistently lost money, and it is trading at pie in the sky valuations.
More specifically, SolarCity trades at a Price/Sales ratio of 35, and on a tmm basis, its profit margins are -38%, operating margin is about -71% and return on equity stands at -34% (data from Yahoo).
SCTY Operating Income (Quarterly) data by YCharts
Let me remind readers what operating income means:
The amount of profit realized from a business's operations after taking out operating expenses - such as cost of goods sold (COGS) or wages - and depreciation. Operating income takes the gross income (revenue minus COGS) and subtracts other operating expenses and then removes depreciation. These operating expenses are costs which are incurred from operating activities and include things such as office supplies and heat and power. Operating Income is typically a synonym for earnings before interest and taxes (EBIT) and is also commonly referred to as "operating profit" or "recurring profit." Calculated as: Operating Income = Gross Income - Operating Expenses - Depreciation & Amortization
And guess what, SolarCity has never actually made any "operating income".
Granted the company is growing at a very fast pace, but at some point investors have to take into account what they are paying for this growth. In addition, this is probably one of the most complicated companies to understand on Wall Street.
In reality, it looks more like a financial services company than a company that actually installs rooftop photovoltaics. The more complicated a company's structure, the less is it valued and not the other way around, if you ask me.
Against Goldman's upgrade, short sellers were caught off guard, because the short interest in the stock is currently at an all time high, which is probably the main reason for today's pop, and not Goldman's upgrade if you ask me.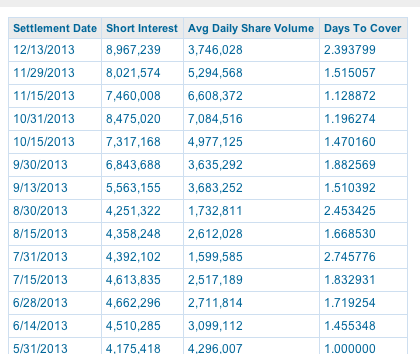 The bottom line is that the era where stocks go up irrespective of their fundamental valuation is probably over. With Fed tapering on the horizon, my opinion is that 2014 will be a very difficult year for investors. And I think we have gotten a taste of this in the first few trading sessions of the year. As a result, investors will be wise to be careful what they buy and how much they pay for it.
And paying through the nose will simply not make you money from now on. Paying 35 times sales for any company has never made money for anyone. At least I do not know of a single case on a long term timescale. So unless you are day or swing trading SolarCity, it is not a good idea to have in your portfolio as a long term core position.
Disclosure: I have no positions in any stocks mentioned, and no plans to initiate any positions within the next 72 hours. I wrote this article myself, and it expresses my own opinions. I am not receiving compensation for it (other than from Seeking Alpha). I have no business relationship with any company whose stock is mentioned in this article.