When the Detroit auto show kicks off on January 18, 2014, all eyes will be on the new Ford (NYSE:F) F-150. The new F-150 will be sporting a new aluminum intensive design, which is intended to cut close to 700 lbs off the previous steel based design. To accomplish this design, Ford enlisted the help of aluminum giant Alcoa (NYSE:AA). While Jaguar, Audi and Range Rover have all made aluminum an integral part of their designs, Ford's F-150 is the world's top selling truck and represents a huge opportunity for Alcoa. If Ford is successful in selling the new F-150 design, aluminum could soon be standard in all U.S. auto manufacturing designs.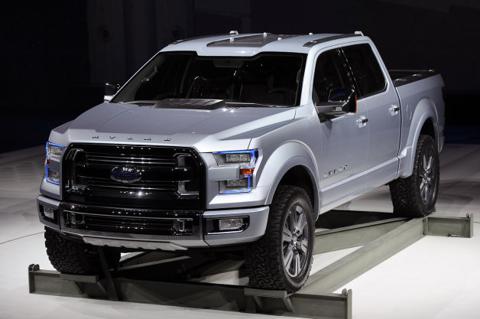 Fuel Efficiency Standards
Back in August 2012, the EPA made a bold move and set new fuel efficiency standards requiring passenger cars and light trucks to average 54.5 mpg by 2025. This expanded on the previous standard requiring cars and light trucks to average 34.5 mpg by 2016. When these new standards came out, Alcoa immediately saw a new market for their aluminum products. Alcoa's chief sustainability officer, Kevin Anton, said,
"Some future changes have less to do with the engine than what surrounds it. Making a car body entirely out of lightweight aluminum rather than steel automatically boosts its fuel efficiency by 10 percent. We have a cost-effective way for them to meet the new fuel standards without compromising on safety, comfort or performance."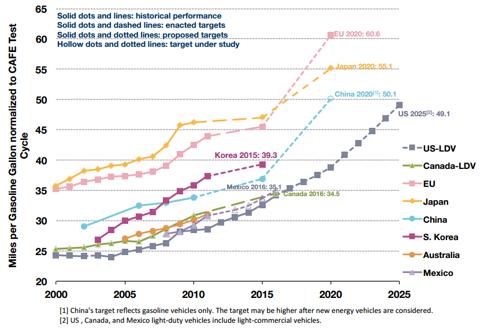 The U.S. isn't the only country with ambitious fuel efficiency standards. Europe, Japan and China all have standards in place that are even more stringent than the U.S. Alcoa has a tremendous opportunity in all these markets.
Alcoa's Presence in the Auto Market
Revenue from aluminum auto sheets sold to automakers totaled $160M last year, but Alcoa expects sales to more than triple by 2015 to $580 million. Aluminum has already seen extensive use in engine blocks, heat exchanges, transmissions and wheels, but it still has very little presence in doors, bonnets and wings. Alcoa said the use for aluminum auto sheets for bodies in North America is expected to quadruple to 420,000 tons by 2015, and aluminum used elsewhere in autos to grow by 15% to 2.66 million tons. These projections are based on vehicle designs and decisions that have already been made.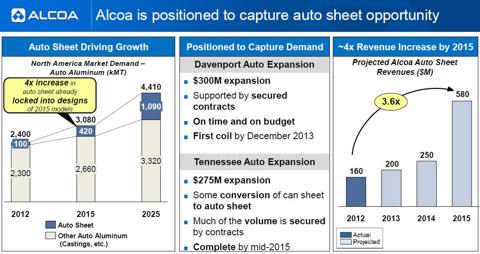 Alcoa 951
On April 4, 2013 Alcoa announced a breakthrough in the mass production of aluminum intensive vehicles. "Alcoa 951" technology is a pre-treatment that enables car makers to use adhesives in high-volume applications instead of labor intensive mechanical fasteners and welds. This new technology is already being incorporated into a $300 million expansion at Alcoa's Davenport, Iowa plant and will be used in a sheet rolling facility in Saudi Arabia. Another $275 million expansion is already underway at Alcoa's Tennessee plant to help meet the growing demand for aluminum in the auto industry. The attractiveness of "Alcoa 951" lies in its repeatability and its simplicity. It does not incorporate exotic components that threaten the ability to implement the product on a large scale.
Ford F-150
Ford's best-selling vehicle is the F-150 and it has been the best selling truck for basically the past 3 decades. Through November, the F-series sold 688,810 vehicles in 2013. Clearly Ford's decision to redesign the F-150 with an aluminum-intensive design is a gamble. The company must convince their conservative customer base that the new design is just as rugged and dependable as previous steel-based models. Ford's goal for their dramatic shift to this aluminum design is to drop weight in their vehicles, thereby improving gas mileage and meeting the tough new federal mileage mandates that go into effect in 2016 and then in 2025. The general rule of thumb is for every 100 lbs dropped out of a vehicle, fuel economy rises by about 1 mpg. Analysts expect the new F-150 to improved fuel economy by about 5 mpg.
Alcoa will be standing side-by-side with Ford at the Detroit auto show. Ford even requested Alcoa bring its military-grade aluminum it uses for blast shields on battlefield vehicles to help it talk up the toughness of aluminum and make customers feel comfortable with the new design.
Analysis
The auto industry will be watching every move of the F-150 over the next few months. If Ford is successful with its rollout of the aluminum design, other U.S. automakers will quickly make the jump to aluminum. Alcoa is already projecting tremendous growth in its auto sector, but if Ford sees strong sales with its new F-150, it will be a game changer.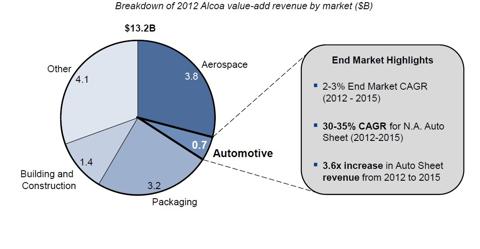 In 2012, the automotive sector only accounted for 5% of Alcoa's value-added revenue. This number should quickly rise over the next 2 years and its long-term market growth could one day rival its aerospace sector.
Conclusion
There's a lot at stake at the Detroit auto show for both Ford and Alcoa. Ford put its best-selling vehicle under a new design and initial customer reaction will be critical to the strategy's success. While Ford has more to lose with this strategy, Alcoa has much more to gain. If customers are willing to embrace an aluminum-based car design, all other U.S. auto manufacturers would likely flock to aluminum intensive designs in droves. The U.S. auto industry knows it still needs to take steps to meet fuel efficiency standards by 2016 and 2025 and because of Alcoa's technology advancements in the past year; aluminum is now a low hanging fruit. Both Alcoa and Ford are ahead of the game with the F-150's aluminum design and I think it will benefit both companies.
Disclosure: I have no positions in any stocks mentioned, and no plans to initiate any positions within the next 72 hours. I wrote this article myself, and it expresses my own opinions. I am not receiving compensation for it (other than from Seeking Alpha). I have no business relationship with any company whose stock is mentioned in this article.