The AAR (American Association of Railroads) report through February was released yesterday (see here). So far 2010 is starting the same way that 2009 did.
The following graphs have been selected from the report.
The U.S. Is Struggling to Show Improvement
The first graph appears to indicate that the first two months of 2010 are almost a repeat of 2009.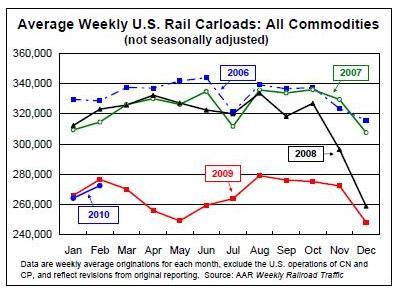 However, when coal is excluded, carloads of all other commodities are clearly more than 2009.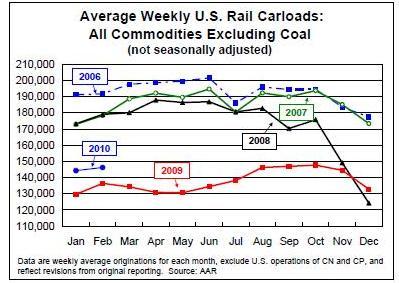 Also, intermodal traffic (containers and trailers transported by rail) are also clearly greater in the first two months of 2010 than for 2009.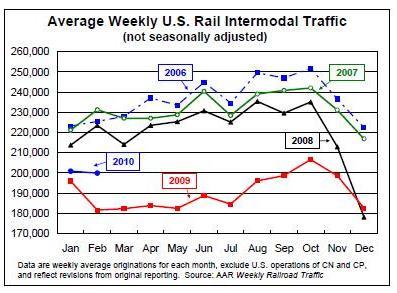 When all rail traffic is added together, it appears that February may indicate an improvement for 2010 over 2009, after January was almost identical.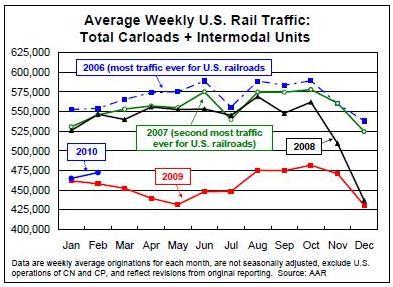 Canada Is Doing Better
North of the border, Canada has a better story to tell. The following graph shows 2010 beginning with rail traffic almost at the levels of 2006, 2007 and 2008 and clearly better than 2009.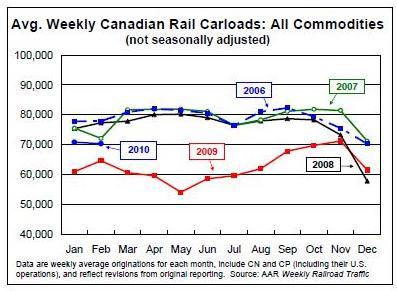 Intermodal traffic is showing the smaller impact of the recession on Canada compared to the U.S.. Intermodal traffic was not significantly lower in early 2009 compared to the average of the three prior years. In 2010, intermodal traffic for January and February is right in the middle of the levels for 2006, 2007 and 2008.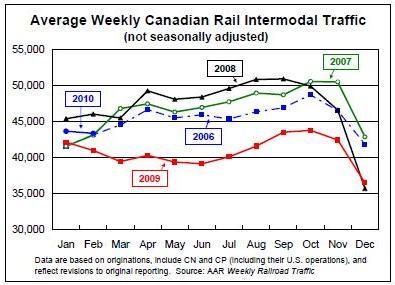 However, intermodal traffic is a much smaller portion of total rail traffic in Canada than in the U.S.. As a result the combined traffic looks much more like the carload data than the intermodal traffic and the beginning of 2010 is close to the level of the pre-crash years (and much above 2009).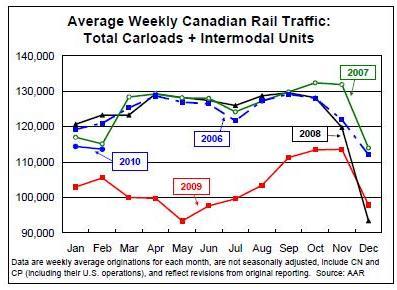 It may be argued that improved intermodal traffic is a harbinger of improvement in the economy since intermodal traffic is largely composed of assemblies and finished products which should be increasing in a growing economy. However, we need more improvement than seen in January and February to reflect any significant increased economic strength.
Disclosure: No stocks mentioned.