Jack Dzierwa is global strategist and co-manager of the infrastructure-focused U.S. Global Investors Global MegaTrends Fund (MEGAX). The fund takes a "picks and shovels" approach to infrastructure investing by not only investing in particular projects but also in the tool, equipment, companies and people that are needed to build or service a project. The fund's $28.5 million in assets is invested across North America, Europe, Asia and other areas of growth around the globe.
Jack, what's currently your highest conviction stock position in your fund?
One of our favorite infrastructure plays is a long position in Grupo Aeroportuario del Sureste SAB (NYSE:ASR). ASR was the first airport group to be listed on the Mexican Stock Exchange and is now one of three listed airport groups in Mexico -- the others being Grupo Aeroportuario del Centro Norte (Nasdaq:OMAB) and Grupo Aeroportuario del Pacifico (NYSE: PAC).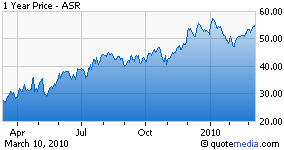 ASR operates nine airports in southeast Mexico. The most important one is in Cancun, which accounts for around 70 percent of the group's passenger traffic.
Other airports include popular destinations like Merida, Cozumel, Huatulco, Oaxaca, Minatitlan, Tapachula, Veracruz and Villahermosa.
So it's a play on Mexican travel and tourism. How strong are those areas now?

Yes, ASR is a direct play on Mexico tourism. This is the main competitive advantage for ASR, but it can also be a liability. For example, at the time of the swine flu outbreak in 2009 or in the aftermath of September 11, tourism in Mexico and in other Caribbean destinations declined drastically. It took more than two years to reach a pre-September 11 passenger level. In 2009, the number of passengers passing through ASR airports declined by 12%.
Cancun is Mexico's second-busiest airport behind Mexico City and is seen as the most important airport of the Caribbean region. We believe that Cancun has a unique position in the global tourism industry because so many international and domestic carriers operate there, which illustrates its global appeal.
How is the company positioned against its competitors?
For now, ASR has no competition in the geographic areas where it operates. This is the beauty of airport operators, because the high barriers to entry act like a moat to keep the competition at bay. This is one of the reasons why ASR operates at a high EBITDA (earnings before tax, depreciation and amortization) margin of more than 60 percent.
Competition for airports usually comes from railroads and highways, particularly for flights that are less than an hour long, but 57 percent of ASR's traffic comes from international passengers who have no choice but to fly. The other 43 percent comes from domestic passengers who prefer to fly into critical destinations like Cancun and Cozumel.
What about ASR's valuation? How does valuation compare to the competitors?
The valuation of ASR if often compared with those of GAP and OMA. Given the strong performance of ASR shares in the last twelve months (up 116 percent), we recognize that valuation of the group is not as compelling as it was last March when a swine flue scare caused a sharp correction in the stock. That was the best time to acquire the shares, but given ASR's unique positioning and role in the sector, we believe that it should trade at a premium to the other two airport groups. Currently, ASR trades at around 9 times 2010E EV/EBITDA which puts it at a 15 percent discount to GAP but a 20 percent premium to OMA.
Following appreciation of the shares last year, it is reasonable to assume that ASR is fairly valued at this point, a view we subscribe to. We view any temporary corrections as a buying opportunity (particularly below the $50 level).
Does the company's management play a role in your position?

We've met with Mr. Adolfo Castro, ASR's CFO, in Mexico City on two occasions. In addition, we've visited the flagship Cancun airport on numerous occasions and were impressed by efficiency of operations even at peak times. This is a good example for numerous other airports in the world.
What are ASR's key drivers at this stage?
Traffic growth and higher yield per passenger are the two critical factors to watch. We like the way ASR has managed to increase revenue per passenger, which helped grow EBITDA during the fourth quarter of 2009 by 3 percent despite a 5 percent fall in the number of passengers.
On a full year basis, it is noteworthy that despite a 12 percent fall in the number of passengers, gross revenue and EBITDA declined by a mere 1 percent, a good performance considering headwinds that Cancun and Mexico faced in 2009 (swine flue outbreak and a sharp economic contraction). We also like the clean balance sheet of ASR with no net debt.
What could go wrong with ASR as a stock pick?

The most important airport, Cancun, lies in the hurricane area and hence weather disruptions can affect operations. Unforeseen events, like a September 11 terrorist attack, may also have a detrimental effect on tourism.
According to Mexican government sources, it is likely that a long-anticipated tender for a competing airport in the Riviera Maya (around 100 kilometers south of Cancun) will take place this year. Although ASR is likely to participate in the tender, it remains to be seen who the winning operator will be and what cannibalization will result for Cancun operations.
Do not forget your sun screen and bon voyage!
Thank you, Jack.
My pleasure.
Disclosure: The U.S. Global Investors MegaTrends Fund owned shares of Grupo Aeroportuario del Sureste SAB as of December 31, 2009.
Read more High Conviction Picks »
If you are a fund manager and interested in doing an interview with us on your highest conviction stock holding, please email Rebecca Barnett.