In my original article on Wipro (NYSE:WIT), from May 1 2013, I made a case for investing in the company based on its fundamentally sound business model and the price gap between the company and its competitors. A possible catalyst to alert the market of the discrepancy in the company's valuation and that of its competitors was a recent spin-off of less profitable unrelated business. From the original article:
Wipro has spun off everything but the IT-services and IT-products division. The spin-off is effective from April 1 2013 going forward. Currently Wipro trades at a forward P/E of 16, which is 6-7 below the industry standard.

Once the market realizes part of Wipro's growth is already realized with the new clients they contracted, and the slimmed down business is growing at a new faster rate, (because of the divestiture of the slower growing consumer product business) I can see the shares gaining ground and trading at more typical levels
At that time the company traded at a P/E of 16 versus the industry average P/E of 22.6. Today the company is trading at a P/E of 29 to the industry average of 16.3. At this valuation I routinely discover investment opportunities with better risk/reward profiles. The chart below shows the total return of Wipro vs the S&P 500 since publication of the last article.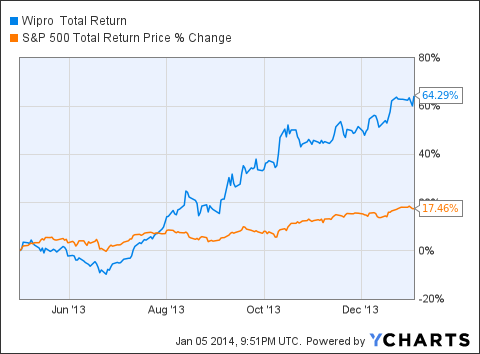 WIT Total Return Price data by YCharts
Company profile:
Wipro was founded in 1945 and has become one of the world's largest IT services companies. It provides software and services to a multinational client base. They also have an IT product division which constitutes a much smaller portion of revenue, (about 15%) which sells a range of desktop computers, servers, and notebooks.
The company used to have a consumer-care and lighting segment, that manufactured and sold products such as soaps, cooking oils, and lighting products in Indian and Asian markets. This part was spun-off.
A few key observations:
Wipro enjoys recurring revenue from 95% of its client base (according to Morningstar). The company continuously focuses on enhancing its client relationships, giving it substantial recurring revenue opportunities.
Wipro has solid cash flows with very little need to reinvest, especially since the spin-off.
The company used to be reliant on the telecom sector, but made a push to diversify, and now the core of their services is concentrated around the financial service sector, energy, retail and health care.
Wipro is headed by chairman Azim Premji and CEO T.K. Kurien. Premji controls 75% of the shares, which I think is not ideal. At least Premji's goals will be aligned with shareholders though. The company has won awards for shareholder friendliness.
Wipro has about $3.1 billion of cash on their balance sheet.
Two reasons to sell
There are two reasons I want to talk about selling Wipro for the time being. The first reason is that the original thesis for investment is no longer valid, after the company closed the industry P/E gap. The second, less important, reason is the build up of cash on the balance sheet.
Comparing with Infosys and Cognizant
Wipro is no longer trading at a discount compared to competitors like Infosys (NASDAQ:INFY) and Cognizant (NASDAQ:CTSH). The chart below shows the company's P/E development since the publication of my earlier article. Over the past few months its P/E ratio has increased faster than that of its close competitors.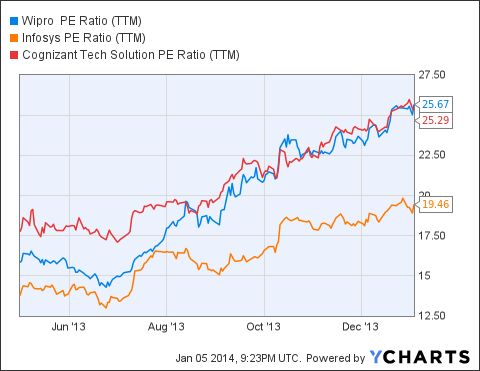 WIT PE Ratio (TTM) data by YCharts
Last year I didn't standardize my valuations. This year I'm making an effort to standardize valuation across articles and will employ a discounted cash flow model. I based cash flow growth on the historical 10 year average. This is not entirely correct because the slow growing business has been divested since, however the company is now much bigger. Therefore growth will be harder to sustain.
Then I projected cash flow growth rate between 3 and 7 years into the future. When projecting calculations 3 year into the future, Wipro shares have a net present value of just $6 but when you go as far out as 7 years, this goes up to $10+. True intrinsic value most likely lies somewhere in between.
The second but less important reason thing that is starting to worry me is the growing mountain of cash on the balance sheet. In addition the company doesn't have a lot of debt. opening up the possibility to add leverage. It's possible the company will attempt a big acquisition and overpay. Although there are no indications of an acquisition, neither did the company promise more dividend or buybacks. If anything, shares are increasing in number.
Conclusion
Wipro is a very interesting company with astounding growth prospects. It requires very little capital investments to fuel growth and in a favorable environment it can grow business at lightning speed.
The value part of the original thesis is no longer intact. The company trades at a level exceeding my fair value estimated range by a fair amount. It also closed the P/E gap with competitors like Infosys and Cognizant, and the industry average P/E of 16,3. Actually, it trades at almost double that, instead of trading at a discount. There are options with a better risk/reward profile than Wipro at $12.65 at this time.
Disclosure: I have no positions in any stocks mentioned, and no plans to initiate any positions within the next 72 hours. I wrote this article myself, and it expresses my own opinions. I am not receiving compensation for it (other than from Seeking Alpha). I have no business relationship with any company whose stock is mentioned in this article.