Dr. Pepper Snapple (NYSE:DPS), emerged in its present form as a stock spin-off in May of 2008.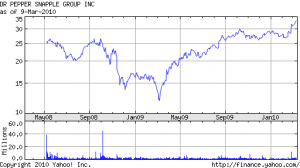 It has been noted that spin-off stocks often make their best moves in their second year. This could be taken to suggest that during its first year a spin-off stock is likely to be a good value.
Looking at its chart with 20/20 hindsight, Dr. Pepper Snapple is a spin-off stock that could be viewed as having been undervalued to varying degrees during most of its first year.
I believe it is Preston James, a guy who does workshops on trading stocks that have pre-announced higher earnings ahead, who recounts a story in which a man said to him "All I need to know is when to get in and when to get out." The story apparently gets a pretty consistent laugh, and yet . . . . this is it, isn't it? When do we get in? When do we get out? DPS spent all of its first year lower in price than it is today near the end of its second year. When "should" you have gotten in? And when should you get out?
Given that the one thing we know about when this train leaves the station and when it gets to its destination is that it tends to happen when the largest number of riders aren't prepared, what do we do? Not really a cute or funny question when it's your money.
In a general sense, this is a personal, psychological challenge related to how you deal with uncertainty and that is another whole topic. In its most specific sense, it a challenge of looking for clues, tendencies, correlations, averages; your standard fuzzy types of stuff.
The "second year" observation may have something in it. Any observations? thoughts? ideas?