While I was a big fan of shorting Netflix (NASDAQ:NFLX) during the stock's collapse in late 2011 and unfortunately part of the rebound, I changed my tune to the positive during 2013. A wave of momentum pushed Netflix shares higher and higher. Carl Icahn had a huge long position, short sellers were running away, and results were actually quite good. However, as 2014 starts, some of the positives Netflix had going for it have started to vanish. Today, I'll explain why shorting Netflix may become back in style again during 2014.
A competitor getting really serious:
Netflix is certainly a streaming giant, and has dominated the space in the US in recent years. However, Amazon (NASDAQ:AMZN) has made a run in recent years to compete with Netflix. Amazon has recently taken its war to the next level, as it starts to seriously market its Prime Instant Video service. Prime Instant Video was launched in early 2011 with around 5,000 or so titles, and that number has grown to more than 40,000 recently. Some of the content Amazon has added was content that Netflix dropped. Amazon, like Netflix, has also begun to launch original content, which will be a key driver of subscriber growth going forward.
Netflix should not take the marketing move from Amazon lightly. Research firm CIRP believes that Amazon Prime subs are up 72% year over year to nearly 17 million. One can probably assume that not all of those subs are taking advantage of Prime Instant Video, so maybe Amazon's marketing campaign will start to help there. In comparison, Netflix's US streaming business saw a total subscriber rise of nearly 6 million, or 24%, for the year ending with Q3 of 2013. Amazon has much deeper pockets than Netflix, so a serious marketing campaign for Prime Instant Video is something Netflix needs to keep an eye on.
Don't overlook the DVD segment:
While not as important as it used to be, Netflix still generates a decent amount of revenues and contribution profits from its DVD segment. This segment also has a wide selection of price points, as stated in the company's most recent 10-Q filing:
The price per plan for DVD-by-mail varies from $4.99 to $43.99 per month according to the plan chosen by the member. DVD-by-mail plans differ by the number of DVDs that a member may have out at any given point. Customers electing access to high definition Blu-ray discs in addition to standard definition DVDs pay a surcharge ranging from $2 to $4 per month for our most popular plans.
There are a few key takeaways from that information. First, Netflix can lose revenues without losing a subscriber. If someone spending $30 a month on a DVD plan decides to lower the number of discs they get, maybe they only will spend $20 a month, hypothetically. When Netflix reports its numbers, the DVD subscriber number would be the same, but the revenue generated would be lower. This number could be even more misleading if another subscriber comes on with a plan of say $6 a month. Combined, Netflix has added a subscriber, but they've lost $4 a month in total revenues. The other important part here is that because of these wide prices, one subscriber loss doesn't just equal $8 or so a month like a normal streaming sub. They could easily lose two or three times that revenue a month, or more.
We all know that Netflix has mostly abandoned this segment in recent years. The company initially planned on spinning this business off in late 2011, but then decided against it. Netflix is letting the DVD segment slowly die off, and I wondered back in 2013 if a sale might eventually come. With each passing month, this business becomes less valuable to Netflix. The following table shows how the DVD business has fared since the end of 2011. The subscriber (T is for total, P is for paid), revenue, and contribution profit ("CP") numbers below are in millions, with the year over year changes for Q3 shown in yellow. The final line shows contribution margin percentage, which is the contribution profit number divided by revenues.

Ending with Q3 of 2013, Netflix lost almost 1.5 million DVD subs over the same time a year earlier, with a revenue hit of nearly $50 million. The DVD segment is also a very profitable one, with a contribution margin in the mid to upper 40% range. US Streaming contribution margins are running in the low to mid 20% range right now.
Why am I making such a big deal about the DVD segment? Well, there are a few reasons. First, revenues and contribution profits continue to go lower. More subs will cancel their plans, and revenues will fall under $200 million a quarter in 2014. Additionally, the USPS is raising rates, which Netflix said will impact results by $3 million to $4 million each quarter. I don't see how contribution profits stay above $100 million a quarter in 2014, and they likely will head towards $75 million. Additionally, Netflix has other operating expenses that are not attributed to any particular segment. If you were to contribute some of these expenses to the DVD segment, the DVD segment is even less profitable, and may turn to loss territory in the next few years. Will Netflix hold on to this business once it swings to a loss?
Another issue is in terms of overall subscribers. If Netflix converts a DVD sub to a streaming one, it's a potential lose-lose situation. First, I already showed how a DVD sub may be spending tens of dollars per month, so a DVD to streaming sub could mean less revenues for the company. With contribution margins of DVD being double that of streaming, Netflix also loses on the margin side for a sub swap.
The final point is that I've spoken to Netflix streaming subs who have said they will cancel their streaming plans if Netflix dumps the DVD segment. While I can't put a number on how many could do this, even 5% would be tremendous hit to Netflix. The company could lose a few hundred thousand streaming subscribers. That is an issue when you have a company trading at a huge premium that's based on growth. Any hit to the growth story should hurt the stock. The DVD segment will probably generate a little over $900 million in revenues this year, so eliminating the segment takes away a chunk of revenues, as well as highly profitable subscribers. Less profits could mean lower cash flow, something Netflix has been struggling with, especially as it continues to purchase billions worth of content. I analyzed the content issue in my previous Netflix article.
2014 subscriber growth:
The midpoint of Netflix's Q4 2013 guidance implies about 6 million subscribers will be added during 2013. How will the company fare in 2014? Well, the first issue to think about is one many joked about a few years back, and that is the Olympics. Netflix stated that the 2012 Summer Olympics would impact sub growth slightly. With the Winter Olympics just a few weeks away, could Netflix give weaker than expected guidance based on the Olympics again? It's something to think about.
The second key item to think about will be the international business. Netflix has already said it will expand internationally in 2014, so the key question will be when and where. Obviously, launches in bigger markets and earlier in the year will provide the most benefit for subscriber growth by the end of the year. At the same time, more and bigger launches will push Netflix profits down a bit, like they have with previous launches. I'll discuss profitability in a later section.
The final item to consider is Netflix's changes to its operating segments. I already discussed above how the DVD segment could impact subscriber numbers going forward. Netflix also has announced a new lower cost plan at $6.99 a month that gives access to just one screen at a time and only standard definition content. The regular $7.99 a month plan provides access to standard and high definition content, as well as two screens at a time. This could be another case of subscribers trading down where the sub number would stay the same but revenues could be negatively impacted. On the flip side, a cheaper plan might attract some newer subscribers. Netflix added about two million total US streaming subs in Q1 of 2013. The company's guidance for Q1 of 2014 will be key. Netflix has been known for excuses in the past like the Olympics and seasonality, but if Q1 guidance is really weak, it could mean a poor 2014 is coming.
Short interest way down:
One of the reasons for Netflix's big rise was that there was a large contingent of short sellers who needed to cover. Well, as you can see from the chart below, that is no longer the case.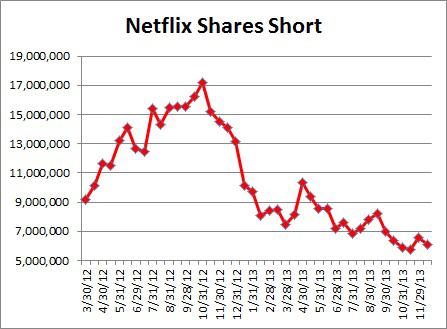 At the end of October 2012, more than 17.2 million shares were short Netflix. At the mid-December 2013 update from NASDAQ, just over 6.1 million shares were short. That means that nearly 2/3 of all short sellers have covered. Netflix is no longer the short squeeze candidate that it used to be, and with Icahn cutting his position or maybe gone completely, investors might want to bet against Netflix again. There's a lot of room for short interest to rise. All it will take is one bad earnings report for momentum to swing in the opposite direction, and we've seen how that has hurt Netflix shares in the past.
The other item to consider here is Netflix's share count. The company stopped buying back shares a few years ago due to poor cash flow, and since then, the share count is on the rise as executive options and a share sale have diluted investors. At the end of Q3 2013, Netflix reported 61.0 million fully diluted shares in its investor letter. A year earlier, 58.7 million shares were fully diluted. As the share count continues to rise, shareholders are further diluted, which hurts earnings per share. Additionally, that also means that there should be more shares available to short. One big short seller or hedge fund could easily come in and knock this name down. Just look what happened to Green Mountain Coffee Roasters (NASDAQ:GMCR) when David Einhorn went after the company. With only about 10% of all shares short, there is a greater chance of short interest rising than falling, which means downside for share price.
Will investors care about earnings?
In recent years, stocks like Netflix and Amazon have risen based on revenue growth, and not necessarily earnings per share growth. Netflix and Amazon have actually lost money in certain quarters or years, but investors have shrugged this off. For those that care about the price to earnings ratio, Netflix and Amazon trade at multiples that on paper are extremely high. For Netflix, there are a couple of ways that the company can boost earnings per share.
Improve domestic streaming margins, which the company has done a nice job of recently.
Reduce losses in the international business.
At times, both of these can be tricky. For Netflix to reduce losses in the international business, the company cannot expand. Launching in a new country will boost subscribers, but also increase losses. With Netflix expanding into new markets in 2014, international losses will increase at some point. Current estimates have Netflix producing a profit of $4.03 per share in 2014 after a profit of $1.76 per share (not final yet) in 2013. That might seem aggressive to some, but Netflix has done a good job on the bottom line in recent quarters.
So how does Netflix stack up against some other names? Well, the table below shows some key growth and valuation metrics for Netflix against others like Amazon, Google (NASDAQ:GOOG), Apple (NASDAQ:AAPL), and fellow momentum name Tesla Motors (NASDAQ:TSLA). One caution about the numbers below. Some of the numbers, like Google's EPS numbers (and subsequently P/E) and both revenues/earnings growth for Tesla, are non-GAAP numbers. Investors need to realize the key differences between GAAP and non-GAAP numbers, and how they impact valuation metrics. The numbers below are based on current estimates for each name's 2014 period.

*Apple's fiscal 2014 ends in September 2014. All other names report on a calendar year basis.
I did this table to show how the valuation argument could be stretched in either direction. On a price to earnings basis, names like Netflix, Amazon, and Tesla trade for ridiculous multiples. For Netflix to have a P/E of 25, which might be high for an established name in a normal market, the company would need more than $14 in earnings per share. That's well above the $4 analysts are looking for in 2014. On a price to sales basis, Netflix is being valued closer to Google or Tesla, rather than Amazon and Apple. You could argue that Netflix has more growth potential that Apple and Amazon, especially if you back out the DVD business. Additionally, Netflix's EPS growth is based on the huge fall in earnings during 2012. Netflix may set a new record for net income and earnings per share in 2014, but it may not. The key here is that for Netflix to become an established company along the lines of an Apple (on P/E basis) or Amazon (on P/S basis), the company needs to grow both revenues and earnings tremendously. Additionally, taking out the DVD business makes all of Netflix's valuation metrics jump. Does that make Netflix overvalued? I might say yes, but in this market, plenty of names appear to be in bubbles.
How to play the short side of Netflix:
In the end, if you believe that Netflix shares will drop, maybe especially at the next earnings report later this month, shorting Netflix is the best way to play it. In the most basic sense, ignoring any transaction and other related trade costs, Netflix going down makes you money, and you lose if Netflix goes up.
But there is another interesting way you could play this, one that probably won't lose you money, and it has to do with options. I'm going to use the February 7th expiration date for this example. Here's one way you could play Netflix, based on the bid/ask spreads as of Monday's close.
Buy ONE $360 put for $24.60.
Sell FIVE $300 puts for $4.80 each.
If you can use limit orders, this trade probably could be structured where it is a 100% match buy-for-sell ($0 net).
By selling the puts in this trade, you reduce your overall cost to zero, again, excluding transaction costs and the actual price paid in the end. If Netflix shares go up, the put you are long becomes worthless, but the puts you sold are worthless as well. That's the good part of the trade, as opposed to just flat out shorting Netflix. Also, if the stock goes down, you still make money, because your long put will have value. Even if Netflix only goes to $350, the put you are long is worth $10, and the puts you sold are still worthless. You make money! The only way that you lose money here is if Netflix drops below $285, because that's the price at which the puts you sold lose more than what you gained on the put you are long. That would require a $75 fall in Netflix, and I'm not sure that will happen in the next month. However, anything is possible, so you have to watch this trade closely. Also, because this is an options trade, it does carry a bit of risk. You should always discuss this kind of trade with your broker before hand, to find out any other costs that may be involved, including any margin you may need to post. This is just one example of an outside the box way to play the short side of Netflix without shorting actual shares. There are other ways too.
Final thoughts:
After a great run in 2013, Netflix has a lot to prove in 2014. The company will need to answer key questions regarding subscriber growth, the DVD business, international expansion, and its content liabilities. Amazon has started to market Prime Instant Video, which could make Amazon an even more serious competitor. With Icahn not as heavily invested or even gone, plus the much lower short interest, Netflix may in fact be a decent short candidate here. Whether it be shorting Netflix outright or using some sort of options strategy, there are ways to make money if Netflix falters. With a stock trading at a very high price to sales and price to earnings multiple, Netflix is priced for near perfection, and the company must deliver.
Disclosure: I have no positions in any stocks mentioned, and no plans to initiate any positions within the next 72 hours. I wrote this article myself, and it expresses my own opinions. I am not receiving compensation for it (other than from Seeking Alpha). I have no business relationship with any company whose stock is mentioned in this article.
Additional disclosure: Investors are always reminded that before making any investment, you should do your own proper due diligence on any name directly or indirectly mentioned in this article. Investors should also consider seeking advice from a broker or financial adviser before making any investment decisions. Any material in this article should be considered general information, and not relied on as a formal investment recommendation.