Twitter (NYSE:TWTR), is a social networking and micro blogging service in which users can send messages instantly. Twitter officially priced their IPO at $26 per share after raising it many times leading up to the IPO date. When Twitter debuted to the public on November 7th, shares opened trading at $45.10 per share and traded as high as $50 on opening day. In less than two months, the stock has risen over 165% since the offering. Twitter managed to raise $1.8 billion in capital by selling 70 million shares which gave it a market cap of 14.2 billion, well below today's market cap of $38.3 billion. Why would a company IPO at 14.2 billion if they felt they were worth more almost 3 times as much? The answer is they simply would not. According to estimize data Twitter is projected to have 2014 revenues of $1.05 to 1.1 billion which means they are trading at 36 times projected 2014 revenues. This is extremely high compared to its social media counterpart Facebook (NASDAQ:FB) which is trading at 16 times its estimated 2014 revenues and LinkedIn (NYSE:LNKD) at less than 11 times estimated 2014 sales.
Despite having strong revenue growth over the past 2 years from $41.21 million in FQ4 '11 to $168.58 million in FQ3 '13 they are not making any profits as its EPS has remained flat at a 3-cent loss per share. Twitter was a much better investment at the IPO price of $26, which valued the company at 14x projected 2014 revenues, which is in line with other social media stocks like Facebook and LinkedIn. At $69 Twitter is a very poor investment. Twitter's huge rise in price since its public offering is being driven by optimism in the markets as opposed to realistic and intrinsic value. For the price of Twitter to jump from $14 billion at the time of its offering, to a $38 billion price tag in a matter of weeks, a person thinking of buying Twitter shares at this price has to determine whether they truly think it is fairly valued at this level or whether there chasing gains.
Twitter has an extremely small float of just 70 million shares. To demonstrate just how small it is Twitter traded 33.25 million shares on Friday, which is almost half of all currently available shares to be traded. This is the reason Twitter is experiencing such volatile swings in its share price. With the first round of additional shares able to be sold coming up February 15th this should help increase supply and stabilize the volatility. Twitter faces upcoming dilution in the coming years as well. The prospectus shows, there are 544.7 million shares currently, but with all the options, warrants and restricted stock that employees have been given, Twitter's share count will easily increase to 700 million in the next few years. The dilution created by the additional shares would hurt the fundamentals as well as their EPS. Another risk investors face is the likelihood of Twitter selling more shares to the public in the coming year considering only 13% of its shares are available to the public. This means that selling more shares to the public at a price closer to the IPO, and significantly less than its current trading price, will also be seen as negative and would lead to a reality check of its current trading price.
In the same report Twitter stated, "We have a limited operating history in a new and unproven market for our platform, which ... may increase the risk that we will not be successful." They also stated in the prospectus, "We may not be able to achieve or subsequently maintain profitability". Twitter since its inception has incurred significant operating losses of $483.2 million despite rising revenue. With that being said, Twitter will soon become a 'hot potato' and you certainly don't want to be the last one holding stock when the game is over. It's not a question of if it is over valued at $69. The real question is when will it begin to sell off?
Technical Analysis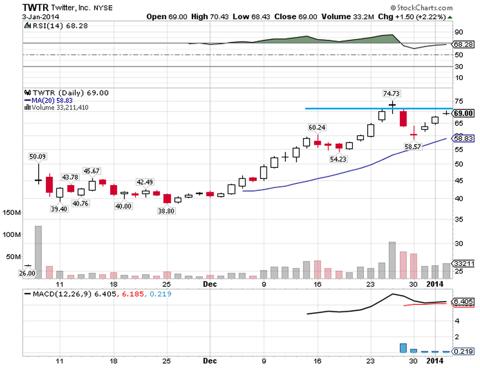 Twitter put in a potential double top near $71 on December 27th and it served as resistance for Friday's trading session. The price pushed up near $71 in the morning session and got sold off from there the rest of the day. If TWTR does not manage to break above $71 in the coming days it will confirm the double top on the daily chart and provide the opportunity for a significant reversal.
Disclosure: I am short TWTR, . I wrote this article myself, and it expresses my own opinions. I am not receiving compensation for it (other than from Seeking Alpha). I have no business relationship with any company whose stock is mentioned in this article.
Disclosure: The author has no positions in any stocks mentioned, and no plans to initiate any positions within the next 72 hours.
The author wrote this article themselves, and it expresses their own opinions. The author is not receiving compensation for it (other than from Seeking Alpha). The author has no business relationship with any company whose stock is mentioned in this article.