Steve Jobs is long gone and yet Apple (NASDAQ:AAPL) is still being dictated by the ghost of its legendary founder. It is not my intention to malign the genius of Jobs and the richness of his legacy. I'm simply sharing my empirical observation. I do not wish to provoke vicious comments or malicious reactions.
I admire Apple for its Wolverine-like regenerative ability to heal itself from any mortal wounds. If you find it funny that I'm now using X-Men super heroes as a comparison, please do forgive me. One SA reader has requested that I lessen my poker references when writing for Seeking Alpha. On this write-up, I'll give in to his request.
I'll try to avoid using the dynamics and mathematics of poker as relative perspective. I still can't imitate the professional tone of Trefis and Benjamin Clark.
Apple Is Rich, Fat, & Happy
The Apple ship is rich, it's loaded with $148 billion cash and millions of iLoyalists. It has a balance sheet and income statement that are the envy of the whole universe. The weather seems fair and the party music is loud.
The headwind poised by Google (NASDAQ:GOOG) and its Android Army has slowed down but didn't stop the luxury cruise of Apple and its investors. I envy those people who bought AAPL in 2003. I regret not being able to go on board the Apple ship 10 years ago. I'm almost 40 and still poor. Apple made a lot of people millionaires and billionaires. Look at this chart from Morningstar.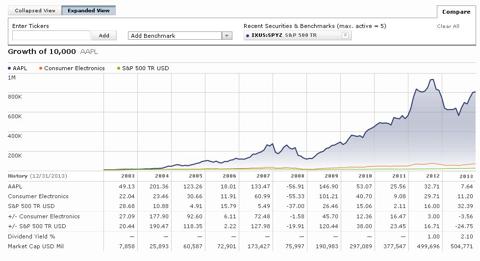 A $100,000 investment in Apple ten years ago is now worth $6,423,650. Please correct me I'm wrong about this calculation. I'm drinking San Miguel right now. The bitterness of this pale pilsen pales in comparison to the sour regret I feel for missing the AAPL boat.
Apple is so much better than the competition when it comes to profitability and stability. That is the reality now. Steve Jobs' five core strategies made Apple more valuable than its old nemesis and savior, Microsoft (NASDAQ:MSFT).
1. High Profit Margin is Top Priority
2. Focus on High End Products
3. Avoid Making Too Many Products
4. Create a Cult-Like Following: The iLoyalist Church
5. Build a closed-system platform to milk the loyal customers: iTunes Store
The 40% average annual gross profit margin since 2009 of Apple's high-end Mac and iOS products is admirable. Steve Jobs' refusal to cater to lower end consumers worked out very well. The release of the iPhone in 2007 was the pivotal tailwind that gave Apple its rapid rise to half-trillion dollar valuation.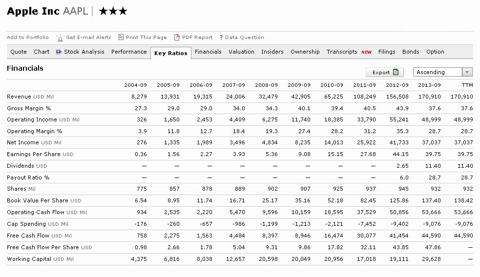 Apple's best year was 2012 when it made $44.73 billion in net income from $156.51 billion gross revenue. Fiscal Year 2012 also revealed Apple posting record margins and EPS.
43.9% Gross Margin
35.3% Operating Margin
$44.15 Earnings Per Share
Apple also posted incremental annual increase in its profitability ratio since 2004 up to 2012.
FY 2012
Return on Assets: 28.54%
Return on Equity: 42.84%
Return on Invested Capital: 42.84%
Net Margin: 26.67%

Here's another chart for the Year over Year (YoY) growth rate of Apple. The smooth sailing got rough only in 2013. Otherwise, Steve Jobs' core principles kept Apple sailing smooth and fast until FY 2012.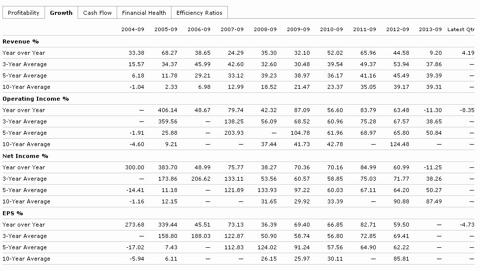 The Cash Flow YoY chart is also here for you to review. Apple's cash flow YoY growth rate sharply dropped in 2013.

Apple posted a lower net income for FY 2013 despite posting higher revenue. Please click all the charts and save them to your computer for further study. All the important financial ratios went down in FY 2013. If you are still reading this, thank you for your patience. Brevity is not one of my traits.
FY 2013 Showed Apple is Vulnerable
The Apple ship did not suffer the fate of The Titanic in 2013. But like the doomed Titanic, Apple is not too rich nor its captain too smart, to be unsinkable. Apple did hit many small icebergs in addition to the pesky Androids last year. It survived and it will survive many more iceberg hits but any ship captain will tell you that it is best to avoid hitting obstacles.
Obstinacy is worse than complacency - it will lead Apple back to being a mere niche player again. Ask the captain of the BlackBerry (NASDAQ:BBRY). Once the biggest ship in smartphones, it is now known as the RedBerry, leaking blood and drowning many of its investors. Even Alicia Keys could not sing happy and jumped ship to escape the doomed RedBerry.
The notable drop in net income and financial ratios for FY 2013 signals a strong squall is on the path of Apple. I do not want to spoil the party. There are others who are already calling for Apple to change course. Captain Steve Jobs is not around anymore to save the ship. The old navigation chart left by Jobs also seems to be leading to a disastrous smash-up. The five core principles are no longer enough to power sail Apple or keep it safe from envious rivals.
Apple is highly dependent on its juicy mobile business and big battleships are gunning to sink the iPhone and iPad. Microsoft finally came up with decent mobile products in Lumia smartphones and the Surface 2 tablet. Intel (NASDAQ:INTC) also finally delivered an energy efficient Bay Trail-T mobile chip. Apple made a snafu of the iPhone 5C while Google's ChromeBooks became popular.
Intel's fanatic crusade to sell at least 40 million tablets for 2014 will definitely hurt Apple. Microsoft's purchase of Nokia's Devices & Services division also poses a clear and present danger. Apple derives 69% of its revenue from selling high-margin iPhones and iPads. When you add all the other iOS-dependent products, Apple's 85% revenue is mobile-based. The less iPhones and iPads sold, means smaller income from accessories and iTunes Store downloads.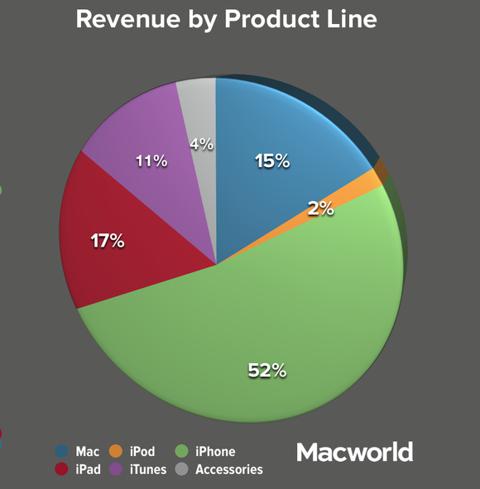 Apple still sold more iPhones in 2013 compared to 2012 but the Androids now outnumber the iOS army 4:1.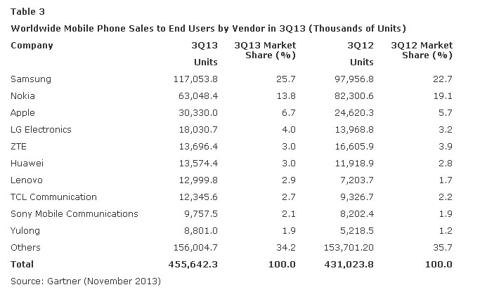 The iPhone Does Not Monopolize the High-End Market Anymore
The argument that high-margin iPhones is best for Apple does not hold water anymore. The number 1 and 2 core principles, high-margin products for high-end customers, inherited from Steve Jobs are becoming more difficult to apply. The new market reality is calling for high-quality but affordable smartphones.
Samsung (OTC:SSNLF) has shown that its Galaxy S3 and S4 can keep up in terms of volume shipments. The chart below is an old one (mid 2013) but it's indicative of Samsung's growing appeal to affluent customers.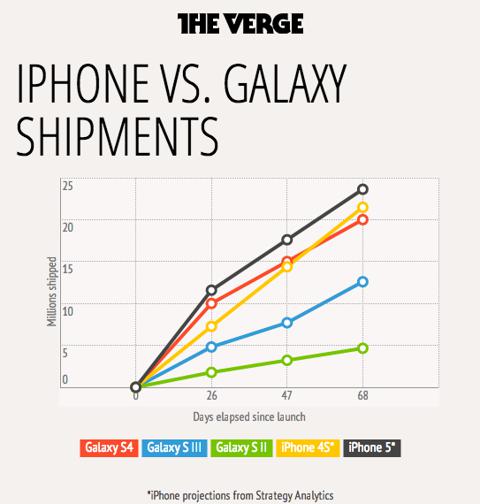 The iLoyalists are now buying non-iOS premium handsets. The Galaxy S4 costs $600 so it means people are not buying it simply because it's cheaper than the iPhone. Some members of the iLoyalists have defected to a better product. The affluent crowd is no longer exclusive to Apple. People change ship when they see a grander cruise liner.
The iPhone sales chart below shows a downward trend for 2013. The drop could be exacerbated further by Google's latest price war strategy this 2014. The Moto X will cannibalize Samsung and iPhone sales because it is now available for $399 contract-free. Samsung will probably call Google's challenge and lower its S4's price tag too. I don't see Apple doing the same.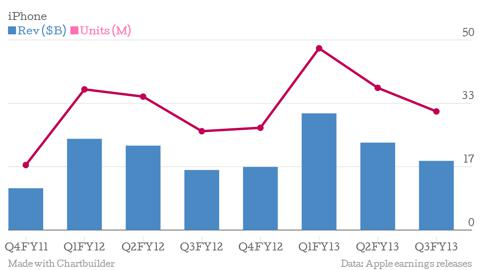 While the iPhone is on a downward streak, the overall smartphone market is on the rise.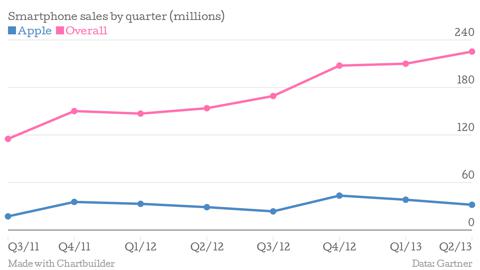 The year 2013 showed me that Apple's high profit margin products are still in demand in the U.S., U.K., Japan, and a few other developed countries. However, Android OS products have become too dominant. The Windows 8 devices are also on the rise, overtaking BlackBerry in Europe.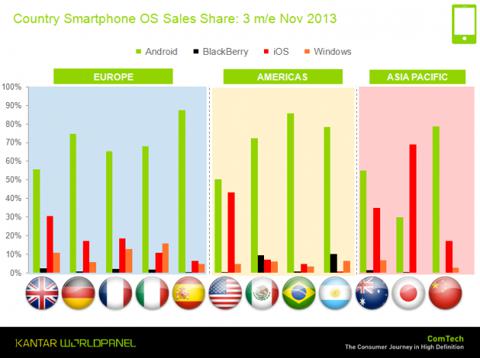 The iPad is also on a downward trend. Cheaper alternatives like the Kindle Fire HDX are going to steal away more customers. Bay Trail-T equipped tablets are also going to contribute to the slow decline in iPad sales.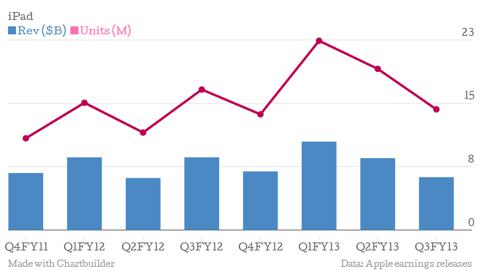 Samsung again came up big this Christmas 2013. The Galaxy Tab beat the iPad in total holiday sales according to OnSwipe.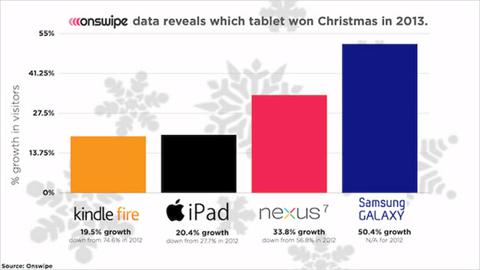 Samsung's success in Android phones makes it the second most profitable mobile device seller. Apple still makes more money despite Samsung shipping 3.5x more smartphone units. This disparity of profitability ratio will not last forever. Samsung and other companies will come out with cheaper and better models.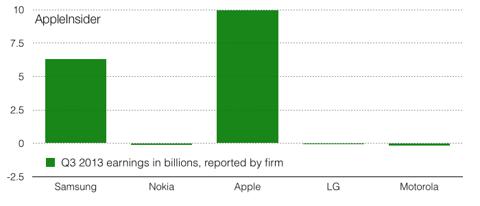 Tim Cook Needs to Man Up
Cook's statement in an interview with BusinessWeek's Sam Grobart in September 2013 echoes the hard line position of Steve Jobs. The new captain's vision is obstinately Jobsian - Apple will never ever make a low-entry budget version of the iPhone. The interview coincided with Apple's release of the iPhone 5C and iPhone 5S. Investors, pundits, and consumers were all disappointed that the C in iPhone 5C did not mean cheap.
The planet-wide anticipation for a more affordable iPhone turned into dismay when Cook unveiled the entry-level 16GB iPhone 5C's $540 U.S. price tag. This recalcitrant practice of high-margin profiteering is Apple's Achilles' heel. Samsung has a missile targeting it. Google, Microsoft, LG, Sony, and many more are looking to launch a missile at Apple's Achilles' heel.
Tim Cook needs to step out of Steve Jobs' shadow and accept the fact that the mobile device industry is a different ocean than it was three years ago. There's a need for Apple to change course outside the old Steve Jobs route. Yes I believe that Apple will continue to reap fat high-margin income from its remaining millions of iLoyalists.
However, in five years' time, I do not see Apple enjoying the same profitability it currently enjoys now. Intel's midnight madness sale of cheap Bay Trail-T and marketing subsidies are the nuclear warheads inside Apple's competitors' tablet and smartphone ambitions. Intel's low cost, energy-efficient, and powerful chip helps deliver cheap Microsoft Office-enabled tablets and 2-in-1 notebooks like the Asus Transformer T100.
Unless Tim Cook steps outside his Jobsian comfort zone, Apple is in big trouble after 2015. Samsung, LG, Sony, HTC, and Google will hit it hard in the premium handset business. Huawei, Microsoft, ZTE, Lenovo will also do their best to sink the Apple Ship. Apple is declining even in its turf, the U.S. market.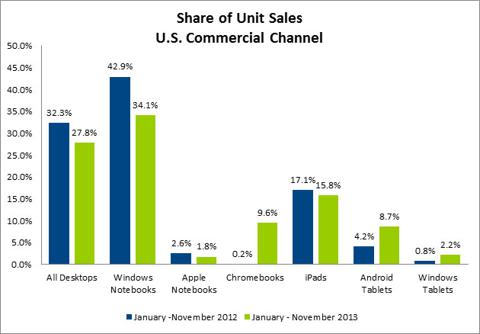 A majority of analysts already share the same sentiment. The stock market is also not amiable to Apple's obstinate high-margin strategy. AAPL is down more than 21% from its $700 September 21, 2012 high. Wells Fargo downgraded Apple recently due to concerns that Verizon and other tier-1 operators will no longer subsidize the high price of the upcoming iPhone 6.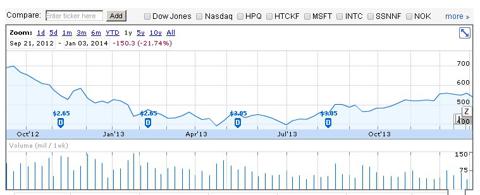 Conclusion
I'm not confident that a $148 billion padding will protect Apple's Achilles' heel forever. The company faces many enemies all eager to bring it down back to its 1997 level. The ghost of Steve Jobs is steering Apple towards a dangerous path. The 2013 numbers all point to a brewing storm-size headwind for Apple and I see gloomy weather for 2014. Rough sailing is ahead of it. I see single-digit revenue growth for the next 5 years.
Apple's years-long 40% gross profit margin is no longer sustainable against a tidal wave of affordable Android, Windows, and Tizen premium phones and tablets. Tim Cook should really come out with a better entry-level product than the iPhone 5C. The iPad Mini is a good step forward but it is still inadequate. I do not want to end this long article negatively.
I believe Tim Cook's 2013 statement is not set in stone. He will have to go with the flow or else Apple will sink fast. The iPhone 6 may come with a little sibling, iPhone Mini in the $300 range. It may not happen this year but hopefully within two years.
A more affordable iPhone will go nicely with IDC's latest projection that Emerging Markets will grow faster than Apple's bailiwicks, Japan, U.S. and U.K. India, China, and Brazil are ripe for low-cost Apple smartphones. The iPhone brand is a status symbol that everybody wants but cannot afford now. In my country, only the wealthy and upper middle-class can afford the iPhone 5C. There are 30 million of us poor Filipinos dreaming of the iPhone 5C.
Bring it down to $300 and there might be 5 million annual sales in the Philippines by 2017. $30 profit from 5 million sales is much higher than 100,000 unit sales with $200 gross margin. Apply the same simple math calculation to the 458 million estimated unit sales in China and you get billions of dollars.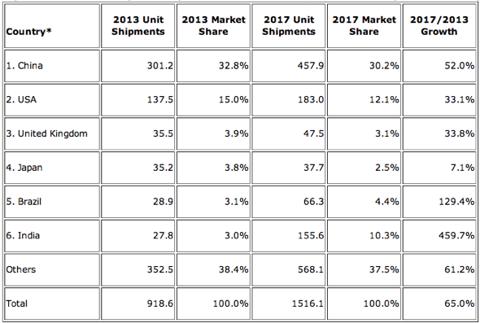 Apple is a strong HOLD. If the bulls bring it to $650, I highly recommend selling 80% of your AAPL holdings and re-invest the profit in other hotcake-of-the-moment companies. Apple might have reached its peak in 2012.
As long as Apple practices its recalcitrant high-profit margin policy, there's little chance of AAPL surpassing $700. History shows Apple always got in trouble when its expensive products do not sell well in the face of more affordable alternatives.
Disclosure: I am long INTC, GOOG, . I wrote this article myself, and it expresses my own opinions. I am not receiving compensation for it (other than from Seeking Alpha). I have no business relationship with any company whose stock is mentioned in this article.