Like it or not, the Affordable Care Act is - at least for now - the law of the land. With the law in place, and millions of previously uninsured people projected to have health insurance by April, the healthcare industry is the focus of a lot of attention and expectations. I, along with a lot of my fellow market watchers, have been keeping an eye on the healthcare market to identify companies with potential - and some that might be worth avoiding, if only for the time being.
In an earlier article I identified a small set of biotechnology companies I characterized as "picks and shovels": that is, companies that were primarily engaged in the manufacture of products for use by other healthcare companies. While sorting through some additional screener results from the healthcare sector I happened across some companies that were identified as "diagnostic substances" manufacturers. As with pick-and-shovel companies, these businesses cater to other businesses, although with a larger range.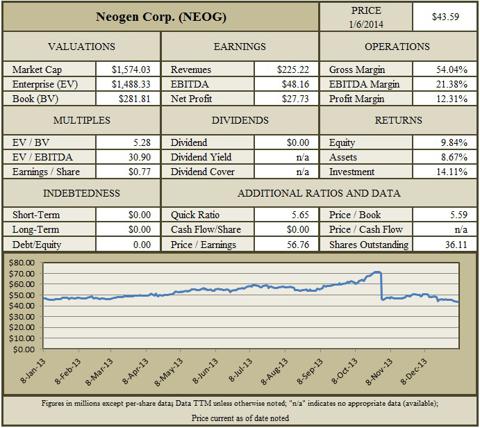 Headquartered in Lansing, Michigan, Neogen Corporation (NASDAQ:NEOG) ("Neogen" or "the Company") has three primary divisions:
Food Safety, which produces culture media and diagnostic test kits used to detect infections, allergens, and other undesirable contaminants in the food supply1;
Animal Safety, which manufactures veterinary products and pharmaceuticals, as well as chemicals used to control pests and protect the health of livestock;
Life Sciences, which develops and manufactures Enzyme-Linked Immuno-Sorbent Assay (ELISA) kits for research.
Worldwide, Neogen operates four international headquarters: Neogen Europe, Ltd., located in Scotland; Neogen Latinoamérica, in Mexico; Neogen China, in Shanghai; and the recently formed Neogen do Brasil, in Brazil. These operations distribute the full line of Neogen products throughout their respective territories. The Company also operates several companies:
In addition to Prima Tech, Neogen has acquired several other companies over the course of the past year:
On the face of it, this looks like a very interesting company. Its focus on animal health and food safety would appear to put it in high demand, particularly in light of recent outbreaks of foodborne illnesses. Its recent acquisitions seem to strengthen the Company's position in terms of production, research and marketing.
At the same time, the Company is rated "Hold" by two-thirds of the analysts covering it.2 Given its P/E, it may be felt that the Company is overbought. It might be noted that with the share price in the $40.00-plus range, there has been some selling activity by insiders.3 Thus, while Neogen would seem to be an attractive long-term holding, it might be worth letting its price settle down4; its current average target is $43.00, with a low of $38.00. 5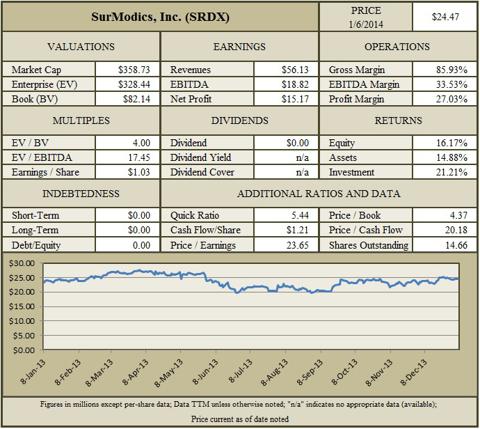 Unlike the other two companies I discuss in this article, SurModics, Inc. (NASDAQ:SRDX) produces two types of products: medical device coatings and in vitro diagnostic products. Formed in 1979 as Bio-Metric Systems, Inc., the company began focusing on its PhotoLink technology (central to its coatings products) and biomolecule stabilization products (part of its diagnostics products). The company changes its name to SurModics, Inc. in 1997, going public in 1998. Its only acquisition to date has been of BioFX Laboratories to enhance its in vitro diagnostic products.
Central to SurModics' medical device technology is its PhotoLink technology - a light-activated process of bonding coatings to virtually any device. This technology is most important for the Company's Serene Coatings - designed to maximize lubricity while minimizing residual particulates. The technology is also used in devices requiring hemo-compatible coatings. The company also has developed proprietary polymers which, when blended in specific proportions, allow control over the delivery rate of therapeutic agents.
In terms of diagnostic substances, offers a variety of technologies that enable more the production of more effective and reliable assays6:
Protein stabilizers and blockers;
BioFX Substrates/Stop Reagents that deliver colorimetric and chemiluminescent detection;
Diluents, washing and coating solutions, and immunohistochemistry reagents;
Autoimmune/infectious disease antigens;
BioFX antibodies;
Microarray slides and surfaces;
Custom surface coatings.
The data provided above show SurModics to be an effectively and efficiently managed company. It is currently rated a "buy" by analysts, and is trading well below its target prices, with a low target of $27.00.7 Most recent activity by insiders has been "buy."8 Given its PE and current book value (especially as compared to its enterprise value), SurModics would seem to be an attractive investment for the foreseeable future.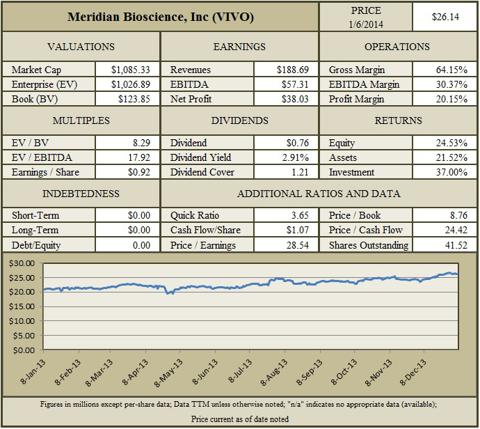 Founded in 1977 as Meridian Diagnostics, Meridian Biosciences, Inc. (NASDAQ:VIVO) has a substantial history in the development of diagnostic tests for a variety of diseases including C. difficile, H. pylori, foodborne diseases, respiratory infections, and parasites. The Company has focused on developing its diagnostic tests around simplified technology:
Meridian has two subsidiaries: Meridian Bioscience Europe, which handles distribution of Meridian products in Europe, Africa and the Middle East; and Meridian Life Science, Inc., which manufactures antibodies, antigens, recombinant proteins and assay reagents sold directly to users in the biopharmaceutical and diagnostic markets.
Meridian is another company that seems to be effectively and efficiently operated. Its P/E does not seem overly high; its enterprise value to book value, however, is notably higher than that for SurModics or Neogen. Its current price is close to the high side of targets, and is above the median target of $23.50 (low target is $15.00). It may not be surprising, then, that 75% of the analysts following the Company rate it as a hold.9
Summary
These companies were identified through FINVIZ using my PIC criteria, which can be reviewed here. PIC speaks only to the fundamental data for the companies it selects, and the companies presented above do seem to have solid fundamentals. SurModics appears to be a company worth looking into, but I cannot speak to its long-term prospects. Both Neogen and Meridian seem to be interesting prospects for the long term, but perhaps after their prices have come down somewhat.
Disclaimer
This article is for informational use only. It is not intended as a recommendation or inducement to purchase or sell any financial instrument issued by or pertaining to any company or fund mentioned or described herein.
Before investing, readers are reminded that they are responsible for performing their own due diligence; they are also reminded that it is possible to lose part or all of their invested money.
All data contained herein is accurate to the best of my ability to ascertain. All opinions contained herein are mine unless otherwise indicated. The opinions of others that may be included are identified as such and do not necessarily reflect my own.
1 There are more than 250 known pathogens and toxins that cause foodborne illnesses, according to the Centers for Disease Control.
2 Cited in Barron s.
3 Transactions listed in Reuters.
4 The price drop that occurs on October 31, 2013 was due to a 3-for-2 split that had been miscommunicated to NASDAQ, according to Neogen.
5 According to Barron s.
6 As presented by SurModics.
7 Cited in Barron s.
8 Cited in Reuters.
9 Cited in Barron s. It should also be noted that Reuters indicates that the vast majority of transactions by insiders recently have been sells.
Disclosure: I have no positions in any stocks mentioned, and no plans to initiate any positions within the next 72 hours. I wrote this article myself, and it expresses my own opinions. I am not receiving compensation for it (other than from Seeking Alpha). I have no business relationship with any company whose stock is mentioned in this article.