Linn Energy (LINE) has always been one of the more interesting upstream MLPs. The company had a very rough 2013, largely thanks to difficulties related to its merger with Berry Petroleum (BRY) and several short-seller attacks. However, Linn Energy seems to be finally bouncing back, with the stock up nearly 20% over the last 3 months. This can be explained by several factors including higher energy prices, the completion of the Berry Merger, and positive Q4 2013 production guidance. Linn Energy offers a meaningful high monthly distribution of $0.2416 per month and yields about 9.35%.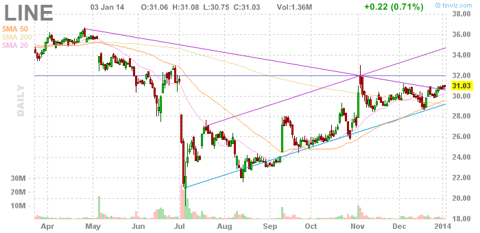 Click to enlarge
Q4 saw much higher prices for natural gas and NGLs
During Q4 2013 natural gas prices were on fire with prices up nearly 35% from last quarter and 80% from year-ago levels. The causes for this spike seem to be related to seasonally cold weather and dwindling stockpiles. According to the EIA, natural gas inventories are 16% below year-ago levels and 9% below their 5-year averages. While natural gas has given back some of its gains recently, prices still remain well above the crucial $4.00 per MCF level.
Coupled with the increase in natural gas prices, NGLs, or natural gas liquids, have also seen their prices recover. Recent data points towards NGLs prices breaching $35.00 per BBL in some areas, up 10% to 20% from prior quarter levels. However, depending on the source, realized prices may be much lower.
What impact will higher natural gas prices have on Linn Energy and its bottom line
Linn Energy is very reliant on natural gas and NGLs as they make up a huge part of its production. YTD, natural gas constitutes nearly 55% while NGLs constitutes another 20% of production for a total of 75%. However, natural gas and NGLs revenues only make up about 40% of Linn Energy's total revenues. This leaves plenty of room for improvement.
The company has already provided production guidance for Q4, estimating production to come in between 840 MMCFE/D and 860 MMCFE/D while DCF was expected to exceed distributions by 5% to 10%. When using the midpoint for the production guidance and assuming a similar mix between natural gas, NGLs, and oil, higher prices for natural gas should have a major impact on Linn Energy's Q4 results.
I estimate that Linn Energy's realized price for natural gas could increase by as much as 10% to about $3.90 per MCF. This would result in a $12.5M to $15M increase to revenues. In addition, Linn Energy's average realized price for NGLs price per BBL could reach as high as $35.00 per BBL. This would represent another $8M increase to Linn Energy's revenues.
The wildcard here are realized prices for crude oil as prices for that commodity were volatile during the quarter. Assuming flat quarter-to-quarter oil prices and operating costs, Linn Energy may see a benefit of as much as 2% to its margins per MCFE.
How much would these increased revenues and margins impact Linn Energy's bottom line? It is difficult to tell due to Linn Energy's extensive use of hedges. However, I think it is safe to assume that Linn Energy's Q4 2013 DCF guidance may come in towards the high-end of the range. In fact, Linn Energy's coverage ratio may actually exceed 1.10x.
***Do note that none of these estimates include any of the potential impact from the Berry merger.
Hedges may limit the upside
While I hate to be a downer, Linn Energy's upside is greatly limited by its hedging policy. The company hedges nearly all of its expected oil and natural gas production. However, there is one product the company does not hedge, namely NGLs. A sizable increase in NGLs prices will have a much bigger impact than a similarly sized increase in natural gas prices.
As I noted above, NGLs prices have been improving recently. However, they are still way off their 2012 to Q1 2013 levels. There is also the issue of ethane rejection, which has crippled Linn Energy's NGLs production this year. Pricing for this product remains very volatile. I suspect that Linn Energy may continue to face this issue at least until demand for the product matches supply.
Conclusion
I suspect Linn Energy's Q4 results to surprise many. The company is likely to post record production and see its critical DCF coverage ratio improve. The company will also see some added stability with the addition of Berry's assets. Berry's production is mostly oil and is often priced at Brent. While Linn Energy did likely overpay for Berry, the completion of the merger should be seen as a net positive for the company.
Linn Energy along with its dividend paying sister stock LinnCo (LNCO) remain an interesting choice. The company is likely the cheapest and most undervalued in the upstream MLP sector. However, Linn Energy also seems to carry more risk than its peers, as seen by its volatile unit price.
Disclaimer: The opinions in this article are for informational purposes only and should not be construed as a recommendation to buy or sell the stocks mentioned. Please do your own due diligence before making any investment decision.
Disclosure: I have no positions in any stocks mentioned, and no plans to initiate any positions within the next 72 hours. I wrote this article myself, and it expresses my own opinions. I am not receiving compensation for it (other than from Seeking Alpha). I have no business relationship with any company whose stock is mentioned in this article.
Additional disclosure: I am long the following upstream MLPs: VNR, QRE, MEMP