Most stocks in the S&P 500 this year have performed very well but not all of them. In fact, some of them like Cliffs Natural Resources (CLF) have performed downright miserably. Cliffs success is largely tied to iron ore prices and as those prices dropped and growth opportunities cooled off, the stock price took a tumble. Cliffs stock has dropped about 31% in 2013 making it one of the worst performers in the S&P 500.
I wrote earlier this year about how I thought Cliffs represented an excellent value if you're willing to stomach some of the risks that come with the company. As mentioned earlier, Cliffs well-being is largely a product of iron ore prices and corresponding steel demand. Since ore prices have been very volatile over the last five years so has Cliffs stock price. Economic conditions have been very out of favor for the company in the last year resulting in the stock's poor performance but there are signals that those conditions bottomed out in 2013 and Cliffs may see a return to sunnier times in 2014.
Iron ore prices have stabilized
Cliffs suffered from plunging iron ore prices in 2013 but look at the last six months and you'll see that prices have steadied.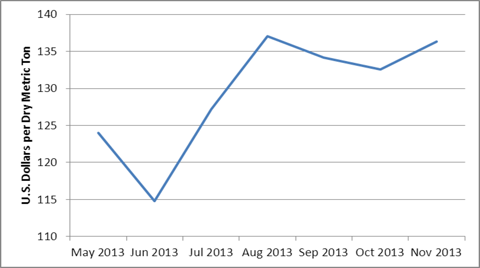 Click to enlarge
Rising prices would definitely benefit the company but Cliffs should be able to develop and maintain growth should prices remain steady. In June, prices approached the $110 mark and managed to bounce off of that level back into the $130s. If iron ore prices can maintain that $110 floor, Cliffs should do all right.
Prices dipped down to the 110s earlier this year but have since bounced back to the 130s. If they can stay in the triple digits, Cliffs ought to be able to maintain growth.
Improved analyst activity
Zack's Investment Research recently upgraded Cliffs to a strong buy from its prior neutral rating citing improved year over year net income growth and the ability to keep costs in check. Additionally, Zack's raised its earnings per share guidance for 2013 - the third time an analyst has done that in the last 30 days.
Many analysts still maintain hold or market perform ratings on the stock but that may change quickly should Cliffs deliver on improved guidance.
The equity offering and dividend cut is serving its purpose
Cliffs management team found themselves in the unfortunate position of needing to cut the stock's dividend and make a secondary stock offering in order to raise capital to deal with the challenging economic environment. While that was certainly a blow to the gut of investors it did leave the company with a better capitalized balance sheet. The goal of strengthening the balance sheet to take advantage of a turnaround means Cliffs can fund expansion efforts to attempt to profit from higher steel demand.
Fundamentals still look good
Fundamentals are a little challenging to judge when the bottom is falling out. The dividend yield looked good as the stock price was depressed until the company slashed the dividend. A metric like price/earnings might not produce an appropriate assessment so you need to look to other metrics judge the stock's relative value. And by those metrics it still looks like a value.
The company currently has a price/book ratio of 0.81 and a price/sales ratio of 0.71. Those numbers convey a deep value play as long as the recovery continues and net income continues to push higher.
Technically, the stock looks a little range bound. The stock approached the 100 day moving average earlier in December and managed to bounce off of it so that may help provide support but the stock has also had trouble breaking through the $28 mark. It'll need to break through that resistance level to make a sustainable move up.
Conclusion
Again, the future largely depends on iron ore prices. The company should manage to do fine if spot prices are in the 110s. If prices remain steady in the 130s it gives the stock the potential for a run in 2014. The stock has already bounced about 67% off of 2013 lows so it certainly appears that investors are beginning to believe in the company again.
If the Cliffs can continue the net earnings growth momentum and manage to expand their margins further going forward this could look like a good investment for 2014.
Disclosure: I have no positions in any stocks mentioned, and no plans to initiate any positions within the next 72 hours. I wrote this article myself, and it expresses my own opinions. I am not receiving compensation for it (other than from Seeking Alpha). I have no business relationship with any company whose stock is mentioned in this article.