by Travis Knight
Developing cancer therapies has proven to be very difficult for biopharmaceutical companies. Cancer therapies typically extend a patient's life with the disease, but no company has been able to find a cure. However, new advancements in cancer treatments are happening faster than ever and newer technologies are revolutionizing the business.
Looking back to 2013, more breakthroughs occurred than in any other year in recent history. New and innovative techniques are revolutionizing the accuracy that treatments can be delivered to specific cells. This results in less toxicity for patients and a better quality of life. Progenics Pharmaceuticals (PGNX) is one of several companies that may produce positive oncological data in 2014.
Proven Delivery Technology
The method of delivery of cancer therapies is key to increasing efficacy and decreasing toxic side effects. Companies that are able to develop drugs with better efficacy and safety profile are often the best treatments on the market. In 2005, Progenics inked a deal to license antibody drug-conjugate (ADC) technology from Seattle Genetics (NASDAQ:SGEN) for a $2 million upfront fee. ADC technology has been developed and used by Seattle Genetics in Adcetris for relapsed Hodgkin's Lymphoma. In August of 2011, the FDA approved Adcetris for Hodgkin's Lymphoma before it even reached Phase III trials because it was so effective against the disease.
Proven drug delivery technology is extremely valuable. In so many cases, the use of proven drug technology in new therapies can lead to easy approval, as the FDA has already given the go ahead for that drug's mode of action. Progenics is using the same monoclonal antibody technlolgy, cytotoxic agent, and linking technology that is used in Adcetris, which is approved and sold on the market. Even though there is no guarantee Progenics' therapy against prostate cancer will work as well as Seattle Genetics' therapy for Hodgkin's Lymphoma, proven technology bodes well for the odds.
This effective and unique mode of delivery is important for Progenics because prostate cancer is such a tough type of cancer to treat and is the second most common form that occurs in men. For this reason, there is large demand for newer and more effective treatments to combat the disease. The FDA has recently approved Xofigo several months early due to the lack of effective treatments on the market. The prostate cancer drug market is approximately $4B, so it is no surprise that there are several companies trying to develop better and safer treatments for the disease.
Why ADC Technology is Effective
ADC technology employs a different mode of action than current treatments on the market (Xofigo, Xtandi, Provenge and chemotherapy). Seattle Genetics has achieved over a decade of experience with ADC technology. This technology has been licensed to six other companies for use in its clinical programs including Celldex (NASDAQ:CLDX) and Endocyte (NASDAQ:ECYT).
This technology utilizes a "Y-Shaped" protein, called a monoclonal antibody, to deliver treatments directly to a cell. The antibody is equipped with a toxic cancer-killing agent via a chemical link that is designed to hold the therapy. Once the antibody reaches the cancer cells, this cathepsin-cleavable linker dissolves and releases the therapy into the cancer cell.

Progenics is utilizing the properties of prostate cancer cells to deliver therapy directly to the cell. Prostate cancer cells have a cell "signature" that makes it easier to identify them from a healthy cell. On almost every prostate cancer cell there is a prostate-specific membrane antigen (PSMA) that differentiates it from other healthy cells. PSMA is an enzyme and is used as a biomarker to find prostate cancer, flagging it for destruction by the cancer therapy.
ADC technology employs the use of the monoclonal antibody, which is carried through the blood stream until it finds and then selectively binds PSMA. It is then able to attach the therapy directly to the cancerous cells and even the blood vessels that supply nutrients to other cancerous tumors. PSMA ADC is then internalized by the cancer cell after binding with PSMA and releases the toxic agent to kill the cancer cells.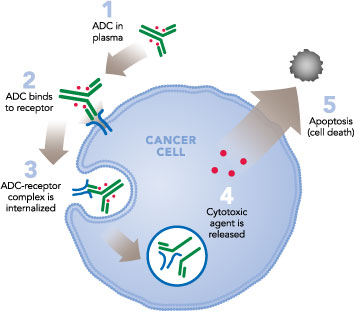 The therapy, or cytotoxic agent, that is delivered to the cancerous cells is called a Monomethyl auristatin E (MMAE) and is 100 to 1000 times more potent than traditional chemo agents. MMAE is not an agent that can be taken into the body by itself due to its extreme high toxicity. When it's directly delivered to the cancer cells as it is with ADC technology, the destruction of healthy tissue is avoided. This is what differentiates the technology from all others and makes it so effective.
The most difficult component of this technology to master is the linker that binds the toxic agent to the antibody. The linker has to be strong enough to hold the toxic agent in the blood, but also be specific enough to dissolve in the cancerous cell. Several companies have recently begun to have success with similar linker technology. CytRx (NASDAQ:CYTR) recently produced positive Phase II data with its drug Aldoxorubicin that employs a type of linker technology, tripling share price on data. When cytotoxic agents are able to be "linked" to delivery compounds with high enough affinity so that they do not release before reaching its target, higher amounts of these agents can be delivered, thus increasing efficacy and safety. In the case of PSMA ADC, super-potent agents that are were too toxic to use by themselves are now able to be delivered to tumors without the mass destruction to other, healthy cells.
Phase I Clinical Data is Positive
Progenics ran a Phase I study that evaluated patients with taxane-refaractory metastatic castrate-resistant prostate cancer, meaning that the patient's cancer had progressed despite prior chemotherapy treatments. 52 patients were evaluated in the study, which is intended to find proper and maximum tolerated doses of the therapy. Patients were dosed at nine different levels ranging in between .4-2.8 mg/kg of PSMA ADC. The study assessed anti-tumor activity as well as tolerability. The study found:
PSMA therapy was well tolerated.
Increased dosing of PSMA was directly correlated with a tumor reduction, showing a response to therapy.
The levels of PSMA, antibody, and MMAE (chemotherapy agent) were graphed and exposure of the drug components increased linearly. PSA (prostate-specific antigen) levels decreased as a result, showing PSMA ADC was directly killing cancer cells. It is tough to make assumptions on early Phase I data, but preliminary results look promising. Good tolerability at higher doses is a good sign for its safety profile.
Catalyst: Phase II Trial Data
Enrollment in the Phase II study was completed in early December and results are to be released at the American Society of Clinical Oncology's (ASCO Conference) Genitourinary Cancers Symposium Meeting in San Francisco on January 30, 2014.
The open-label study will be evaluating 110 patients and will assess anti-tumor activity and tolerability. The trial will be evaluating two groups. The first group comprises subjects who have undergone at least one taxane-containing chemotherapy regimen and the second group comprises patients who are chemo-naïve.
Extension Study Initiated By Progenics Signals Positive Results
News of an extension of the PSMA 2301 trial is a major contributing factor in helping determine that Progenics is seeing positive results thus far. On the government Clinical Trials website it states:
PSMA ADC 2301 EXT is an open-label study to further assess the anti-tumor activity as measured by radiographic imaging and biomarkers, safety and tolerability of PSMA ADC in subjects with mCRPC. Subjects who have participated in the PSMA ADC 2301 study and who, in the opinion of the Principal Investigator are likely to benefit from continued treatment with PSMA ADCare eligible for the PSMA ADC 2301 extension study. Subjects who are benefiting from treatment may be able to receive up to an additional eight to sixteen doses (every 3 weeks) of PSMA ADC.
The extension of this trial signifies that there are patients reacting well in the PSMA 2301 trial. The reason Progenics is running this trial is because the Principal Investigator believes that patients are going to continue to see benefits from continuing treatment.
Extending the trial also shows confidence from Progenics. From a financial standpoint, continuing the trial costs lots of money and there would be no reason to continue these trials if patients were not reacting well.
Advantage of Set Catalyst Date
Investors and even insiders of the company can never be sure on trial results. Holding through any data release is inherently risky. The advantage of this catalyst event is that Progenics has a set day that they will be presenting data. This allows investors the opportunity to initiate, reduce, or cut their position with the safety of knowing when binary news is going to be announced. Investors are able to strategically buy shares on catalyst run up to data, without holding shares through the actually release. This drastically limits risk by not having to take that chance that data may be bad, losing on the downfall.
For those that like to hold shares through data release, we also feel that Progenics makes a strong speculative play. Considering that the data is being presented at a large event like ASCO and that the company has enrolled an extension trial, we think it is likely that Progenics will present positive trial results.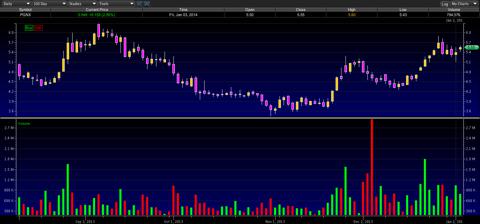 From a chart standpoint, the stock is beginning to flag out off of its current run. With the catalyst nearing and sentiment becoming more positive, we feel that the stock is getting ready for another breakout to above $6 a share very soon.

The February 2014 option chain also signifies bullish sentiment. There is heavy call option open interest, which signifies that most traders are expecting good things in January. For those that want to hold through data release, the option chain could also be used to define one's downside risk.
The main emphasis of this article is to highlight the trade opportunity presented by Progenics and PSMA ADC. A set binary event data allows investors of all risk tolerances to play this as they see fit. We do believe the odds are well in favor of good data, as multiple fundamental bullish indicators point in that direction. It also should be mentioned that data will be released at ASCO. Rarely do companies release bad or mediocre data at these types of conferences and we expect that Progenics has anticipated this event with plans to bring forth some great data.
The speedy approval of Adcetris before even reaching Phase III trials also shows promise that PSMA ADC could be a potential blockbuster. Depending on market conditions, we believe a run up to $6.25 is very reasonable. With a $4B market for prostate cancer, we also believe Progenics will test $7-$7.50 on positive data. As nothing is a guarantee in the stock market, and biotech especially, leveraging risk tends to work in one's favor for the long haul. We like the opportunity with Progenics and PSMA ADC.
Disclosure: I am long PGNX. I wrote this article myself, and it expresses my own opinions. I am not receiving compensation for it (other than from Seeking Alpha). I have no business relationship with any company whose stock is mentioned in this article.