So it is that time of year again. We are just a couple of weeks away from the start of earnings season. Over the last year or two, this pre-earnings season rush has resulted in an interesting phenomenon, one I have covered extensively when it comes to Apple (NASDAQ:AAPL). I call this event "panic time," because a number of Wall Street analysts are notorious for issuing negative reports about Apple in the weeks leading up to Apple's quarterly report. Well, just like clockwork, it is happening again. Today, I'm going to detail what's going on this time, see what it means for Apple's stock, and discuss what investors should do as we get closer to earnings.
The first of the three negative reports:
We had not even reached 2014 yet before the first analyst decided to put a rein on Apple's parade. Wedge Partners analyst Jun Zhang came out and declared that the China Mobile (NYSE:CHL) deal would not be a bonanza for Apple. The pieces below are from the linked article, describing the analyst's main points.
In a report highlighted at Barron's Tech Trader Blog, the firm said iPhone 5s (with contract) pre-orders in the first two days were roughly 100K units, which is down from China Unicom's (NYSE:CHU) 120K pre-orders and China Telecom's (NYSE:CHA) 150K pre-orders earlier in the year. Unlocked iPhone pre-orders for China Mobile in the first two days reached about 150K, compared with 400-500K pre-orders for China Unicom and China Telecom when the iPhone 5s initially launched in China in September, the analyst also noted.

Zhang believes Phone 5s/5c sales dropped about 35% since China Mobile announced its iPhone deal from the week that pre-orders started. He estimates that when China Mobile launches the iPhone with a clear subsidy package, non-China Mobile iPhone sales from the open market and other competitors will drop to 35K units per week and 1.4 million units per month.
I have to disagree with the analyst in a sense, and the article does state that the two launches may not be exactly comparable. In fact, and I know this is a bad joke, but it is an apples to oranges comparison. When Apple launched the iPhone 5S/5C in September, pre-orders began on September 13th, with the phone going on sale on September 20th in China.
However, the deal with China Mobile was completely different. Pre-orders for the iPhone began on Christmas, but the phone wouldn't be available until January 17th. That's a span of more than three weeks, so the two time periods are completely different. It is one thing to pre-order a phone that is available in a week or less, but another when it doesn't become available for three weeks or more. The analyst also does see monthly iPhone sales of roughly 1.5 million from China Mobile. While that may not be a "bonanza" for Apple, it is certainly an opportunity that didn't exist a few months ago.
The second, and more important, negative report:
Just last week, analyst Maynard Um from Wells Fargo downgraded Apple from Outperform to Market Perform, but kept his valuation range of $536 to $581 ($558.50 average). The main argument provided by the analyst is listed below.
Our bullish thesis on Apple had been predicated on the expectation for gross margin expansion driven by the 5s cycle. While we still have conviction in the gross margin thesis (and the potential for iPad/iPhone unit upside), we believe this may be largely embedded into the valuation.

Um sees positive catalysts in 2014, including the iPhone 6, iBeacon, and iWatch, along with the potential for increased dividends and/or buybacks. There are three concerns Um notes:

Gross margin coming under pressure later this year with the iPhone 6 cycle;
Limited amount of market opportunity for existing product segments Apple participates in; and
A shift in the balance of power from handset vendors back to wireless providers

On gross margin concern, Um said, Gross margins have decreased by an average of 225 basis points in the period following the launch of new form factor iPhones while increasing ~225bps in the two quarters following an "s" launch. With the secular story, in our opinion, largely over, we believe the stock may be more susceptible to trend with margins.
Okay, I certainly understand how gross margins would be impacted by a new form factor for the iPhone. Gross margins did take a hit when Apple launched the iPhone 5, but margins also dropped then due to the much lower margin of iPad mini. I can also understand how the analyst downgraded the stock, mostly on valuation, because Apple had rallied into the analyst's price target. It is important to note that Apple had been in this range for more than a month, so why did the analyst wait until this point to downgrade the stock? I can't answer that.
I have two issues with this downgrade, both of which have to do with timing in a sense. First, before we start worrying about the iPhone 6, which won't be launched for another 8 months probably, can we at least see how the 5S/5C are doing? Seriously, we haven't even gotten the first full sales quarter for these two phones yet. Also, Apple's deal with China Mobile will start in a few weeks, and that will have a huge impact on fiscal Q2. I understand the concerns about gross margins with a new form factor phone, but let's see how the previous models are selling first.
The second issue I have is that this analyst issued a positive note on Apple just about 10 days prior. Maynard Um said "While the China Mobile announcement had long been anticipated, we believe the official announcement, and the consequent certainty, should be viewed as a positive." The analyst stated that the China Mobile deal should give confidence to iPhone sales estimates for both the December and March ending quarters.
So ten days later, the analyst downgrades Apple? This doesn't make sense. Why maintain your outperform rating on the stock, when it already is inside your valuation target range? The analyst says that the deal is a positive, and could cause estimates to rise. A week or so later, some non-comparable pre-sales data is out and the analyst flip-flops? The analyst did not raise his price target range based on the China Mobile deal, which I think is wrong to begin with. But to flip-flop like this just seems a bit funny to me. I'll expand on this in the next section.
But wait, it gets worse:
I had originally submitted this article for Monday publication, but we got another downgrade on Monday. This time, Standpoint Research downgraded Apple from Hold to Sell on moral reasons. Here's what the analyst said:
"For Apple Computers to pay their workers $2 an hour while they have $150 billion in the bank is nothing short of obscene... They have workers who are doing back-breaking and eye-burning work in depressed states of mind and in many instances have already committed suicide. Instead of treating their employees like human beings, they are treated like animals. If it were not for their employees, Apple would not be where it is today. But instead of giving these people a better life, they give these people the bare minimum and defend this action with the argument that the wage is higher than the average there and in-line with what their competitors are paying."
Okay, so this one is just flat out ridiculous. First, of all, "Apple Computers" is not the name of the company. Apple is not just a computer company anymore. Also, to downgrade Apple because it doesn't pay people enough? If Apple paid people more, profits would be less, and then I'm guessing more analysts would downgrade Apple at that point too. Apple can't win here, and this is another effort to criticize Apple for whatever it does. But the best part is the last part of that summary: "defend this action with the argument that the wage is higher than the average there and in-line with what their competitors are paying." So if Apple is paying above average and all the competitors are doing the same, I don't see a problem. This may have been the worst downgrade of all time.
Don't worry Apple fans, the same analyst on Monday downgraded cigarette giant Philip Morris (NYSE:PM) because he wants to see the annihilation of the tobacco industry. I understand the moral side of the argument, but if you don't like the name, just don't cover it. The last time Standpoint Research downgraded Apple, which was from Buy to Hold, shares were under $457. Apple shares rallied more than 18% between those two notes from Standpoint. Apple shares initially fell on Monday thanks to this downgrade, and the breaking of the 50-day moving average, but in the end, shares end up about $3.00. This downgrade was pointless, and Monday's trading action supports that notion.
Why does this occur?
With a few weeks still left until Apple reports, I wouldn't be surprised if we get some more negative analyst notes. Someone will come out and be sour on something, whether it be margins, sales, forward looking guidance, etc. Every quarter, I always seem to have an article like this, because the process just keeps happening. Every quarter, my wonderful readers always ask me why this happens. Here are my main reasons, which I'll expand on:
It's a way for analysts to cover both sides of the stock.
If analysts do cut estimates with these negative notes, it increases the chance of a beat.
This is a way to lower investor expectations just in case Apple does miss on the quarter or guidance.
An analyst just wants to be negative (the moral reason).
I think the first point I made is evident in the analyst note(s) mentioned above. The analyst was positive on the China Mobile deal, so if Apple does well, the analyst can turn to that. But if Apple disappoints in some way, the analyst can say that he downgraded the stock prior to earnings. There are a few dozen analysts that cover the stock, so you will see some analysts that have a negative view at times. But each quarter, a few of them decide to take the negative view, because if they are right, they'll look much better than the majority. They also wait until just a few weeks before, just like clock work.
The second point I made was more prevalent in the earlier quarters during fiscal and calendar 2013 for Apple. In the weeks leading into earnings, we saw estimates coming down for both the soon to be reported quarter as well as the quarter Apple would be giving guidance for. Back in October 2012, this process helped Apple to turn a complete miss into a mixed report. This was more prevalent earlier in 2013 when analysts were constantly taking down Apple estimates. Recently, the process has gone in the opposite direction, with estimates rising into the quarter.
The final point ties in with the second one. If a few analysts issue negative notes prior to the quarter, investors might lower their own expectations, and not expect the moon from Apple. I recently cautioned investors as well, which turned out to be right. Most thought a China Mobile deal would start on December 18th. Sales actually are starting a month later, and that has a huge impact on estimates. With estimates rising so much in the past month or two, investors needed to be careful.
Those expectations have a key partnership with stock price. When I told investors to temper their expectations, Apple shares were a bit above where they are currently. In fact, Apple's close on Friday was its lowest since November 26th. Apple shares are more than $30 off their 52-week high. Obviously, expectations are much different with Apple at $544 than they are when shares are at $575. With a couple of negative notes from analysts taking down the stock price recently, it helps to lower expectations into Apple's report.
Honestly, I'm not a fan of this analyst negativity parade, but investors do have to be careful. In recent quarters, I actually recommended shorting Apple into earnings because of this "event." More often than not, that trade did work. Just look at Apple late last week and into Monday morning. After Thursday's downgrade, Apple lost more than $27 in two plus days, which would have been a great short trade. I'm not recommending a short on Apple here, and in fact I might recommend the opposite side.
Current estimates and comparisons:
I mentioned above that Apple's estimates are on the rise. Since this will be my last formal Apple article before my official Apple earnings preview, I wanted to share a bit on current estimates. The image below shows a Yahoo! Finance screen shot of current Apple estimates for fiscal Q1 and Q2, as well as the current fiscal year (ending September 2014) and the following one.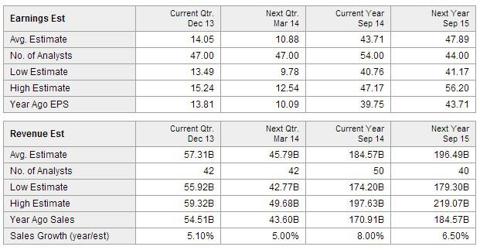 On December 9th, the day I did my "temper expectations" article, analysts were expecting $57.24 billion in revenues and $13.99 in earnings per share for fiscal Q1. Those estimates are a little higher now. However, as I've been stating, the rise in estimates was mostly based on a China Mobile deal starting in December. That would have given Apple a week or maybe ten days of sales in fiscal Q1. Estimates for fiscal Q1 have stopped rising in recent days, probably because the China Mobile deal doesn't start for a few more weeks. Remember, Apple guided to revenues of $55 billion to $58 billion for the quarter, and the midpoint of its other guidance numbers plus the fiscal Q4 share count gave me a midpoint for EPS of $13.51. Obviously, the buyback will help with that, and Apple coming in at the high end for revenues, gross margins, etc. would help as well.
With a concrete deal in place with China Mobile, fiscal Q2 estimates are moving up rather nicely. On December 9th, analysts were looking for $45.47 billion and $10.76, respectively. Even though Apple has given more realistic guidance in the past few quarters, I wouldn't be surprised if fiscal Q2 guidance is slightly conservative. Apple may not build in a tremendous quarter thanks to China Mobile sales up front, just to be conservative. Thus, I think Q2 guidance could be a little lighter than some might expect, but I do expect guidance to be fair and mostly in line with expectations. I'll have more on this in my earnings preview, which will be in the week before Apple earnings, scheduled for Monday, January 27th.
I said above that Apple could be a decent buy right now, and my $600 plus price/fair value target reflects that. Why am I so positive on Apple? Well, you get a complete package. You get a fair amount of growth, a solid dividend, and a tremendous buyback. But the main reason I like Apple is valuation. The following table shows some key top tier tech names' growth and valuation numbers, comparing Apple to Google (NASDAQ:GOOG), Microsoft (NASDAQ:MSFT), Intel (NASDAQ:INTC), and Cisco Systems (NASDAQ:CSCO).

*Estimates and P/E values are non-GAAP.
In their respective fiscal 2014 years, Apple provides the second most amount of growth for both revenues and earnings. The only name with more potential growth is Google. However, Google does not pay a dividend and is not buying back shares. Google shareholders are getting further diluted each quarter. Additionally, Google's valuation on a GAAP basis is even higher, so you're paying nearly double Apple's valuation for Google. In my opinion, this is one of the most ridiculous items in the market today, but that's how the market works. This valuation comparison doesn't even take into account cash piles, which makes the case for Apple even stronger. That's a discussion for another day, and I'll probably explore that sometime in February.
The other three names have their issues as well. Intel has struggled with revenues and earnings in the past two years, with 2014 being up in the air right now. Intel currently trades for an 8% plus premium to Apple, which is ridiculous in my opinion. Take out cash and the difference is even more staggering. Cisco is in the midst of a terrible year, but Cisco does trade at an equal valuation or discount to Apple, depending on the GAAP conversion you make. Microsoft does offer investors the third highest expected amount of growth, but Microsoft shares trade at a premium to Intel. Microsoft is an interesting name for 2014 as well, because the company still is looking for a CEO, and that could impact how the company operates going forward. Intel, Cisco, and Microsoft all have a bit of uncertainty that makes me a little nervous, which is why I like where Apple stands, especially at current prices. Analysts seem to agree on Apple, with the average rating being a buy and the mean/median price target numbers around $600.
Final thoughts:
When it comes to Apple, analysts are back in panic time mode. This happens every quarter before earnings, in an effort to reduce investor expectations and hedge against a miss. During 2013, some of these concerns were legitimate as estimates were dropping. These days, these analysts seem rather funny as estimates are rising, with one analyst basically flip-flopping just days after a positive report. Another analyst downgraded Apple on moral concerns. This whole scenario is just another reason why Apple is held to a different standard, as you don't see multiple negative notes on Google or Microsoft going into every single earnings report. In the end, Apple shares have pulled back a bit, and that might provide a decent entry point for investors. However, be warned, because additional negative notes could push this stock lower if they come. $27 lower before Monday's turnaround is an example of that.
Disclosure: I have no positions in any stocks mentioned, and no plans to initiate any positions within the next 72 hours. I wrote this article myself, and it expresses my own opinions. I am not receiving compensation for it (other than from Seeking Alpha). I have no business relationship with any company whose stock is mentioned in this article.
Additional disclosure: Investors are always reminded that before making any investment, you should do your own proper due diligence on any name directly or indirectly mentioned in this article. Investors should also consider seeking advice from a broker or financial adviser before making any investment decisions. Any material in this article should be considered general information, and not relied on as a formal investment recommendation.