The J. M. Smucker Company (NYSE:SJM) has to be one of the more underrated stocks out there. The company is one of the largest diversified food manufacturers in the US with annual revenues of over $5.80B. Unlike implied by its name, Smucker's is hardly a peanut butter and jelly company. Instead, it is a coffee focused stock with its major Folgers brand. Other significant coffee related holdings include the Hispanic American market share leaders Cafe Bustelo and Cafe Pilon. Smucker's is also a dividend-growth star, with 16 years of consecutive annual dividend increases. Smucker's last declared dividend was for $0.58 per share, an 11.5% increase from the prior year level. At current prices, the stock yields about 2.30%.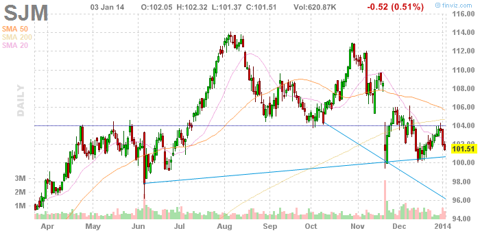 Smucker's stock is now fairly value
When I last wrote about Smucker's, the stock was frankly on fire. The stock was then at a 52-week high, yet it still continues to run higher, gaining nearly 30% in a few short months. However, since early August, Smucker's stock has drifted lower to the tune of 13%.
There does not seem to be a concrete reason for this decline. However, I would argue that Smucker's simply ran up too far, too fast. Over the past few years, the stock has tended to trade within a tight TTM P/E range, from about 18x to 20x. During its run up, Smucker's TTM P/E ratio reached as high as 22x, which was clearly too high given its historic trend. In other words, Smucker's stock simply regressed to its natural valuation.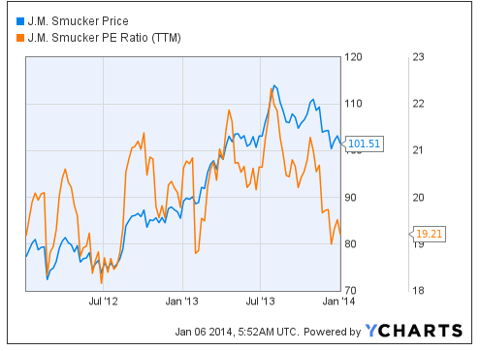 To make this point clearer, let us look at Smucker's valuation using EV/EBITDA, or enterprise multiple, thus allowing us to factor in debt.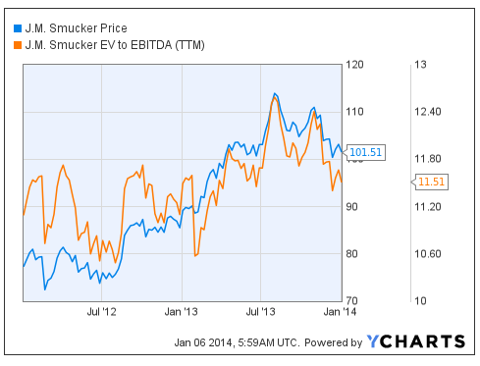 As shown, Smucker's enterprise multiple has typically ranged from 10.50x to 12.00x. During August, Smucker's was clearly overvalued at around 12.50x. Again, Smucker's now appears to be fairly valued given its historic trends.
Smucker's appears to be attractively valued compared to peers
Furthermore, Smucker's appears to be rather cheap compared to its peers such as General Mills (NYSE:GIS), Kraft Foods, (KRFT), and PepsiCo (NYSE:PEP). Do note that Smucker's is a hard stock to compare as its revenues are about 50/50 split between its processed foods and coffee segments. While these comparisons are not 100%, all these stocks do either have significant beverage and snacks (Pepsi), processed foods (General Mills and Kraft) and coffee (Kraft) exposure.
As shown below, Smucker's valuation is slightly above Kraft's and below General Mills and Pepsi's. I would argue that Smucker's actually deserves a higher valuation, basically between General Mills and Pepsi, due to its growth outlook. For 2014, the company is expected to post EPS growth of around 10%, inline with Kraft's expected growth and well above Pepsi's expected 8%, General Mills expected 7.50% growth.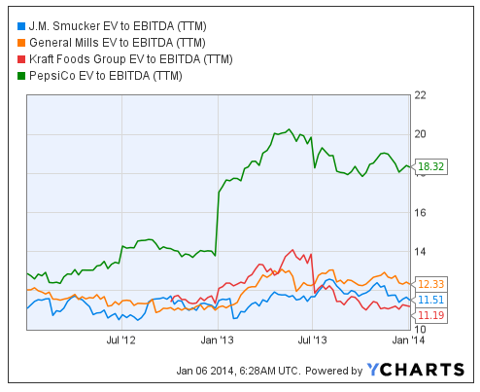 Lower coffee prices may impact Smucker's in 2014
During 2013, coffee prices were on a continued downtrend, largely thanks to strong growth in global inventories, which has outpaced demand. However, this trend now appears to be weakening. Since November, coffee prices are up nearly 13%.
During Q4 2013, coffee prices, especially for Robusta beans, recovered due to dwindling stockpiles. According to a December 13 Bloomberg article, Robusta bean inventories declined 32% in a few weeks and at one point were at their lowest level since 2002. Even Arabica beans saw inventories dwindle, sending prices higher for the month.
However, it still appears as if the market is anticipating more weakness in the coffee market. Brazil, which provides nearly a third of global production, is likely to produce a bumper crop this year. According to a WSJ report, analysts have noted that the country's coffee growing regions were experiencing weather that was conducive to good development of coffee cherries.
Coffee prices are clearly low due to the global glut of coffee beans. However, adverse weather in Brazil, SE Asia, or Central Africa may send coffee futures higher. This will likely have an outsized impact on Smucker's due to nearly 50% of its revenues being tied to coffee related products.
Smucker's remains a dividend growth star
While coffee prices remain a concern, Smucker's has not stopped its record of dividend growth. Since 2008, Smucker's has grown its dividend at a CAGR of nearly 12%. In 2013, Smucker's rewarded its shareholders with a large 11.50% increase to its dividend. Smucker's dividend also appears to be very sustainable at about 44% of TTM EPS. When dividends are combined with stock repurchases, Smucker's has returned nearly $2.0B in capital since 2008.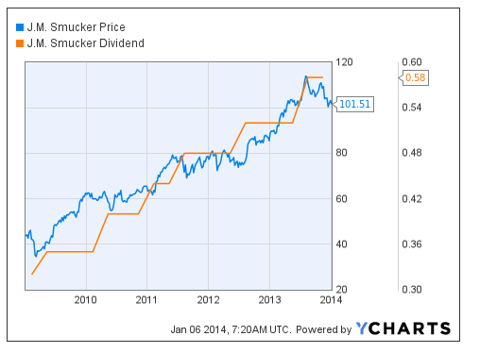 Conclusion
On an historical basis, Smucker's appears to be fairly valued at current prices. However, given its strong dividend-growth track record and expected 2014 EPS growth, Smucker's likely deserves a slightly higher valuation.
For those seeking a dividend growth stock that is not insanely overvalued, Smucker's seems to be a good choice. However, do be aware of the trends in coffee prices, which may impact Smucker's critical coffee segment.
Disclaimer: The opinions in this article are for informational purposes only and should not be construed as a recommendation to buy or sell the stocks mentioned. Please do your own due diligence before making any investment decision.
Disclosure: I have no positions in any stocks mentioned, but may initiate a long position in SJM, over the next 72 hours. I wrote this article myself, and it expresses my own opinions. I am not receiving compensation for it (other than from Seeking Alpha). I have no business relationship with any company whose stock is mentioned in this article.