Major U.S. indices finished 2013 with solid returns. The S&P 500 returned 29.6%, while the Nasdaq Composite index rose 38.3%. Some of the returns could be attributed to an accommodative quantitative easing program, which contributed to healthier market conditions in North America. The appetite for speculation may have returned to the markets last year. Enthusiasm for social media stocks and new technology issues illustrates some market forth. This contrasted with a nearly 30% decline in gold stocks. This author wrote over 70 focus articles, which averaged a return of 16.3% and is below the market index. More importantly, the top 3 calls returned an average of 105.8%, while the three worst calls lost 62%. For readers following this author, it is a good time to discuss the best and worst calls made in 2013. Ultimately, investors need to assess their positions as market participants heighten their speculation and ignore risks.
| | | | |
| --- | --- | --- | --- |
| Company | Average Return | Call | Articles |
| 3D Systems | 138.8% | BUY | 2 |
| Nokia | 109.6% | BUY | 6 |
| Alcatel-Lucent | 81.4% | BUY | 5 |
3D Systems (NYSE:DDD) returned 138.8% on average. Shares are still making new highs, and there are no reasons yet for investors to consider selling this company.
3D Systems grew revenue by 31% in Q1, thanks to a 61% increase in product sales that include printers. Its profitability continues to improve, as profit margin rose to 52.4%. New product introductions continue to support revenue growth. Although ratios such as P/E (price to earnings) and P/S (price to sales) remain lofty, 3D Systems is managing its growth drivers effectively. The company is adding revenue from the healthcare sector, as well as rapid growth from personal printer sales. Most importantly, 3D Systems is growing revenue for print materials.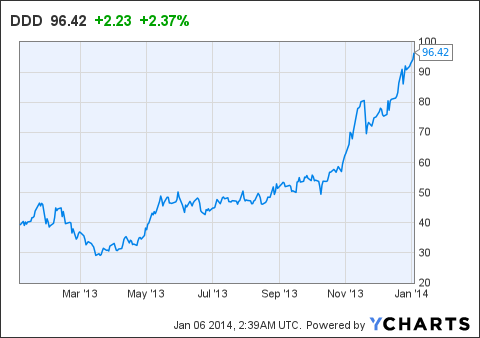 Nokia (NYSE:NOK) was covered 7 times in 2013. The average total return following their publication was 97.1%, based on a closing price of $8.12:
| | | |
| --- | --- | --- |
| Date | Title | % Chg |
| 10-Sep-13 | | 43.97% |
| 19-Jun-13 | | 113.68% |
| 21-May-13 | | 115.38% |
| 26-Apr-13 | | 146.06% |
| 8-Apr-13 | | 143.11% |
| 11-Feb-13 | | 95.66% |
Nokia was considered a buy in 2013 on the expectation that the company would eventually run a profitable phone division over the long-term. Its network division, Nokia Siemens Network (now Nokia Solutions Network), performed better, but Nokia seized the opportunity to buy out Siemens at an attractive price. Nokia was then fortunate to have Microsoft bid for the devices unit, giving Nokia billions in cash.
Investors who bought Nokia on expectation its Windows Phone division will succeed might want to sell the stock at this time. For others, who have a multi-year timeframe, holding Nokia would make more sense. Nokia will likely generate better operating results for its networks division. Aggressive acquisitions could benefit, so long as the move does not saddle the company with too much debt. Nokia will also be finding growth in the automotive sector. Nokia HERE, its map division, is also a valuable asset that will generate positive cash flow. Investors should expect Nokia to consider offering a healthy dividend, perhaps this year.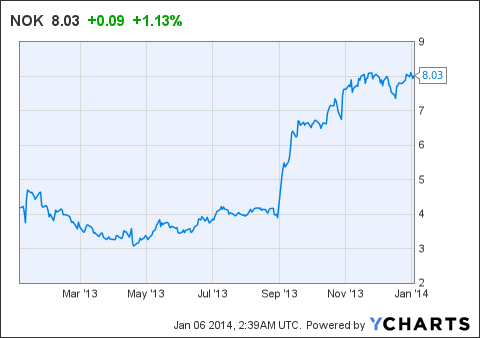 Alcatel-Lucent (ALU) returned an average of 81.4%. The market speculates the company could be a takeover target for Nokia. The union could result in a networking powerhouse, but the strain on Nokia's balance sheet suggests this deal will not take place. Alcatel-Lucent remains an attractive, albeit speculative, investment. It is refinancing its debt obligations, while reducing its costs and improving revenue. In Q3, Alcatel-Lucent boosted revenue by 7% year-on-year. North America showed solid results, too, as revenue grew 20% over the previous year.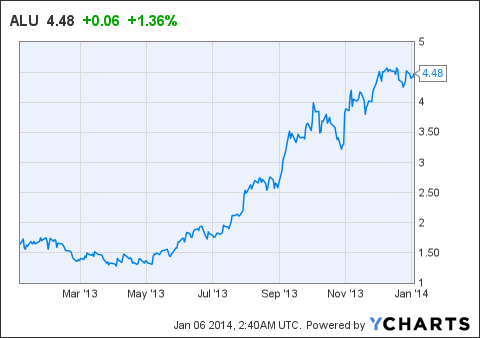 Specifically, the company's 100G product showed positive momentum in 2013. This represented 30% of total WDM (wavelength division multiplexing) line card shipments. Alcatel-Lucent will report quarterly earnings on February 10, 2014. This quarter is a seasonal strong period for the company.
The 3 worst calls made in 2013 were BlackBerry (NASDAQ:BBRY), First Solar (NASDAQ:FSLR), and OCZ (NASDAQ:OCZ):
| | | | |
| --- | --- | --- | --- |
| Company | Average Return | CALL | Articles |
| BlackBerry | -37.5% | BUY | 13 |
| First Solar | -51.8% | SELL | 2 |
| OCZ | -97.9% | BUY | 1 |
OCZ was a speculative call, but as the year progressed, OCZ failed to report results in a timely manner. Cash dwindled, and the company eventually filed for bankruptcy and sold itself to Toshiba for $35 million. In reality, a speculative investor would have placed a stop-loss on OCZ, minimizing losses.
Excessive caution for solar panels led to a call to avoid First Solar. Instead, panel prices stabilized thanks to the exit of weak firms in the sector. For 2014, the solar sector could be a speculative buying opportunity.
BlackBerry was considered a buy on many occasions in 2013: it remains a turnaround call. The devices maker generated uncertainty for its core customers when it put itself for sale. When the deal broke down, BlackBerry received a cash infusion and replaced the CEO with a turnaround specialist, John Chen. The company said it would refocus on the enterprise. It cut a deal with Apple devices maker, Foxconn, to spread its risk in the consumer smart phone market.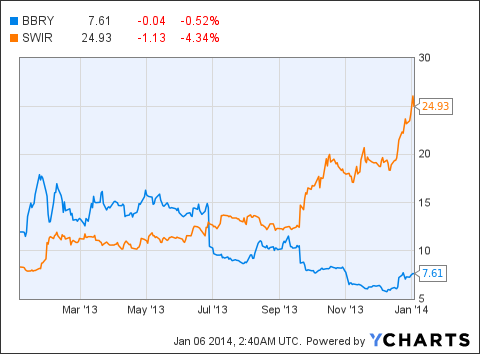 BlackBerry is still a speculative turnaround play. Risks are still high the company will still report growing losses, but the worst is likely over. Companies that refocus on their core competencies have a strong chance of winning back their customers. Sierra Wireless (NASDAQ:SWIR) is an example of a Canadian company that sold a money-losing division, and reinvested the cash towards more profitable business areas. Chen wants BlackBerry to be cash-flow neutral by 2015 and profitable by 2016. If BlackBerry creates a moat around its enterprise business, investors will begin accumulating its shares.
Disclosure: I am long BBRY, ALU. I wrote this article myself, and it expresses my own opinions. I am not receiving compensation for it (other than from Seeking Alpha). I have no business relationship with any company whose stock is mentioned in this article.