On Monday, January 6th, 2014, gold had what we now refer to as a "Flash Crash" - a sudden drop in prices in the span of milliseconds at around 10:14 AM EST. We looked at our screens and saw gold drop more than $30 almost instantaneously, which looked initially like a glitch, but numerous media reports confirmed the flash crash.
The chart below shows the crash in all its glory: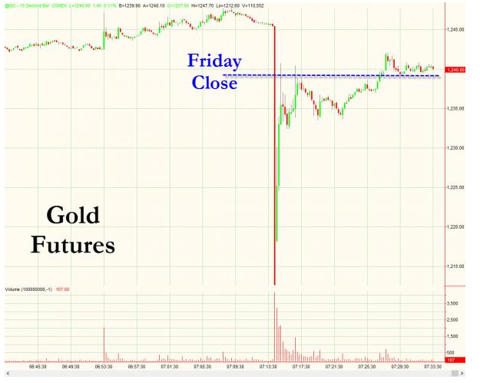 Click to enlarge
Source: Zerohedge
According to NANEX, that initial drop was caused by a massive 4,200 contract trade that sent gold plunging by over $30, from about $1245 to $1215 in a matter of milliseconds. The only news of any significance was the US factory orders and ISM service index data, which was released around 14 minutes before-hand - which would be an eternity for the markets and signifies that this data had nothing to do with this trade.
In the chart below, we see that after the flash crash, gold recovered very nicely and actually closed the day positively.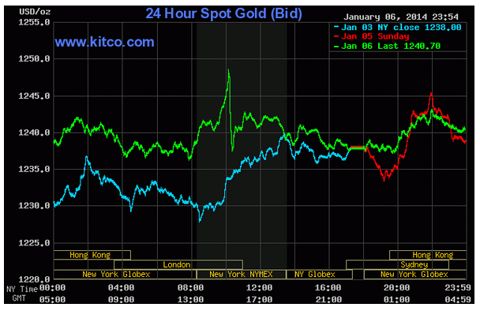 Click to enlarge
The most important thing to develop some sort of conclusion from this extraordinary event is to understand why it happened, but unfortunately, all we have is conjecture. Some analysts believe it was a result of a "Fat Finger" trade, others believe a large fund was liquidating a gold position, while others believe it was purposefully done to slow gold's momentum and defend the $1250 price target from being broken by the suddenly strong gold price.
We think when you look at this trade a little more holistically it becomes much clearer that this trade was an attempt to take down the gold price and slow the momentum - which it did do. First, let's remember that as of the latest Commitment of Traders report, we are at almost all-time highs in terms of Managed Money short positions (the hedge funds) and with gold's strong performance to begin 2014 (up almost 4% in the first couple of days of trading) some were probably feeling some pressure.
Secondly, there really was no significant news item to drive the price action, and many times in the past when we saw these major gold flash crashes it was done during a news release. This actually suggests two things, that it was the result of the actions of one particular entity without collusive support AND that the stop orders that had been triggered in the past were not around to send the price down for more than a few moments.
Conclusion for Investors
The important takeaways that we see from this event is that it seems that some entity (likely a hedge fund) is becoming very nervous at the rising gold price, and maybe took this action to try and defend the psychologically important $1250 level and maybe its large short position. The fact that the flash crash in gold didn't result in the triggering of many stop-loss orders and that the price recovered quite quickly suggests that there is quite a bit of strength behind the scenes, in fact it has been the opposite of the behavior we've seen in gold over the last year as these crashes tended to drop the gold price without any sort of recovery.
We're very encouraged by this lack of follow-through and the fact that these actions seem to be the result of a few entities, rather than many entities in unison. This is a bullish factor for gold and simply adds to the many fundamental factors, which we believe will give gold a strong 2014.
Thus we continue to suggest investors increase positions in physical gold and the gold ETFs [SPDR Gold Shares (NYSEARCA:GLD), PHYS, CEF]. For investors looking for higher leverage to the gold price, they may want to consider miners such as Goldcorp (NYSE:GG), Agnico-Eagle (NYSE:AEM), Newmont (NYSE:NEM), or even some of the explorers and silver miners such as First Majestic (NYSE:AG).
Only a handful of players know what truly happened behind the scenes during the gold flash crash, but it seems that the result of this event points to a significant amount of strength in gold. As long-term investors in gold we're not really affected by these types of short-term events, but we do have to note that this event may signal quite a bit of nervousness on the part of funds with large gold short positions. Investors should be very aware that nervous shorts could quickly become covering shorts, and with such a large short position in gold that could lead to a very large short-term price rise.
Disclosure: I am long SGOL, AG, GG. I wrote this article myself, and it expresses my own opinions. I am not receiving compensation for it (other than from Seeking Alpha). I have no business relationship with any company whose stock is mentioned in this article.