Before Tiger Direct, Amazon (AMZN), eBay (EBAY), and other online electronic shops, RadioShack was the go to spot for electronics and accessories in the midst of the computer boom. Not only was it a place to go and keep up to date on the latest accessories and electronics to come out, it is a place where there always used to be a banter in the air amongst interested parties exchanging tips of the trade. It seemed like a bit more than a just store, it was like a daily meeting of your local electronics gurus.
That era, my friends has ended.
RadioShack (NYSE:RSH) retail stores now stink with an air of desperation. They're usually empty, there's little focus on electronics aside from mobile phones, and the sales pitch from the commission fueled staff is usually akin to George Costanza trying to sell computers for his father.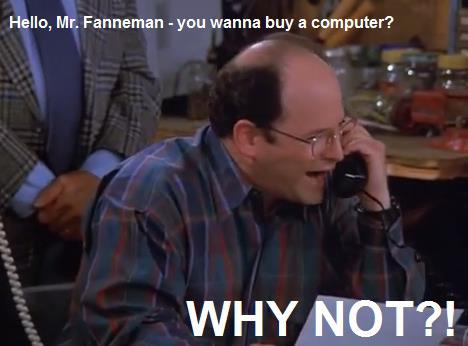 Shopping at RadioShack, I argued, was akin to getting a colonoscopy - it's necessary to endure the intrusiveness of it once in a blue moon, but otherwise, it's not something you'd find yourself volunteering to take place in. And, believe it or not, I actually went to a RadioShack just days ago to get a computer microphone (OfficeMax was sold out). The place looked clean, neat, and reorganized. The genial young kid behind the counter was eager to help out. I found what I wanted.
Just one problem - no customers. Zero. I was the only one in the store for all 15 minutes I was there, and when I asked if they get a lot of business I got a "meh" style groan and a "sometimes".
I've long been a bear on RadioShack.
The last article I wrote on RadioShack was called "These 3 Retailers Won't Make It to 2020", back a couple months ago. And, from the looks of things in RadioShack's case, I could have titled it "These 3 Retailers Won't Make it To 2/20".
The company's revenues and income have been shellacked over the past few years and the money spent on trying to revitalize the stores has been in vein, as I've argued many times over that RadioShack's problem is their name and their branding. RadioShack, like Sears, has become synonymous with a poor customer experience and a crap product.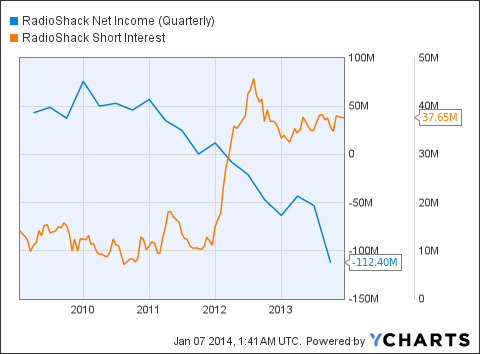 RSH Net Income (Quarterly) data by YCharts
So, we know RadioShack is likely pinned for rough times ahead.
And then we get a little piece of interesting news on Monday of this week. Put options on RadioShack - on no news - just happen to be trading at six times the normal daily volume to start the week.
I hate to continually bring up old news, but I talk about ignoring "coincidences" at your own risk in My Definitive 17 Cardinal Rules for Investing Success. I used the example of the insane trading going on at Knight Capital Group (NYSE:KCG) the morning of their algorithm error - Knight sold off sharply, but the news hadn't hit yet. Interesting "coincidence":
I knew something was wrong at Knight Capital the day of their algorithm error, because the stock was getting crushed down to $9 on massive volume almost an hour before the story ever even hit the newswire. After investing long enough, I've started to learn, "there are no coincidences". I was able to trade the Knight disaster accordingly just by watching the volume. I took my short position, they released the news, the rest is history. The pre-news trading tipped me off. If you don't think there were insiders that dumped into that news, then I have some real estate in rural Alaska to sell you.
And so, on Monday The Wall Street Journal commented:
On a day with no apparent news on the retailer, options trading volume jumped to nearly six times the daily average Monday, with 81% of trading in bearish put options, according to options-data firm Trade Alert. That notched the busiest day of trading in the Fort Worth, Texas-based company's bearish options since July, when reports surfaced that the company had hired bankers to fix its balance sheet.

"The trading looks pretty bleak," said Henry Schwartz, president at Trade Alert. "It looks like the sharks are starting to circle and put on some bets that see a strong chance of the stock collapsing," he said.

Steady trading in put options led the stock lower Monday. In recent trade, it was off nine cents, or 3.4%, at $2.56. Heavy trading in bearish options can push a stock price down when brokers on the other side of the trade sell shares to hedge their position on the bullish side of that trade.
What does it mean?
Well, technically it could mean nothing - it could just be that the whole world found out about RadioShack's slim chances all at the same time. Or, the more likely scenario - someone knows something. As much as we like to think these things don't happen, anyone that's been in the market knows that these types of events can often precede catalysts. It'll be interesting to see if RadioShack comes out with any material events over the next few days.
Regardless, it's simply more reaffirmation that the only trade on RadioShack going forward remains a short - or simply to avoid. Best of luck to all investors.
Disclosure: I have no positions in any stocks mentioned, and no plans to initiate any positions within the next 72 hours. I wrote this article myself, and it expresses my own opinions. I am not receiving compensation for it (other than from Seeking Alpha). I have no business relationship with any company whose stock is mentioned in this article.