Some movie fans may be disappointed that as of January 1st, Netflix (NASDAQ:NFLX) has canceled some prominent titles such as Titanic (1997), Flashdance (1983), Top Gun (1986), and Brave Heart (1995). No there wasn't a glitch in the system, removing and adding content is something Netflix does every month as licenses of movies and shows expire. "Titles come and go," Netflix spokeswoman Jenny McCabe told USA TODAY Network. "We usually re-license movies and television shows that people are regularly watching, and we choose to not re-license those that people are not watching." Several new movies are now available as of the New Year as well as many television shows. Some new content includes American Psycho (2000), Breakfast at Tiffany's (1961), West Side Story (1961) and Dexter: Seasons 5-8. That's not all that is changing this year as Netflix is also currently testing a new pricing model based on the number of people who can operate an account. Netflix currently has 40 million subscribers in 41 countries, up from 30 million only a year ago. Their growth has helped fund in-house programs such as House of Cards and Orange is the New Black. They are looking to invest more into original shows and even considering a move into movie production. Netflix's most recent figures show that users have watched five billion hours of television shows and movies in the three months leading into September 2013. Even with competition emerging from Amazon Prime, there are plenty of reasons to believe that Netflix will continue its current positive trend as they are working on innovating themselves and I Know First's algorithmic prediction for NFLX is somewhat bullish in the 1-month, 3-month time horizon and very bullish at 1-year.
Netflix's Possible New Pricing Model
Currently Netflix subscribers pay a monthly fee of $7.99 for a standard service that allows them to watch content on two screens at once. In April they announced an upgraded-account version that allows customers to watch on four screens simultaneously for $11.99/month intended for family-users. The DVD by mail subscription starts at $7.99 for one disc at a time. The new pricing system, which is only being tested at the moment, would have users pay $6.99 a month to use one screen and the price would rise to $9.99 if three screens were being used simultaneously. Netflix stated that they were only testing these options with some new users. Not everyone is very enthusiastic about this possible move. "If $6.99 enables Netflix to reach more consumers than $7.99 that's obviously positive but it's hard to imagine the $1 being a major price inhibitor," stated Richard Greenfield, an analyst at BTIG LLC who has a neutral rating on the stock. "If consumers who would have taken the $7.99 plan now sign up at $6.99, that all comes out of their profit margin. This is not the next pricing move investors were expecting."
Original Content
Orange is the New Black has been a tremendous success for Netflix. It ended 2013 as the most watched original series ever as its audience is comparable with cable and broadcast television. Three of their original series received 14 nominations for Emmy Awards. In addition to their television series, Netflix has also made it a point to add popular comedic stand-up specials such as Aziz Ansari and Russell Peters whom premiered exclusively on Netflix this past fall. For kid audiences, they recently launched their first animated original series with DreamWorks Animation [DWA], Turbo F.A.S.T.
Producing original content will be crucial for Netflix to stay relevant and keep their subscribers satisfied with entertaining shows. If they produce popular shows like those that have made HBO famous then Netflix will really produce tremendous value for their subscribers and shareholders. Eighty-six percent of respondents in a survey done by Cowen Group said they would be less likely to cancel their Netflix subscription after viewing House of Cards. Intriguing original content will ensure consistent value as contracts for different shows and movies end. Netflix stated they expect to double their investment in original content in 2014. This still represents less than 10% of their overall global content expense.
When they first started producing original content they lacked specific data about viewing patterns over time thus using a straight-line amortization based on their experience with other networks. Now armed with more data, they can effectively strategize for a higher level of customer satisfaction and profit. The second seasons of House of Cards, Orange is the New Black, Derek and Hemlock Grove will be available this year as well. Their success has attracted talent as they have just announced a project from the Emmy and Golden Globe nominated creators of Damages Todd and Glenn Kessler and Daniel Zelman.
Key Partnerships That Provide Viewing Platforms For Netflix
Netflix is becoming more prominent and accessible as other companies produce amazing technologies such as smart TV's, Apple (NASDAQ:AAPL) TV, Roku and Chromecast as well as some popular videogame/entertainment systems. Netflix benefits from additional exposure as an App available on the go as the use of mobile devices such as tablets and smartphones as Netflix viewing platforms are rapidly growing in popularity. Rumors have speculated that Google (NASDAQ:GOOG) will launch Nexus TV later this year adding another potential device to the list. This is all good news for investors as Netflix is the number 1 preferred service for viewing online TV content. Chart 1 shows how Netflix compares to other online TV providers.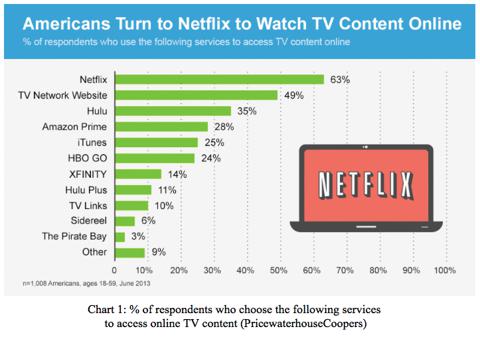 Virgin Media, the UK's leading cable company, launched Netflix on a major cable set-top box available this quarter to Virgin Media subscribers. This is a win-win situation, as they believe this will increase customer satisfaction. Netflix stated they are open to more to these integrations with cable set-tops but believe it may be a while before cable set-tops match Internet set-top boxes for Netflix streaming volume.
I Know First Prediction
In one year from July 2011 until July 2012, Netflix's share price fell approximately 78%. This was due to the fact that the combined subscription price $9.99 was split between streaming and DVD-rentals into two separate plans. Since then however, Netflix made an incredible return of 287% in 2013, almost quadrupling its stock price and beat the gains of many other technology companies. Chart 2 shows how Netflix has fared against other prominent tech companies.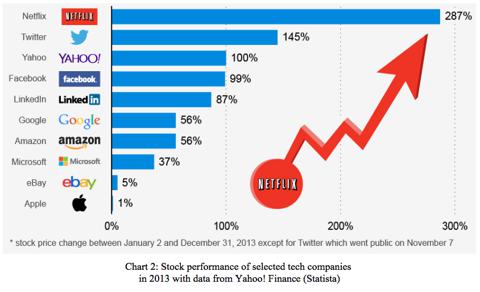 So there is no dispute that Netflix shareholders had a great year in 2013, but where does the future lie for this stock in 2014. I Know First utilizes an advanced algorithm that works by analyzing the flow of money from one market to another by following over 1,400 different assets including stocks, ETFs, currencies, world indexes, interest rates, and commodities including gold, oil, and many more. The machine utilizes fifteen years of data and is updated daily as new information is introduced producing stock market forecasts from 3 days to 1-year. Basic instructions explaining how to read the forecast are available in my earlier article 2014 Market Forecast and Gold Prediction Based On Algorithms. There are also multiple strategies that can be utilized together or individually as an algorithmic trader employing daily forecasts.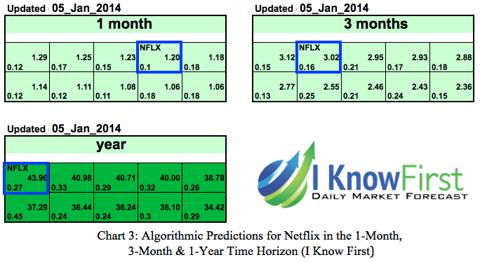 The algorithm is slightly bullish on Netflix in the 1-month and 3-month time horizon and very bullish in the 1-year time horizon. However it should be noted that the algorithm is only somewhat bullish in the shorter time horizons and marginal growth is expected from 1-month to 3 months. This can be interpreted as the asset moving slightly in the short term but will continually move in a positive trend making a noteworthy gain by the end of the year. Do not expect Netflix to have the same tremendous gain it made in last year but there is still steam left to carry this conglomerate share price further.
Conclusion
As they implement the possible new pricing strategy or produce fresh original content, factors like these will certainly have an impact on Netflix's forecast, which is updated daily and can change the forecast to be more bullish or perhaps even bearish if reactions are similar to price model changes back in 2011. However, CEO Reed Hastings made a decision then that was unpopular but it ended up being the right choice. If they do decide to implement this new pricing model it would not seem to be the best move as he said in the 3Q13 letter to shareholders that the $7.99 price is working very well for membership growth and contribution margin growth. However do not fret as they are only testing this price model for the time being. What seems to be Netflix's best option is to keep producing original content for all demographics. I know that I am not alone when becoming annoyed when Netflix no longer has a movie or show because the contract expired. Creating popular entertaining original content will ensure that there is always at least one reason for customers to stay loyal if they are a fan of House of Cards or any other original series. Netflix also has an incredible advantage of being able to adapt to new technologies that will appear over the years. There is a good chance new forthcoming devices with a screen or at least the ability to connect to one with Internet access, will most likely host the Netflix App, providing entertainment and investor interest. In summation, Netflix will continue on this positive trend, just not at the same pace it had in 2013.
Business disclosure: I Know First Research is the analytic branch of I Know First, a financial startup company that specializes in quantitatively predicting the stock market. This article was written by Joshua Pastore one of our interns. We did not receive compensation for this article (other than from Seeking Alpha), and we have no business relationship with any company whose stock is mentioned in this article.
Disclosure: I have no positions in any stocks mentioned, and no plans to initiate any positions within the next 72 hours. I wrote this article myself, and it expresses my own opinions. I am not receiving compensation for it (other than from Seeking Alpha). I have no business relationship with any company whose stock is mentioned in this article.