Many companies are beginning to try and form a narrative for investors in the early days of 2014, with JP Morgan (NYSE:JPM), Regions Financial (NYSE:RF), FedEx (NYSE:FDX) and Walgreen (WAG) all giving investors reason to cheer. Janet Yellen was approved by the Senate and that will be positive for markets, but we do have to shake our head and wag our finger at the 26 who voted against her nomination. That is sheer nonsense!
There is a deep freeze across the country and many of the schools and government offices are closed or on shortened hours today in the southern US. We have even heard that some companies have told employees not to come in for the whole day or even at all. it is our suspicion that this will play out in more than a few companies' earnings and might very well be the excuse of the quarter for bad/disappointing numbers.
Chart of the Day:
Yes the transports have come under pressure recently, as this chart shows via the Dow Jones Transport Index. However, it is a small move and when viewed over the past year indicates nothing more than a hiccup in our opinion. The transports are telling us to continue to be bullish.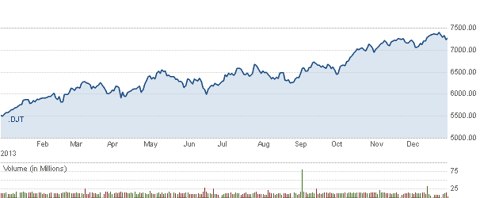 Source: CNBC
We have economic news today and it is as follows:
Trade Balance (8:30 a.m. EST): Est: -$40.3 B Actual: -$34.3 B
Asian markets finished mixed today:
All Ordinaries -- down 0.15%
Shanghai Composite -- up 0.08%
Nikkei 225 -- down 0.59%
NZSE 50 -- CLOSED
Seoul Composite -- up 0.32%
In Europe, markets are trading higher this morning:
CAC 40 -- up 0.39%
DAX -- up 0.63%
FTSE 100 -- up 0.45%
OSE -- up 0.06%
Financials
As readers know, we have positioned portfolios to be overweight financials in 2014 via a myriad of names. We like diversification within the sector, but generally speaking we like the huge money center banks and national franchises along with the super regionals. So we were happy to see that JP Morgan is once again close to settling with the government over ongoing litigation, this time pertaining to their involvement with the oversight of accounts that Bernie Madoff kept at their bank. Yes it is another expensive settlement, but it does keep executives out of jail and clears another hurdle that shareholders were having to navigate around when looking to the future. Our view is that once the litigation element overhang is removed from JP Morgan shares that investors will see a company fairly valued around $65/share, roughly 10% higher from current levels.
With the Fed looking to step back from their easing strategy and rates heading higher, coupled with JP Morgan's abating legal issues, it appears that the shares could move strongly higher in the next few months.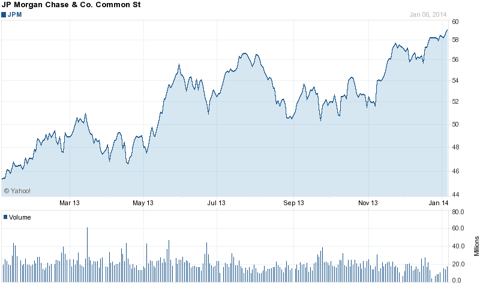 Source: Yahoo Finance
Also catching our eye was Regions Financial which is one of the large regional players in the southeast United States and a long-time favorite for trading. Regions is not one of the healthiest names out there among the big regional players, but has been a great way to trade the financials over the past year or two. The fact that the stock made a cross over $10/share yesterday we find quite bullish and coupled with our bullishness on the entire sector we think this bodes well for shareholders moving forward. We think this might be a good trading opportunity in the short-term.
Transportation
Yesterday FedEx announced that they would be issuing $2 billion in senior unsecured notes that the company will use to fund payments already agreed to with JP Morgan and Goldman Sachs for shares they hold in the company. This will move up the close of that deal and FedEx expects the repurchase agreements to be fulfilled by the time the company's fiscal year ends on May 31, 2014. Although none of the activist investors in FedEx have moved to be activists, this move should please them and is further evidence that everyone in Corporate America fears the activists and are not immune when activist funds establish positions.
Retail
When one looks at the retail sector as a whole the returns are not bad. In fact the SPDR S&P Retail ETF (NYSEARCA:XRT) has been trading at 52-week highs for some time now, and the diversification has been one of the main reasons we have been so bullish of it the past few months. Why have we been seeking diversification? Well to put it simply, there is not really any particular subsector within the retail complex where all the names are doing well, outside of the drugstore names that is.
Walgreen had a great year last year and we suspect that the momentum from 2013 will carry over into 2014. We are watching to see when the shares take out the old highs hit not all that long ago.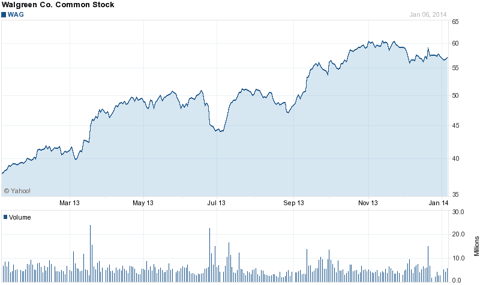 Source: Yahoo Finance
As it stands right now we are still bullish the retail names when played through the SPDR S&P Retail ETF, but bullish the drugstore names either via a basket of the names or individual names themselves. Our favorite name in the sector remains Walgreen, a name we have constantly recommended as a long-term play for retirement accounts due to the improving trends in the drugstore business. The company did report solid December sales (overall) as well as good same store sales, both which beat the numbers we were watching for. Readers also need to be aware that even as top line growth is expected to run into a headwind as big prescription medicines face generic competition over the next few years, those generic names will provide higher margins and drive EPS growth. We still want long-term investors to be long this name as we see continued EPS growth and increased dividends moving forward.
Disclosure: I have no positions in any stocks mentioned, and no plans to initiate any positions within the next 72 hours. I wrote this article myself, and it expresses my own opinions. I am not receiving compensation for it (other than from Seeking Alpha). I have no business relationship with any company whose stock is mentioned in this article.