The SPDR S&P 500 (NYSEARCA:SPY) should fly Tuesday after a rough start to the year. It will still be flying against a headwind of stock sales after the blockbuster that was 2013, but today it catches a break. We have Germany to thank, due to this morning's employment report from the cornerstone EU nation.
| | | | |
| --- | --- | --- | --- |
| Market ETF | January 6 | Year-to-Date | Last 12 Mos. |
| SPDR S&P 500 | +0.3% | -1.0% | +25.3% |
| SPDR Dow Jones (NYSEARCA:DIA) | -0.3% | -1.0% | +22.8% |
| PowerShares (NASDAQ:QQQ) | -0.4% | -1.9% | +29.5% |
| SPDR Gold Shares (NYSEARCA:GLD) | +0.2% | +2.9% | -25.0% |
| iShares US Real Estate (NYSEARCA:IYR) | +0.4% | +0.8% | -3.9% |
| United States Oil (NYSEARCA:USO) | -0.5% | -5.0% | -1.0% |
| PowerShares DB US$ Bullish (NYSEARCA:UUP) | -0.3% | +0.7% | -1.1% |
| PIMCO Total Return ETF (NYSEARCA:BOND) | +0.1% | +0.2% | -3.6% |
Before the start of trading Tuesday, the SPDR S&P 500 had logged some downtime, dropping a point through the year-to-date period. But yesterday, it managed to eke out a fractional gain. Of course, the last twelve months have been quite fruitful for stocks, with the SPY rising 25%.
So far this year, the stock market has followed the path I laid out for it on New Year's Eve. I said that due to the high rise stocks had put in and the great breadth of the appreciation among securities, when capital gains would be taken in early 2014 there would be few places for it to travel. In a follow-up article, and after evidence of it, I said it looked like gold and relative securities like the SPDR Gold Trust were benefiting. Then I expanded the list of beneficiaries to beaten down issue Annaly Capital (NYSE:NLY).
This morning at my blog, I indicated in the premarket that it looked like the stock market would get some relief. The reason for it was a void of important domestic economic data being filled by a strong data point out of Germany. The news that German unemployment fell by 15K had the whole of Europe higher. It was the best such change since 2011. Today, the iShares MSCI Germany (NYSEARCA:EWG) is likewise higher by 0.3% on that driver.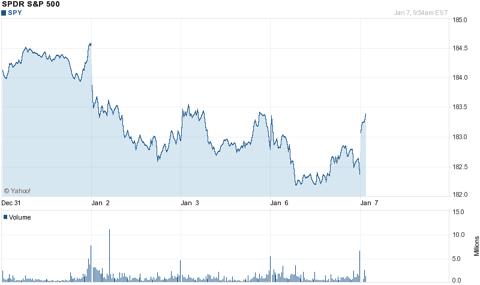 Click to enlarge
The SPY is doing even better, posting a gap open as seen in the chart above; at the hour of scribbling here, it was still sitting about a half point higher on the day while flirting with breakeven on the year.
I suspect the rest of the day will depend greatly on whatever progress the president makes with regard to his push for extended unemployment benefits. It looks like budget minded House Republicans will hold their ground, but the President will raise pressure on them today when he focuses the public lens on the issue. If he succeeds or manages to find middle ground and get the important funds freed up for about 1.3 million Americans who are said to desperately need it, then I believe the SPY will have a chance to hold its gains. However, a final decision is probably not in the cards for today, so the push alone should serve stocks and holders of the SPY through the close.
Disclosure: I have no positions in any stocks mentioned, and no plans to initiate any positions within the next 72 hours. I wrote this article myself, and it expresses my own opinions. I am not receiving compensation for it (other than from Seeking Alpha). I have no business relationship with any company whose stock is mentioned in this article.