The euro zone has made a spectacular rebound in 2013 and the case for it to continue has backing behind it from recent economic news. Yields on once risky sovereign debt has come down, some less than 200bps away from Germany's lending rate on similar dated bonds, and stock markets started to rise. Within the region data is mixed. Unemployment is only slightly off its high, growth is spotty across regions, and estimates for struggling countries like Greece may turn out too optimistic. Elections could add uncertainty, and more bank stress testing could cripple lending. Combined with current optimism, this leaves room for disappointment and a rethinking of recent notion that the euro zone is now out of the woods and ready to embark on sustained growth in 2014 and beyond. We should look at the factors that could test the current thoughts on the region and find out what opportunities could come from these events.
This article is the third part of a series that focuses on the headwinds that will test the lofty assumptions of many analysts and how you can profit from already underperforming sectors that may drop to more attractive prices when these assumptions are debunked.
Two factors that we will look at in conjunction: slower growth and liquidity constraints. Many countries are seeing higher growth recently but some, such as China globally and France within the region, could push growth lower and create a more deflationary environment. This would only put more pressure on the debt loads of countries and would prompt more action by the ECB to alleviate. The ECB may even be a part of the problem with bank stress tests set to occur at the beginning of this year before supervisory authority is assumed. Accused of not being rigorous enough in the past stress tests (some banks required bailouts months after being deemed fit), it is expected that the European Banking authority will be more vigorous in the measuring of risks. The result will no doubt be a run to build up capital across banks and remain in liquid assets, thus lowering the amount lent to the private sector, stemming growth further.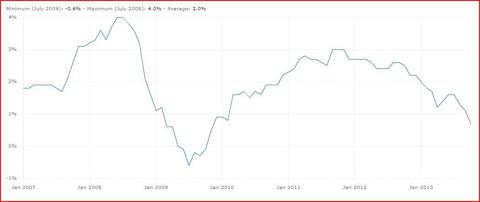 The resulting flight to high quality liquid assets by banks in need of boosting reserves will result in increased purchases of home country sovereign debt. The amount of home country debt that European banks have been acquiring has only increased in the past year and just marries the fates of the banks and the countries closer together. This will keep cross border funding from occurring and force counties in need of credit to rely on non euro lending more (which itself has been drying up). With demand for loans increasing, now would not be the time to see the supply of these loans decrease.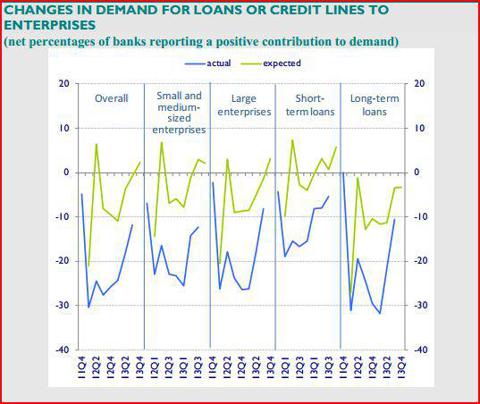 Political uncertainty will add to these issues as fragmented governments will cause more delays in the integration of the banking union, immigration reforms and a "pro growth, less austerity" approach to economic revival. As we have seen in the past, fragmented governments with polarized views will force issues to a precipice before any action will be taken, and that action will be measured and temporary.
Finding assets that will be best suited for a potential European slowdown is rather difficult, as many factors will play a part in how the crisis would unfold and how severe it would get. As a result, I would be looking for larger plays that can benefit from the need to first and foremost reverse the current trend regardless of severity. Shorting the Euro would be one. With the currency increasing and causing some headwinds in the way of trade, this will increase the chances that a global slowdown will affect the region more with a stronger currency.
Not being a fan of inverse ETFs over longer periods, I would look to short the CurrencyShares Euro Trust (NYSEARCA:FXE). The ECB currently stands on the notion that it is not responsible for intervention in currency markets, but a higher currency would cause deterioration in factors that are within its scope. A lack of inflation will no doubt cause the ECB to add more liquidity into the markets (or make rates on parking cash at the bank negative), thus pulling down the Euro as a result. Doing nothing could cause weaker countries to struggle with higher debt loads and higher default rates in the private sector. This will awaken fears seen in 2011 with the potential for certain countries to want (or be forced) out of the euro zone, which caused a drop in the currency. I do not think this is scenario as likely as the former as the Draghi pledge to do "whatever it takes" will no doubt be honored before a true unraveling is seen.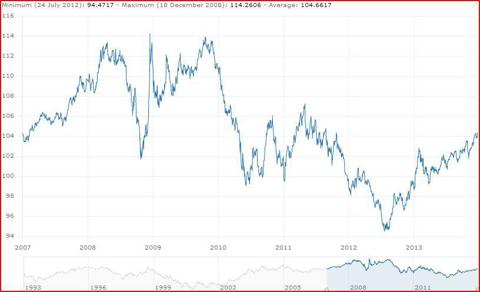 To play a lack of liquidity in the markets you can look at German bunds initially getting bid higher as banks and individuals pour into safe haven assets. ETFs like PIMCO Germany Bond Index ETF (NYSEARCA:BUND) and PowerShares DB German Bund ETN (NYSEARCA:BUNL) are possibilities, but face liquidity issues. European banks will no doubt get hit in the process and some well capitalized ones could be worth picking up in the aftermath (this will be more transparent after the notes to the stress tests become available). A lowering of the Euro could also see a pick-up in some of the worst and best performing sectors of last year, autos and mining respectively. The mining sector is already battered and faces headwinds that we discussed in the previous article. The autos will correct drastically as the higher Euro and market shocks (discussed above) start to take their toll on sales, potentially creating opportunities for entry.
Disclosure: I have no positions in any stocks mentioned, and no plans to initiate any positions within the next 72 hours. I wrote this article myself, and it expresses my own opinions. I am not receiving compensation for it (other than from Seeking Alpha). I have no business relationship with any company whose stock is mentioned in this article.