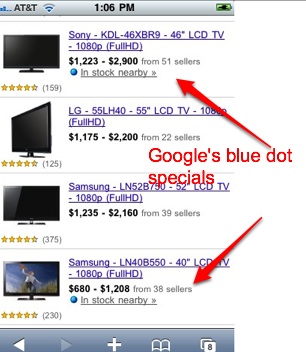 Google (NASDAQ:GOOG) just launched a new feature on the mobile version of Google Product Search which could take local shopping search startup Milo out at the knees. Whenever you do a Google product search from a mobile phone, blue dots will appear next to items which are in-stock at nearby stores. The image at right is from a search I just did for "HDTVs." The blue dots are subtle, but they certainly distinguish those results. Google has partnerships with Best Buy (NYSE:BBY), Sears (NASDAQ:SHLD), Williams-Sonoma (NYSE:WSM), Pottery Barn, and West Elm to show local inventory, and it is inviting other merchants to apply to participate as well. Google VP of engineering Vic Gundotra previewed the local product search last December, but it is now live.
Highlighting local inventory in product search results is exactly what Milo does, although it works on the Web as well as mobile. Milo will have to try to keep one step ahead of Google now that its business has been targeted as a feature of Google Product search.
The good news for Milo is that nobody really uses Google Product Search. It is not even highlighted as one of the products on the Google iPhone app, for instance. Maybe that will change, now that it has a geo-enabled set of results.
When you are looking for stuff to buy, it always helps to know where you can buy an item nearby. The vast majority of people who shop on the Web actually just use it for research, and then go local to buy.